I am excited to post again about the upcoming Fantastic Arts Conference. It has grown since my last post! We have added to the list of presenters to include Miranda Meeks, Casey Childs, Bryan Mark Taylor, Isaac Stewart, and Ben Hammond. These are in addition to Dan Dos Santos, Justin Gerard, and Annie Stegg Gerard, as well as myself (Howard Lyon). We will also be hosting Sentient Academy who will be giving bonus demos and presentations each morning, Tuesday – Friday.
We are thrilled to welcome NYTimes Bestselling author, Brandon Sanderson as our 2020 Special Guest Speaker! Seriously, the author of the Mistborn series and Stormlight Archive is going to come and share some insights with us. I have heard Brandon speak before and I can't way to hear him again. I always leave inspired to create!
And we aren't done adding content. We have 44+ hours of demos and presentations lined up.
We are are a little over 5 weeks away from the conference so don't delay if you want to join us for this amazing week!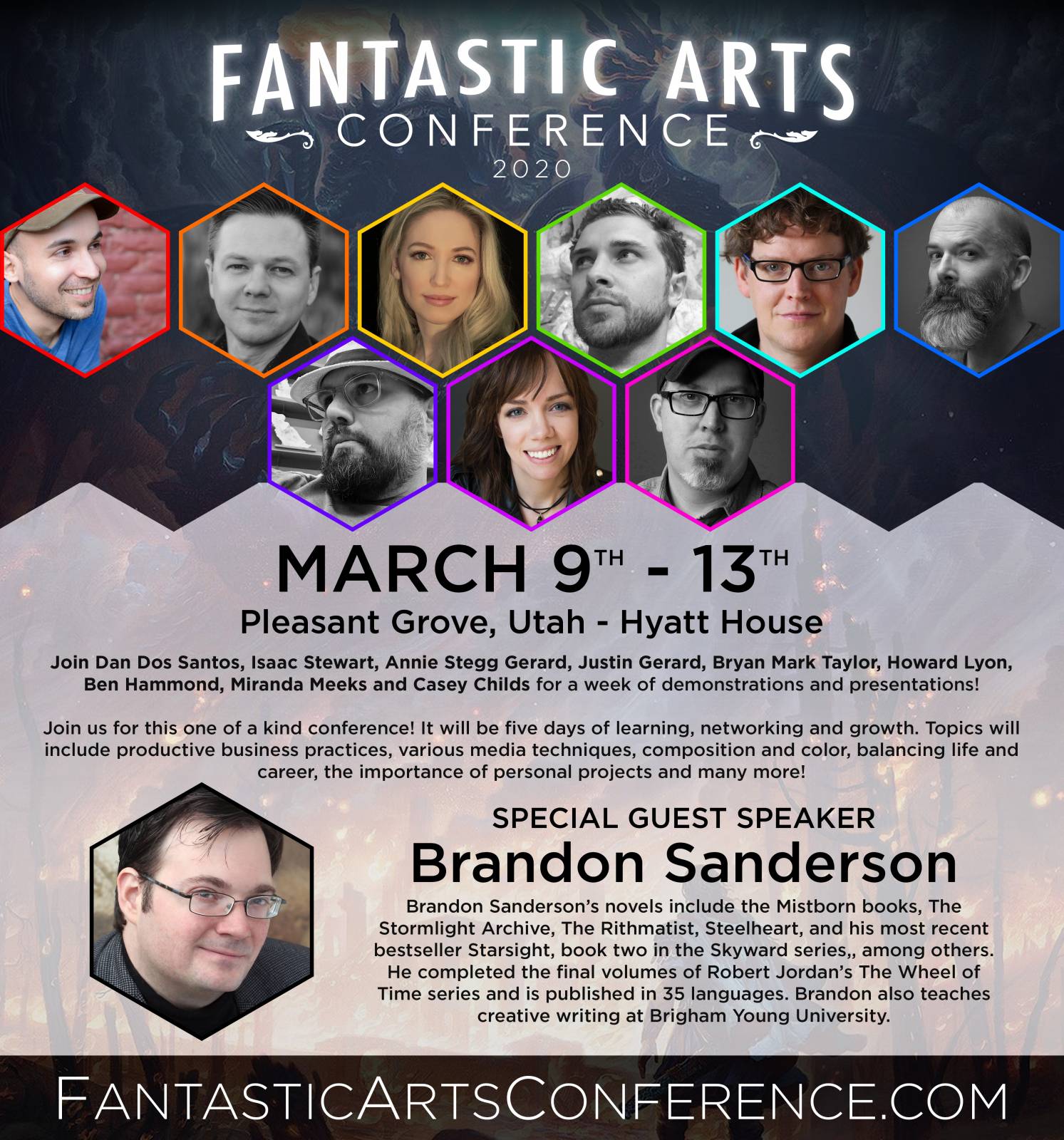 It will be held from March 9th – 13th in Pleasant Grove, Utah. I believe this is a unique event for our community. It will not be a workshop format, but a series of presentations and demonstrations over the course of the week. There is going to be a lot of information at this conference. It came about when Dan Dos Santos, Justin and Annie Gerard and I were in Atlanta in April of 2019 and we started talking about what kind of a learning event we would like to attend and what would make it unique and also support other learning opportunities taking place in our communities.
Who is it for? – Artists of all kinds. It isn't just geared towards fantasy artists, but fine artists, illustrators, portrait artists… really anyone in the visual arts looking to expand their understanding of how art is created and the business of art from a diverse group of artists.
What can you expect when attending? – You should leave the conference both energized and overwhelmed with the diversity and quantity of information you receive. Monday will start at 6:00, but Tuesday – Friday will start at 9:00 AM and continue until 10:00 PM that night, with breaks for lunch and dinner. Come and have fun, network, make friends, sketch along and take notes. Topics will range from painting from life, composition, sculpting, taxes for artists to setting personal goals and how to reach them… and a lot more.
I am excited to watch Casey Childs and Bryan Mark Taylor paint. They both put together little masterpieces in just a few hours. I am also excited to see what magic Dan comes up in his concepting demo and he is always insightful when he presents. Justin is a wizard with a pencil and it was a conversation with Justin that inspired me to do more personal work. I have seen Annie's videos, but I can't wait to see her work in person. She is like one of the great artists of the Baroque Roccoco era transported to our time. Isaac (artist, writer, art director) and his wife Kara (she handles Brandon's store and organizes his events and generally makes things happen) are going to be discussing how to work with artists, authors, and fans based on the significant experience helping to run Brandon Sanderson's business named Dragonsteel. Miranda Meeks is a wonderful artist and has developed such a beautiful style. Her presentation on developing an artistic voice is sure to be invaluable. Ben Hammond is a nationally recognized sculptor who among other things, creates busts for the NFL Hall of Fame and just finished a sculpture that will be in the Captial Rotunda in Washington DC. He is going to show us how to create maquettes for reference while he talks about the importance of classical art.
I am REALLY excited to hear Brandon Sanderson speak. I have heard him talk before and I always come away inspired!
Here is the schedule of events:
The morning portions presented by Sentient Academy will either be painting demos or presentations on business and marketing practices. We will update with specifics once they have finalized their roster.
We are proud to be sponsored for this event by STRADA Easels, Sentient Academy, Ampersand Art Supply and Fantasy Art Workshop and their 2020 Illustration Intensive run by Jeff Miracola and Silvia Acevedo (where I will also be teaching in June!)
The Hyatt House will be hosting this conference. The address is 544 S Pleasant Grove Blvd, Pleasant Grove, UT 84062. Rooms will be available for our participants at a discounted rate, reservations can be made by calling Hyatt at 1-866-974-9288 and then provide the Group name of "Lyon Arts Workshop" and the group code of G-LAW1. To book online,  select the "Book Now" option.  Enter the dates you would like to stay, and then under the "Special Rates" tab, they will select "Corporate or Group Code" and enter the booking code G-LAW1.
The Hyatt House is right by next door to the Evermore Theme Park as well as The Grid if you are looking for additional things to do while there.
It is going to be an epic week of learning! I hope that many of you can join us!
Sincerely,
Howard