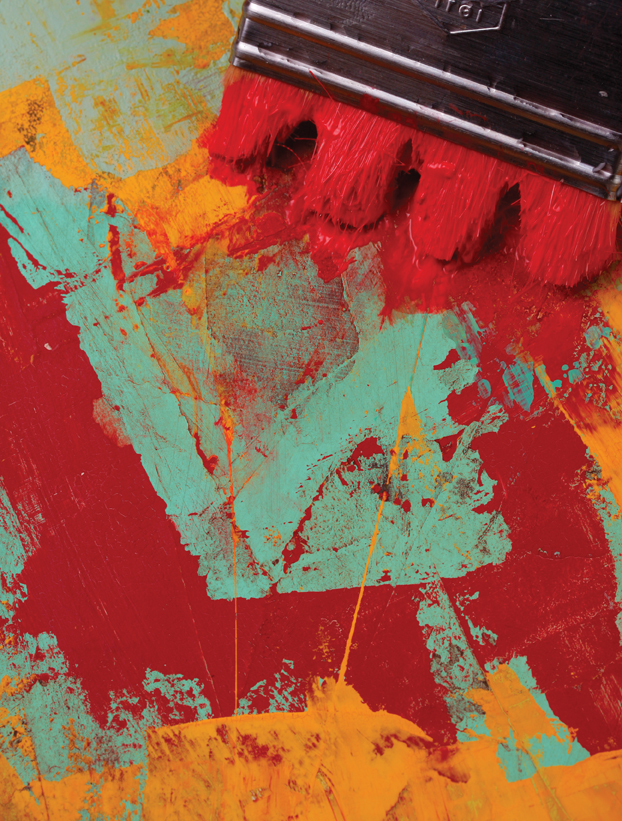 Doing workshops, I often find that my brushes can get trashed because they are left out or people borrow them, forgetting to clean them. I've also been very experimental in my process, which can sometimes leave my brushes at risk. I would like to share some tips that I have learned over the years when it comes to cleaning and preserving brushes. Deep, stuck-on and dried-in acrylic paint, medium and pastes as well as harsh solvents can really do a number on brushes. Through experimentation, I've come up with a few solutions to the problem of keeping brushes cleaned and preserved.
If you have synthetic brushes with dried acrylic paint stuck way up in the bristles, you can actually get that out by soaking your brushes in carbonated water. I take a large yogurt container and clean out the cover and base fully with soap and water. Then, I punch holes in the cover big enough to place my brushes in so that they are suspended once the cover is sealed. In the container, I use carbonated water with no flavoring. I let the brushes soak, suspended in the carbonated water for several days. You can temporarily use a little bit of hydrogen peroxide in the water mix, being careful not to use too much for too long so that it loosens the glue that holds the bristles together. If you still have some residue, you can use the trigger-spray (not aerosol) bathroom grime-fighter scrubbing bubbles (for vinyl surfaces). You can spray it directly on both sides of the brush and leave it to sit in the sink for a few minutes. This stuff works great at breaking up badly stuck-on acrylic paint that's been there forever. Once resuscitated, your brushes can be washed with non-perfumed soap and water or shampoo. Lately, I've been washing my brushes with shampoo. I find that it does not leave a residue that can sometimes happen with soap. I would NOT do the above process with your expensive natural hair brushes. Remember this is specifically for synthetic brushes.
Now, I will focus on the cleaning and maintaining of oil painting and natural hair brushes. While painting, I do not clean my brushes with turpentine or mineral spirits. Instead, I use safflower oil that I purchase at the health food store. You can also purchase it at the grocery store, but make sure it does not have extra food-related additives. Safflower oil is a natural additive in oil paint. It is a non-yellowing oil and a slow dryer. You will often see it in titanium white oil paint. I use it not only for cleaning in between painting sessions but also to clean my brushes as I am painting in oils. It is a perfect non-toxic solution for the studio. In other words, it's good for your health and the health of your brushes! I do not use it as a medium to extend paint. I use purified linseed oil and sometimes walnut oil for my painting mediums to thin and extend paint.
After I am done oil painting for the day, I clean my brushes with safflower oil in a metal container that has a basin inside with holes in it, allowing the paint to drop to the bottom of the container. I simply close up the metal container when I am done. There are no fumes and my brushes last. I then use shampoo to remove the oil. The safflower oil keeps my brushes soft and lasting. If my brushes are very large and trap a lot of oil, I use very gentle, environmentally-safe dish washing liquid and massage it into the bristles to remove any excess oil. This works really well.
For all of my brushes that have a point at the tip or just need some extra conditioning, I use virgin organic coconut oil that comes in a tub. It comes out of the container as a solid but converts to a liquid with manipulation. I specifically use the virgin organic option mainly because I also use it as a makeup remover, keeping it in a different container of course. Bobbi Brown, the professional makeup artist, had highly recommended it for removing makeup on dry skin. It does wonders! The coconut oil not only is a fantastic conditioner but also a shaper for the brushes. You take a small hunk of the coconut oil and spread it onto the brush, shaping it to a point, allowing it to dry that way. This will help the brush to keep and maintain its sharp point. Before I use the brush again, I will lightly remove the residue with shampoo. Like I said before, you can use a bar of soap as well, but I have just noticed such a difference when I wash my brushes with shampoo. You can use almost any shampoo, although I would recommend one that is free of lots of additives and chemicals.
Next time you find yourself in a brush emergency, give the above treatments a try!
For more mixed-media painting and drawing insights, check out my upcoming ONLINE class MIXED MEDIA MENTORSHIP!

Throughout the online class, artists will work in the comfort of their own studios on mixed-media painting and drawing projects at a pace they feel comfortable with. The instructor will provide weekly assistance and guidance through live group chats. Discussions regarding artistic growth and development, nurturing the creative spirit, developing personal content, embracing a multidisciplinary mindset and creating message-driven art will also be included as a way to assist artists on their own creative path. In addition, this exciting online workshop will provide private access to the instructor's Mixed Media Masterclass blog, which covers a variety of topics from professional business development and promotional strategies to studio practices, experimental and traditional painting techniques as well as a vast array of inspirational artistic resources. This online workshop is for intermediate and advanced artists.
8 weeks
Saturdays, 9:30am – 12:00pm via Live Group Chat
copyright 2020 Lisa L. Cyr, Cyr Studio LLC all rights reserved