Hey fellow Muddy buddys, this month we are all pretty much still living through our phones. And I know it can be tough to get fired up to make some art when all we want to do is binge Netflix.  So I'm keeping my mission simple and am going to throw some fire into your art burning engine with suggestions of people to follow on Instagram. I will try to dig deep and find some you may not have heard of. All in an effort to get your butt off the couch and over to the art desk!
Lets start with an obscure artist who I expect big things from named James Jean-  I'm kidding, James needs no introduction at nearly a million (Well Deserved.) followers, I think James is doing just fine! (But is you aren't following him, by god, go follow him.)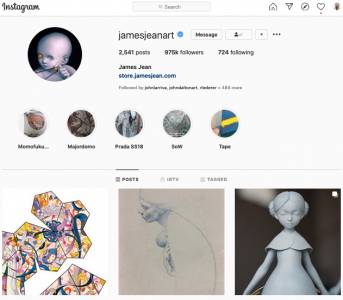 No, what I am thinking for this list are artists that should also have a million followers. Like:
https://www.instagram.com/jofori/
I love how everything jofori draws is filtered through his brain. He has a nuanced way of pushing and puling facial features that I love to see.
https://www.instagram.com/hilaryclarcq/
Hilary Clarcq is firing on all cylinders for me. I love how she leads us from the real to the surreal, all the while not holding back expressive mark making.
https://www.instagram.com/mblankart/
Michael Blank is one to keep on your radar. Beyond the painting technique he is working with some killer visual staging. A real director's eye.
https://www.instagram.com/ornamental_patterns/
Not a painter but a master of hand carving exquisite ornamental elements on an epic scale. Any of you frame junkies or detail junkies need to follow.
https://www.instagram.com/mfanwy/
Mfanwy definitely is marching to her own drummer. You may have seen her fabulous patterning, painstakingly carved into wood in an almost scratchboard technique, but have you seen her ambidextrous drawing? Be sure to check out her drawing with both hands at the same time. What!?
https://www.instagram.com/onebadking/
Eli is seriously one of my favorite artists on Instagram. The kind of artist who makes me want to change the way I approach art. There is such a pureness here. You feel like it is just flowing from his fingertips. Any Topi fans out there have to spend some time with Eli!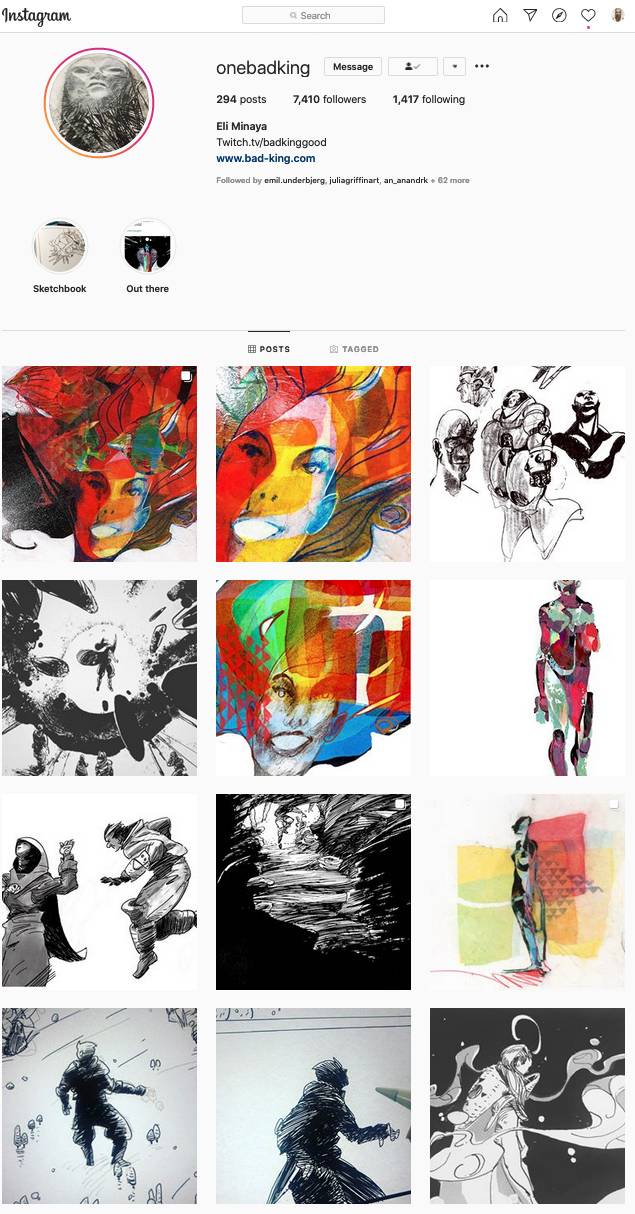 https://www.instagram.com/ellistrator/
There is such charm and wit to Elliot Langs work. Which matches his personality perfectly. Detail junkies will appreciate, and if you have not seen his sketchbook, get it!
https://www.instagram.com/im.lucong/
Lu Cong doesn't post enough on Instagram. So I am posting him here to hopefully get an avalanche to follow him, so he will take notice and post more! Lu's work has just the right amount of weird for me. I adore it. I knew his paintings, but Instagram introduced me to his drawings, and I will forever be enamored.
Grimm40 actually has a bunch of followers, but this is a selfish post because he draws things I love, namely Hotrods and Robots! But look how he draws them. There is such a tasteful exaggeration to it, where he is no slave to reality, but knows reality well!
Ben Hill is one of those young artists to follow folks. At just 23 years old it has been a treat to watch him hone his craft. I expect big things from Ben Hill, so if you want to watch the ride too, follow him, so you can say you were hip to the Hill before everyone else.
And there you have it, a fantastic way to kill some time other than Animal Crossing! But really this just scratches the surface.  I will try to do more posts like this in the future.