"A room without books is like a body without a soul." —Marcus Tullius Cicero
Well, 2020 is a bit more than half over and though businesses are starting to slowly reopen—most under new guidelines and restrictions in response to Cover-19—things are hardly back to normal. No movie theaters (yet—and no new films or big releases until later in the year). No concerts. No conventions. No film or TV productions. No sporting events or workshops (other than virtual ones) or parties (unless you're living in a state of denial) or many other jobs, diversions, activities, or entertainments as a result of the pandemic…
Thankfully we had—and have—books.
While it's true that brick & mortar booksellers and comics shops were shut down for a time (along with many other "non-essential" businesses), a number of publishers nevertheless stayed busy throughout the crisis and many online retailers (like Bud Plant and Stuart Ng) carried on with business pretty much as usual. I may have had a helluva time finding toilet paper and hand sanitizer for awhile, but I could count on the Post Office or UPS to deliver welcome respites from boredom. I also got to preorder some titles I've always looked forward to—one of which is David Apatoff's The Life and Art of Mead Schaeffer, due for release in July.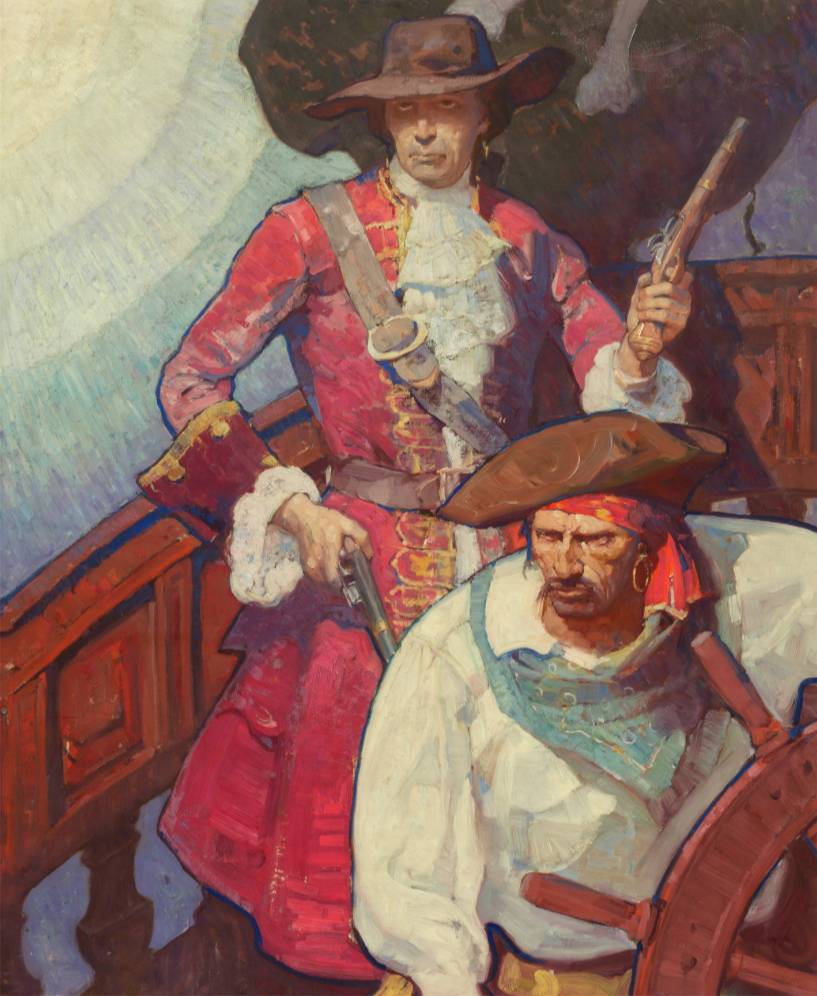 Mead Schaeffer [1898-1980] was, of course, one of the true greats of American Illustration. A former student of the Pratt Institute—and later Dean Cornwell—Scheaffer illustrated books and magazine covers and stories from the 1920s till his retirement in the late 1970s, producing something over 5000 paintings during his lifetime. He was a storyteller of the first order and became one of the most prolific, popular, and highest paid artists of his day; he was inducted into the Society of Illustrators Hall of Fame in 1996.
Mead was also a close friend and neighbor to—and frequent model for—Norman Rockwell. In the reference photo above Schaeffer is the tattoo artist in the painting of the same name: he told Rockwell that he had made his butt too big in the picture, though Norman jovially insisted just the opposite.
Unlike Rockwell, Schaeffer and his work have unfortunately been largely forgotten by the public in the decades following his death, even as his influence is evidenced in the paintings of new generations of illustrators and gallery artists. Thankfully, David has teamed with the Illustrated Press to provide him with some much deserved appreciation—and also provided me with the opportunity to share some of Mead's wonderful work. With 224 pages, over 300 color and B&W images, and David's insightful commentary, The Life and Art of Mead Schaeffer will be a must-have for artists and illustration fans alike. Enjoy this sampling of Mead's art today and consider ordering the book…today, too!