I knew very little about any illustrators before I decided to try to become one. It was the early 1980s, when there was no internet, Instagram,  or any other convenient way to get a good idea of the kind of work that was being done, other than looking around at the visual culture. But there was one great resource for illustrators at that time – The Society of Illustrators annuals. These coffee-table books chronicled the work that was accepted into the annual show held in New York at the Society. Then, as now, thousands of entries were sifted down to a few hundred examples of what the jurors collectively determined were the best work of the year.
Back then, I looked for used copies of past annuals and I studied them with far greater intensity than I ever applied to a book. like my fellow art students, I wore the annuals down – especially the ones that were published during my first years as an illustrator. These annuals were one of the only ways to know anything about what seemed to be the "big-time" illustration world, as opposed to the regional illustration practiced by my teachers.  It's hard to explain how much impact these books had on me…even though, at first, to me, they may as have well have come from another planet.
At first I  didn't know any of these illustrators, had very little idea about them or how they worked…I just know it was something I wanted to be a part of.
Over the years I managed to accumulate most of the annuals published by the society since 1980. Recently I was given another set of the annuals – three cardboard boxes full-by one of my former teachers, a retired illustrator who requested that I pass them onto someone else  if I didn't want them.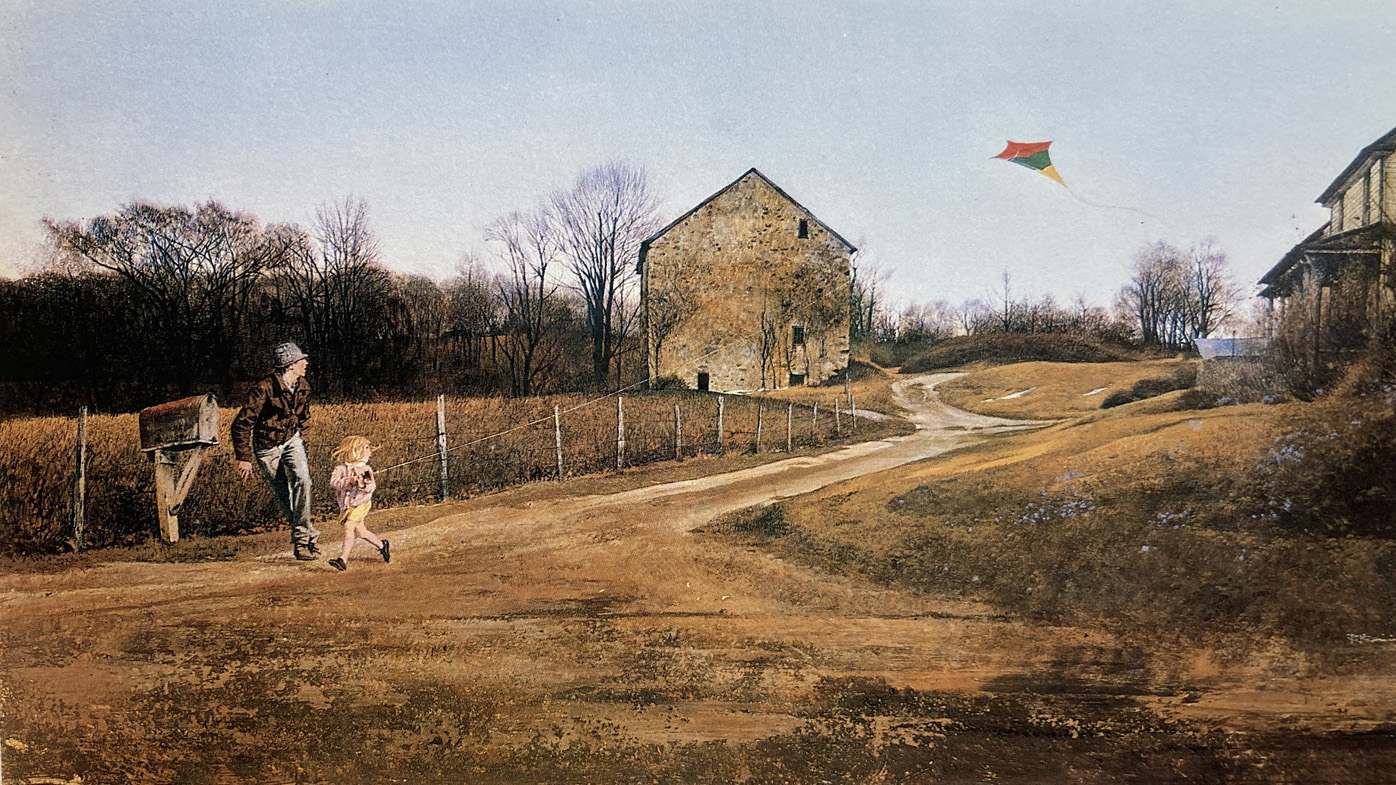 Some of the work in the annual represented mainstream publishing- an example by the great Bob McGinnis from 1983.
Because I already have my own copies, I passed these books  onto two former students who are out in the world, getting started and doing great work. They were just here today to collect them. Before they picked them up, I pulled one of the annuals out of the box and was transported back to 1983. This was the first year the annual was printed in color. I thought I would share a few of the pieces that impacted me from that book. All the pieces in this article came from Illustrators 25, the annual that chronicled the work from the 1983 show. They represent a handful of over 500 pieces selected for the annual.
Illustrators 25 was the first Society show I attended- the first time I saw originals.
I was also to learn that my personal taste did not always run parallel to the jurors. Over time as my own taste and experiences evolved, i saw some of the work in a different light.
Many of the great illustrators in these older  annuals have no online presence. If you don't have these books, keep your eyes peeled- it may seem to be an albatross to own printed books in the 21st century, but for me these books will always be a portal into a dream – a dream that came true.
Looking back at these books, one thing is painfully clear- women artists were not even close to being equally represented in these older annuals. The lack of women in these books seems a bit glaring from the perspective of today .
Keep in mind that these are just a few of the 500 images in this one book- there have been 37 more annuals published since that year- each one filled with great work, the dreams of countless illustrators brought to life.
Wilson McLean. Last but certainly not the least, his huge and beautifully rendered paintings were incredible surreal interpretations made for commencial applications, pushing as far as he could go. He had many works in the show every year for many, many years, and every one was a knockout.
This year the Society of Illustrators will publish Illustrators Annual 63. Today, the Society, the juries as well as the work they select, represent a far wider diversity of artists working for a much wider spectrum of applications than they did back in 1983. (competition from other annuals such as Spectrum and American Illustration certainly pushed the Society to evolve.) Under it's current leadership, The Society of illustrators has worked to expanded their definition of illustration while upholding their mission to keep a record of the best work in a given year. They are an important institution, doing important work to preserve and promote a wide range of illustrators and types of illustration. They deserve the support of all of us in the field.