As a follow-up to my article on the Society of Illustrators, I thought it would be a good time to feature some of the David Grove's unseen work. Prior to his passing in 2012, David had asked Greg Manchess and myself to archive, manage and distribute his work. A part of this management took the form of having David's archives photographed and digitized. David left a large body of his work to the Society, where a show of over 50 of his works are on display at the Museum of American Illustration.
I wanted to use this months article to show some of the work that you will probably never have seen. Much of his archives consisted of the preparatory work for his finished illustrations, but he also took his work into expretimental directions and media that he rarely showed anyone.
What follows is the essay I wrote which accompanied David's induction into the Society of Illustrator's Hall of Fame:
On a hill above North Beach in San Francisco, a glow of incandescent yellow light in a second-story window burns late into the blue night. There, from the glow of a Zippo lighter on the face of a Soviet master spy, to the halo of a haunted ferris wheel, from the burning wreckage of a pirate ship, to the setting sun in a stand of trees, David Grove has interwoven patterns of texture, color, and light into an exceptional body of work.
He was born in 1940 and grew up in a family of successful artists in Philadelphia. He credits John Vargo with first exposing him to illustration while attending Syracuse University.  However,  despite his interest in illustration, he leaned toward what appeared to be the more practical pursuit of photography and studied under Fred Demaerst in the School of Journalism. After graduation, he worked as a photographer in studios in Philadelphia and New York. Looking for a change of scene, he eventually moved to Europe.
Ironically, it was while traveling in Europe that he began to become aware that there was a powerful wave of new creativity moving through American illustration. "People like Mark English and Bernie Fuchs were coming out of these car studios and doing really great work in the magazines-I was in love with some of the art in those magazines-and gradually I started to see that it was possible to make a nice living doing illustration".   Grove's career as an illustrator began in Paris and London, but eventually he moved back to the United States, and settled into North Beach in San Francisco, where he remains to this day.
In San Francisco, Grove initially survived doing unpublished comps and anamatic art for local advertising agencies. Although busy, he struggled to stay afloat until Cal Anderson, an art director at Cunningham and Walsh, saw Grove's portfolio. "This is nice work. What the hell are you doing here?" asked  the impressed Anderson, who  then assigned the young illustrator his first print job in America, a series of illustrations for Olympia beer. This exposure led to an assignment for California Living, a supplement magazine to the San Francisco Chronicle. The project had a very low budget,  but as he laconically explains, "It was ten days of hell for a hundred dollars…but it turned out kind of nice… it was the first thing I did where I felt like I could send it off to New York, to the Society of Illustrators show.  And it got in. And so I went there, and I made the rounds of the publishers…and I came back with this big stack of manuscripts. "
In a time when women's fiction was still the predominant vehicle for illustrators, his work brought a contemporary style to a wide range of subjects including the literature of adventure, mystery, and espionage. His success in New York made him essentially an east-coast illustrator working on the west coast. This came with it's own set of challenges, especially in the early seventies. At first there wasn't even Federal Express.  He explains that he worked primarily on paperback covers because the turnaround time for editorial work was impractical for an artist outside of New York. "There was no fed ex, but there were stats, mailing tubes, huge sheets of plywood –but suddenly, it was possible"
His attention to detail and insistence on accuracy is legendary, bolstered by stories like that of his hair raising encounter with a SWAT team on the roof of his building while painting prop guns for a reference photo. Grove has always been willing to go to any length to find information that would help him make the picture better – and it shows in the quality and consistency of his work.
His dedication to "getting it right" – combined with his unique fluid painting style and sophisticated cense of composition- led to associations with a number of autonomous, influential art directors, including David Boss at the NFL, Gene Butler at Car and Driver, and Len Leone at Bantam Books. As he continued to develop and refine his illustration technique, his client list expanded to include not only every major publisher, but also advertising clients like Pendleton, Eddie Bauer, Mercedes Benz, Sony and Deutsche Bank.  He has also created numerous movie posters for clients including Disney, Warner Bros., Universal, MGM/UA, Orion and Fox.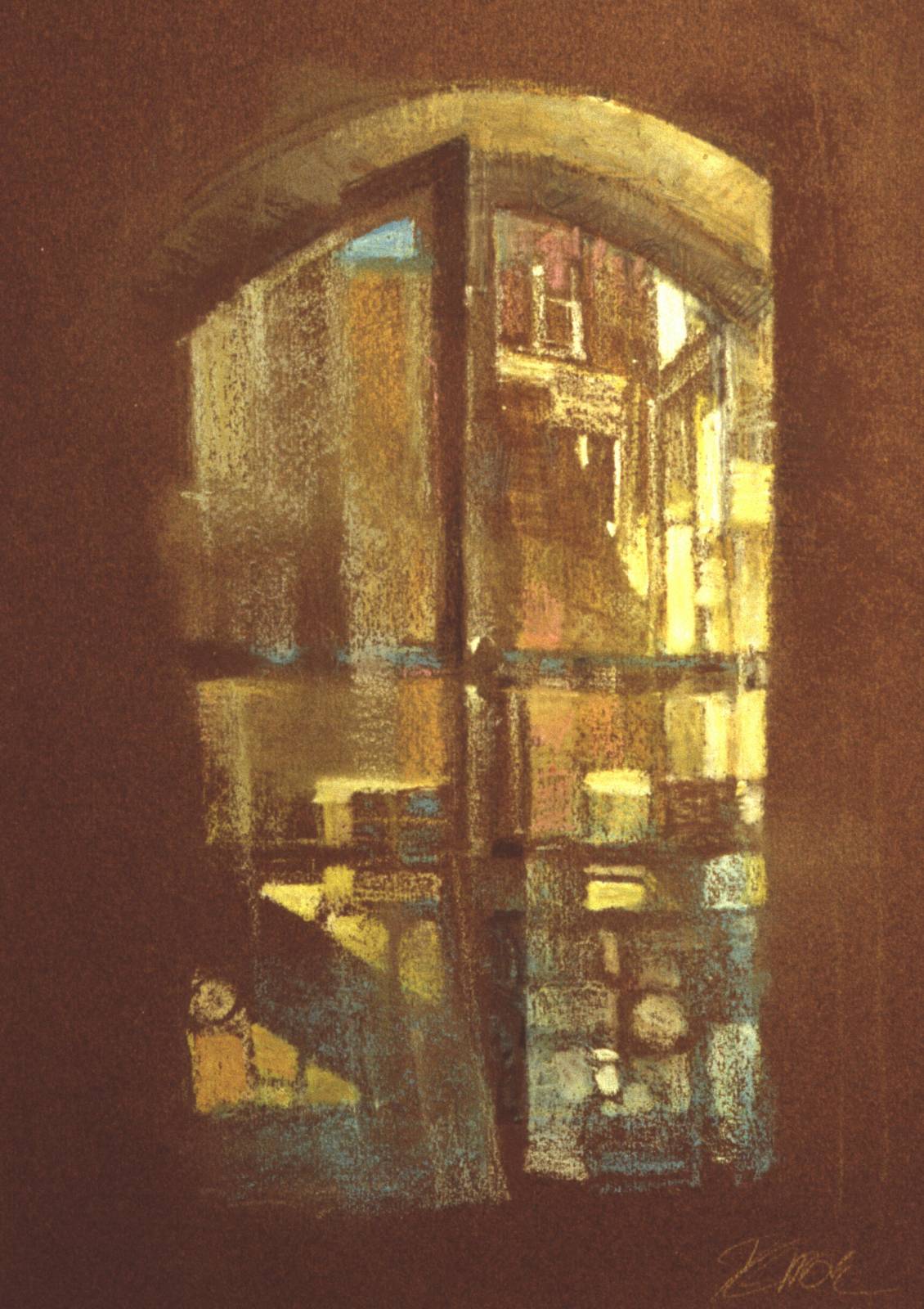 As he explains, " I've been living by freelance illustration now for almost 40 years…there's just no accounting for how long 40 years really is.  It just seems unreal…but really, all along, I've just been trying to do the same thing, to make what I do be good. I've been just trying to tell these stories the way they should be told".
David Grove is a quiet, soft-spoken individual who would far prefer that his work speak for him. If you look closely at the refined poetic beauty of his paintings, the shimmering light filtering through the fields of color tells you the story of the sensitive, focused, and intense soul of their creator. Up on Telegraph Hill, the flame of good, serious illustration continues to burn bright.