Our art family lost a pair of giants in the past month, Rowena Morrill and Gary Meyer. Today I wanted to take a moment to remember them and express appreciation for their work and the inspiration they provided.
Rowena Morrill
A graduate of the University of Delaware in 1971, Rowena A. Morrill [b. 1944] first worked at a New York advertising agency before launching a freelance career painting paperback covers for Ace in 1977. She quickly became one of the F&SF field's most popular artists, creating memorable covers for books by such authors as Anne McCaffrey, Philip Dick, Isaac Asimov, Samuel R. Delany, Theodore Sturgeon, Piers Anthony and Madeleine L'Engle among many others.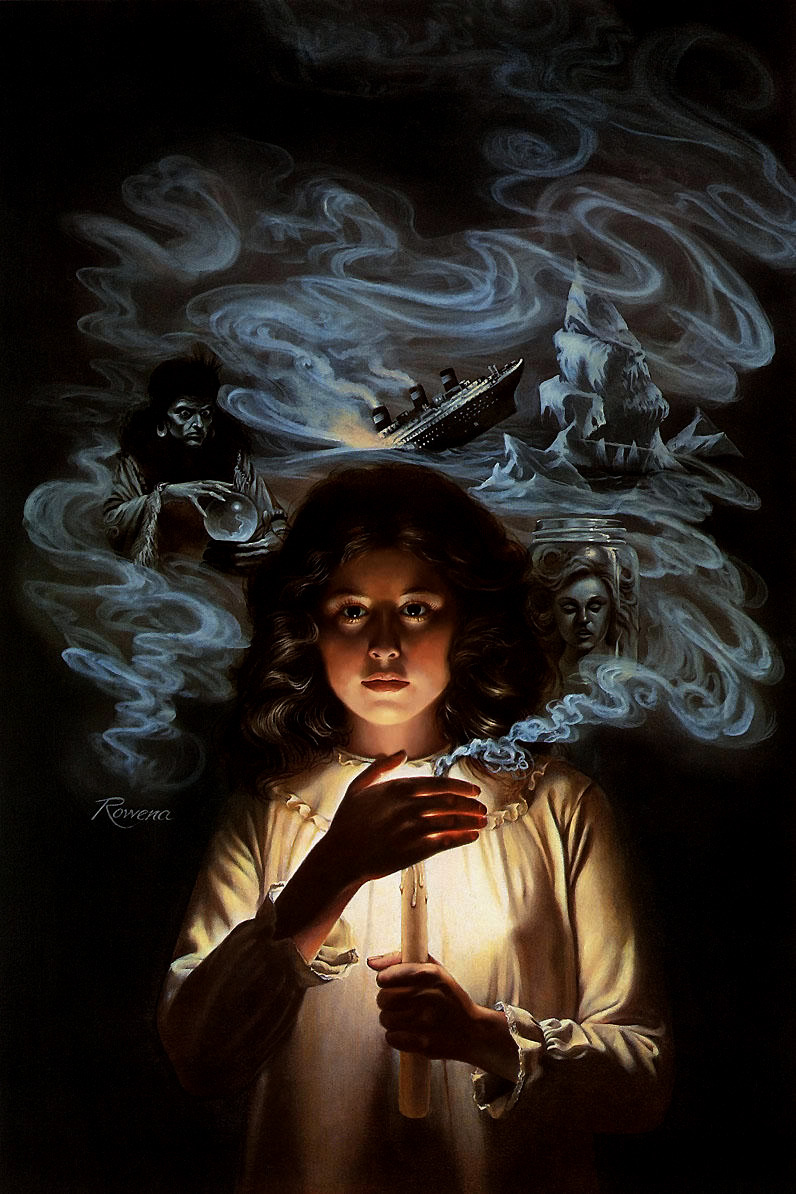 Above, a bit of history: When Rowena entered this cover painting for andrew j. offutt's [the lower case was Andy's credit conceit] King Dragon in the 1981 Norwescon art show it created something of a kerfuffle when one of the organizers wanted it withdrawn because they believed it was degrading to women. After much debate it remained on display, partly because the committee would have had to enforce the same standard against many other works (mostly by male artists) hanging in the show as well. Decades later in 2003 the painting was suddenly in the news again; when Iraq's Saddam Hussein was toppled from power by the U.S. in 2003, televised stories about the residences of Saddam's sons revealed two of Rowena's paintings hanging on the wall of their Baghdad townhouse after a gun battle, including this one (the other was the cover to Shadows Out of Hell, another Offutt novel). At the time Rowena told a reporter, "I would give anything to get them back. I am so upset that they are there." She had sold the art years before to a Japanese collector and hadn't seen either since. In the end it turned out that both paintings were fakes, copies of Rowena's work by an unidentified artist; the real King Dragon painting was sold at auction by Heritage in 2006 for almost $12,000.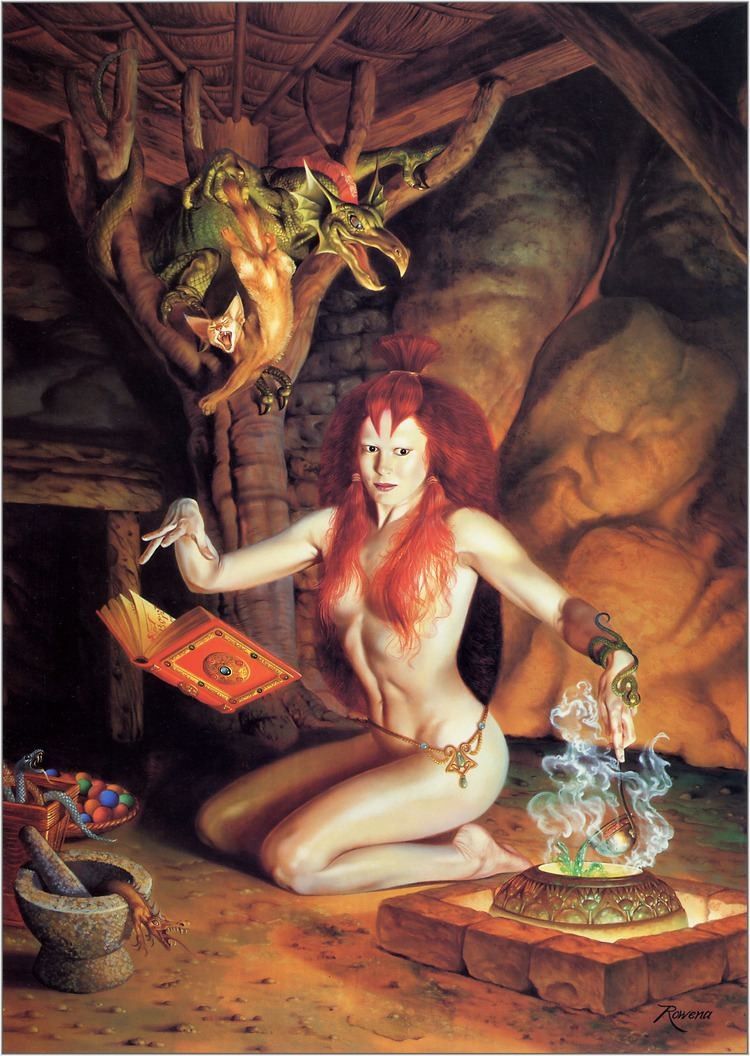 Rowena created a wide variety of editorial illustrations for Playboy, Omni, Heavy Metal and many others; her art was also used for calendars, puzzles, games, and a plethora of other products. Her first art book, The Fantastic Art of Rowena, was published by Pocket in 1983; a second, The Art of Rowena, appeared in 2002 from Paper Tiger. Dian Hanson's recent over-sized collection from Taschen, Masterpieces of Fantasy Art, features a chapter devoted to her. Rowena had periodically experienced poor health over the last decade and was forced to cancel several show appearances; she was presented with the Life Achievement Award at the World Fantasy Convention in 2020.
Gary Meyer
A Marine veteran of the Korean War, Gary Meyer [b. 1934] attended the Art Center School following his discharge, became the first recipient of the Stan Reckless Scholarship, and graduated with honors in 1959. He worked as a technical artist and illustrator for several companies—including North American Aviation, for whom he produced many paintings of Apollo moon missions to help others visualize the program when the spacecraft and hardware existed, including work on the film The Apollo Mission—before embarking on a long and impressive freelance career.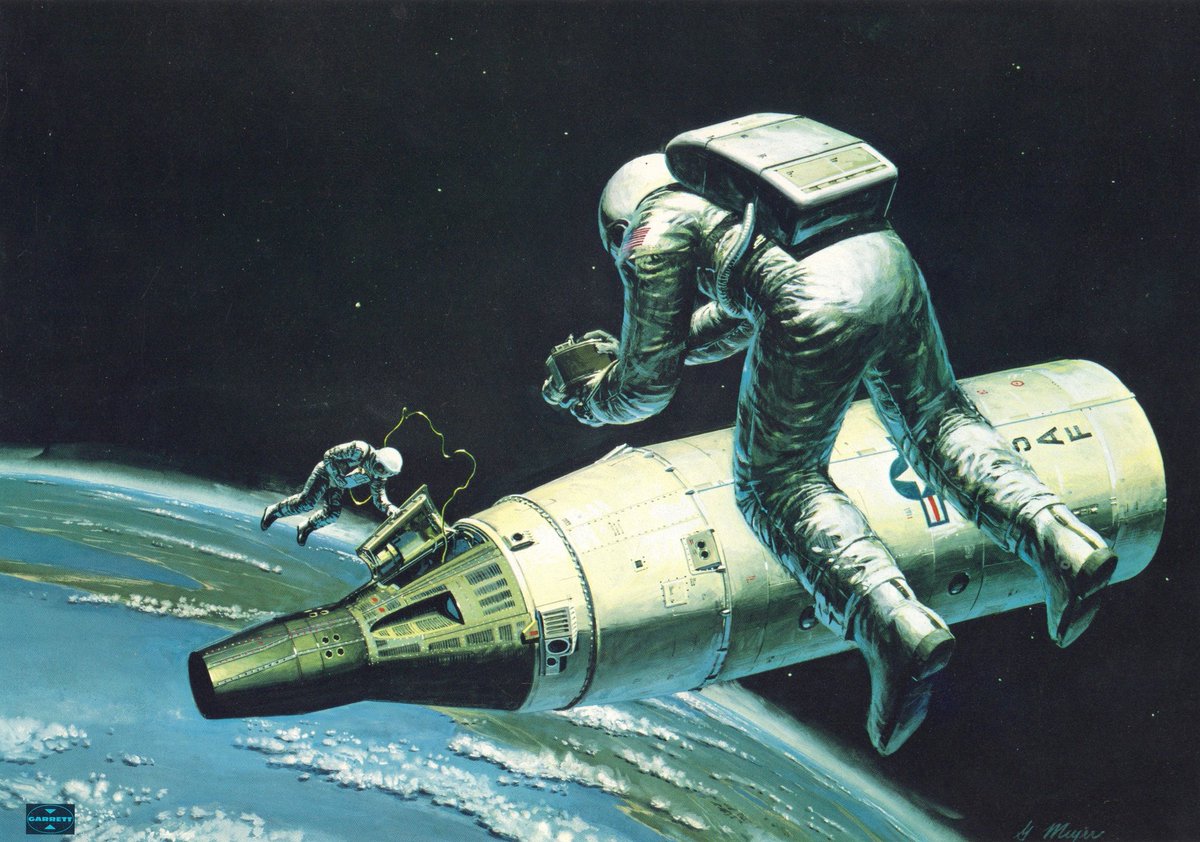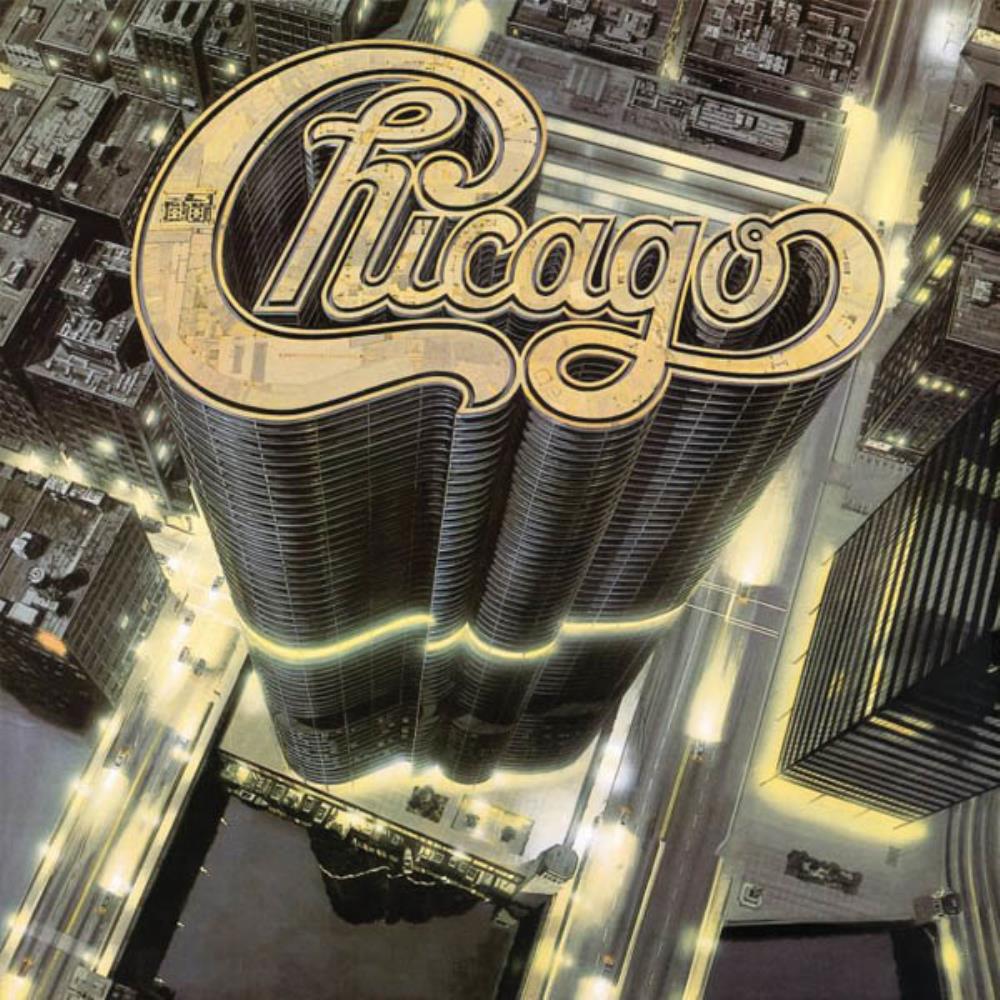 During this period Gary produced paintings for a diverse group of clients including concept art and movie advertising for Universal, Paramount, Columbia, Disney, MGM, Twentieth Century Fox, and others. His film credits include work on Star Wars, Star Trek: The Motion Picture, Thoroughly Modern Millie, Day of the Locust, and John Carpenter's The Thing. He also created album covers for CBS Records, Electra Asylum and A&M Records along with many book covers for Random House and Warner Books. Between his commercial assignments in 1968 Gary flew nine combat missions in Vietnam as a civilian artist for the Air Force; his paintings from the experience hang in numerous military and government buildings throughout the U.S.  He became a Professor at the Art Center College of Design, teaching from 1988 till this year, and received seventeen Great Teacher Awards (presented by students of the school); Gary was named Master of the College, the second person in the history of the institution to receive that honor. In 2013 he was honored with the Distinguished Educator in the Arts Award from the Society of Illustrators.
Below is one of Gary's tutorial videos on Perspective.
We're all much richer for the contributions they made throughout their lives to our field and community. Rest in peace, Rowena and Gary.