Today, I want to share something more personal but strongly tied in to a life in art that may have a message for everyone.
"My goal in life has been to be useful. Always."
So said Colin's mum, Jillian Hanbury Poole. And she lived her life as a bold manifestation of this guiding principle. Perhaps "lived" is simply too mild a word to describe the zeal and dynamism with which she blazed her path through creation, inspiring people from all walks of life to join in her vision of a reality in which artistry of all kinds would thrive, be celebrated and benefit the world.
I first met Jillian in 2008, in the midst the global financial crisis. It was Christmas time and we were chatting about her latest venture. She was focused on a vintage movie house built in 1947 on Chincoteague Island that had fallen into serious disrepair – so much so that it was scheduled for demolition.
Jillian had decided this movie house needed to be renovated and reinvented to become a cultural arts center that would benefit the local community. She sounded so inspired! Then she said, "Well, all I need to do now is come up with $100,000 to purchase the building!" While outwardly supportive, inwardly my heart sank as I thought, "In these times and over the holidays? Oh, that's going to be pretty near impossible."
But, as I learned, I didn't know Jillian then, and "pretty near impossible" is clearly a long way from impossible. She procured the funding within a couple days and did everything she said she was going to do.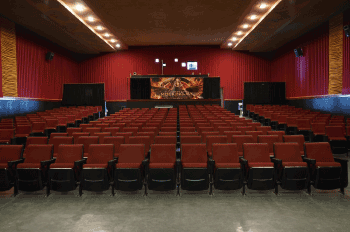 Beautifully restored, the Island Theatre, a performing arts center and community cornerstone, is now owned and operated by the nonprofit Chincoteague Island Arts Organization, which Jillian founded (with the impossibly cool acronym "CIAO" of course). The theatre features classic and family films, concerts, plays and other entertainment, plus offers educational and community services to connect residents and visitors.
Discovering a Life Purpose in Art
Jillian began her adventure in this world August 11, 1930. Born in London, she came to the United States as a young girl to escape the Blitz – the bombing of London in WWII. At that time, ships crossing the Atlantic were being sunk by U-boats so frequently that Jillian's mother, renowned sculptor Una Hanbury (who was also Colin's mentor and hero), faced the unthinkable but distinct possibility that one of the boats would likely go down. Una chose to send one of her daughters on a ship to Canada and the other to Bermuda, in the hopes that one of them would survive the crossing. Remarkably, both children made it (though one of the ships was sunk on its return voyage to England with the loss of all aboard). The family were later reunited in the Washington DC area.
How did art become the cornerstone of her life? As Jillian describes it, they had little art in their home and even less after the escape to Bermuda. But she spent her early years visiting museums and galleries. As she remembers, "The first picture I fell in love with was on my first visit to the Tate with mummy when I was probably six or seven. It was Rosa Bonheur's "The Horse Fair." For the child of a mother who was trained to become a superb sculptor, my love of art was in retrospect not surprising, although the dearth of art we grew up with was."
After college, when Jillian got her first apartment, Una introduced her to local art dealers, galleries and artists, stressing the importance of collecting original art. Una was a committed supporter of young artists, and believed you didn't have to be wealthy to help others – purchasing sketches or small works not only helps financially, but also provides an often much needed boost to the artist's creative well being.
Jillian's personal collection ultimately became as diverse as her life experiences. It included emerging and established artists, historical and contemporary, representational and abstract, serious and whimsical, conceptual and sentimental paintings, etchings, drawings, and sculptures, all artfully arranged in her living spaces like a cohesive and beautifully presented symphony.
When she reminisced about her collection, she said, "Why my art? It's about memory, that above all. It's also about mood. The works I'm most attached to revive a mood as I stop to contemplate them. No, not every day. But every once in awhile, I stop to really ponder something I pass every day. That pause pulls me into a special world, a special world that only that particular painting or sculpture can evoke. And when I come back from a trip, I just sit and greet once again these pieces that carry memories of special times in my life."
When a Love Becomes a Guiding Principle
Jillian's life epitomized the fulfillment to be found in doing what you love and having a "why" that expands that love and reaches beyond yourself, contributing to your community, however large or small that may be.
Her early career, among other things, saw her working at The Acting Company and The Washington Cathedral, but her draw was to champion creatives – artists, musicians, dancers, actors.
She worked at the Corcoran Gallery and ultimately became the the Director of Development for the Kennedy Center in Washington DC for two decades, where she was in charge of raising most public and private funds for the Kennedy Center and its partner organization, the National Symphony. About that time, when asked she would say "I lived on a plane and this was largely true for a large part of that life." Colin recalls those days saying, "I remember as a child all these fascinating and engaging people from all over the world regularly coming to dinner at our house. It was only much later in life that I realized who and how famous they were."
In the 80's Jillian met Colin in Boston for a theater performance ("Shear Madness") and she loved it so much that she brought it to the Kennedy Center. It became their longest running show and it is still delighting audiences 35 years later.
When Jillian "retired," she left the Kennedy Center and again began considering how she might be useful. Around that time was the fall of the Berlin wall and she saw a need that was not being addressed by anyone else. So in 1991, she founded The Fund for Arts and Culture in Central and Eastern Europe. This was an all-volunteer, nonprofit organization created to help develop the potential of arts and cultural organizations in countries without access to best arts management practices. In other words, The Fund sent over 100 museum experts and senior managers in the arts from this country to serve in over twenty countries in Central and Eastern Europe, developing processes and programs to help them thrive in their newly liberated culture.
As a friend recalls, "She spent those twenty years fearlessly traveling to remote corners of Eastern European countries making her exceptional contributions at the Foundation for the Arts, which she literally embodied. Her trips to countries and regions of the former Soviet Union were extraordinary. She was quite matter of fact about them (like the time she visited Khabarovsk in Siberia and was robbed in her hotel bedroom). One can only imagine what it was actually like for this not-so-young solo traveler. There is a picture of her somewhere of her apparently jumping for joy in some snowbound wasteland, which sort of summed it up, really."
Some Final Words
Towards the end of her time with The Fund and just before declaring its mission complete, Jillian began her next adventure in being useful – The Island Theater – she was around 80 at this time, but no where near done.
Somehow, during all of this, she  found time to work as an Adjunct Professor at American University and teach an on-line course on fund-raising for 20 years, helping people benefit from her experience in fund-raising for the arts. She wrote and had five books published on non-profit management. Her publication, "Managing for Money," is available in English, Russian, Ukrainian, Bulgarian, Georgian, Romanian, Serbian and Albanian. "Writing Effective Grant Proposals" is available in English, Russian and Serbian. She also consulted and served on the boards of numerous nonprofit organizations. Any time I'm tempted to grumble, "But I don't have the time to do that" I have only to think of Jillian to be reminded how much more I could actually do in the time I have, to be reminded what a difference one single life can make in so many others.
As artists, our work is so personal, so wrapped up in our own inner experience and visions. Maybe deep inside, we want to be revered or respected or famous for what we do. But looking deeper at the why behind those things, perhaps it's a bit of reaching beyond ourselves to connect with and maybe make a difference for others, to help people in the best way we can. Maybe it's the experience of our work making someone feel like they've been understood in a way they've not been before, that they're not alone in this world or making someone feel wistful for a place they've never been or reminding them of who they are and that they'll never go back to that dark place they once were or having someone be swept away in a visceral experience so beautiful that it's the one they'll tell their grandkids about. Maybe this is what Jillian meant about being useful: to take that which is unique in us and share it with others in a way that makes life better for all of us.
Some of Jillian's final thoughts were, "I came out of nowhere; I wasn't afraid to be born. And I'm not afraid to leave you – ashes to ashes, dust to dust. I'll simply contribute again to the atom pool that creates everything in our world. This is my goodbye or au revoir – as you choose. I'm simply changing form. I've had a rich and fascinating life, or perhaps more accurately, lives.
"I'm not sure why I'm telling you all this – I simply mean to say goodbye. And to describe what a lovely life I've had so, I'm quite ready to move on. But goodbye can also mean au revoir if you so choose. If you want me back, I'll come anytime. Next time you take a beautiful walk if you want to talk, let's talk. We can remember silly, funny, happy, joyful, thoughtful, difficult or profound conversations. Remember me if you care to explore crazy options. Yes, you can remember mistakes I made and test yourself as to how they might have been avoided. So, please don't miss me. I'll be around as much as you want. That's how goodbye becomes au revoir.
My goal in life has been to be useful. Always. And I've loved living. But to hang around and clutter up the earth when I can no longer be useful would be ridiculous. So let me move on and share my joy over what my life has been. No regrets. No Sadness. Cheers! And au revoir."
Rest well, Jillian. Surely, the echoes of your spirit will continue to reverberate through the lives you've touched and bring light to the corners of this world for many years to come.