I needed to take a quick diversion break from work, and in my crazy brain, more work. Or rather a drawing or something outside of the usual professional needs or asks. Much of my time had been in coordinating, designing and making art for a huge stack of incomingLP projects- which I absolutely adore doing, don't get me wrong- but it had all coalesced around the necessary technical proof-ridden production side of things, and I was hungry to just to draw something for no other reason than I wanted to. HBO's THE LAST OF US, had just released the week before and I woke up one morning with this sort of mandala image of Ellie on a bed of fungus and thought it might be a perfect thing to do. SO I took the day off, played hooky and did it.
Not by accident I made it in a square 13×13″ format- which as you know is shockingly alike to a standard 12″ LP shape. I love a square format- there's an elegance and balance to it, but there's also an inherent restrictive compositional thrust to it you need to push agains or embrace. This was a case of embracing of course. It was terrifically fun to do, it took both longer than I had planned and less time than it rightfully should. I had scratched the itch and was back to work. I did the thing I usually do, which is to post it, and run.
The show had taken off on a huge wave of expectation- both its star players, Pedro Pascal and Bella Ramsey hailed as perfect actors to play these beloved roles, and a huge following from the PS5 game from Naughty Dog created by Neil Druckman- a game I confess I have never played myself, sadly. But TLOU remains one of the keystone narrative video games of all time, so the energy for the show was breathless. Craig Mazen, who had heralded the transition ofd this story from interactive gaming to the televised narrative was what had brought me to it in the first place. I became an avid fan of his work since his stunning creation of CHERNOBYL, also for HBO, which to this day remains one of the all time re watchable and grand limited series ever to grace the screen, in my opinion. Mazen could shown a retelling of Full House as a crime noir and I would be in in a heartbeat- on this basis alone. So While I expected the show to be a huge hit, I never expected this drawing to garner the flaming interest it did. Above and far beyond any single post in my career to date, including Dune and Twin Peaks. Nearing a million shares and more alone, it exploded like a bomb.
Since I had posted and run off to work on the needed items for press, I at first hadn't;t exactly noticed it. I had just made a drawing I myself quite liked- a true rarity in my life- and had already fallen hard for the show and had other images popping to mind I wanted to get down. But I hadn't thought much about this beyond this one devotional drawing. Then I got word my mother had been found two days gone in a motel room in New Mexico, and the rug got yanked out from under me. We had been estranged for a long time as she had decided years earlier to cut off all ties and reduce her world to an inhabitant of one- living essentially like a 21st hermit in the American sprawl, so the grieving was really more of a capstone to a decade of eulogizing that relationship. It still landed hard, despite my expecting this exact piece of news, and for the first time since I can recall I shut everything down for a week so I could process it all. After a couple of days of essentially being a zombie while remotely working with my brother to gather what few remaining pieces of her life she'd left behind, I found myself at the drawing table again looking for someplace of solace. Music, a staple of my daily life,  had become impossible to enjoy for some reason, and the silence was deafening. I found myself returning to this subject, and making a couple of pieces inspired by the affirmation ally heartbreaking episode 3 LONG LONG TIME, featuring the brilliant work of Murray Bartlett and Nick Offerman finding love and building a life in a time of collapse. Suddenly the shows fallen world held a particular sort of resonance with me, surviving grief and loss and carrying regret, it all landed like a partner on a square dance floor, and I did what I always did when I didn't know what else to do. I drew.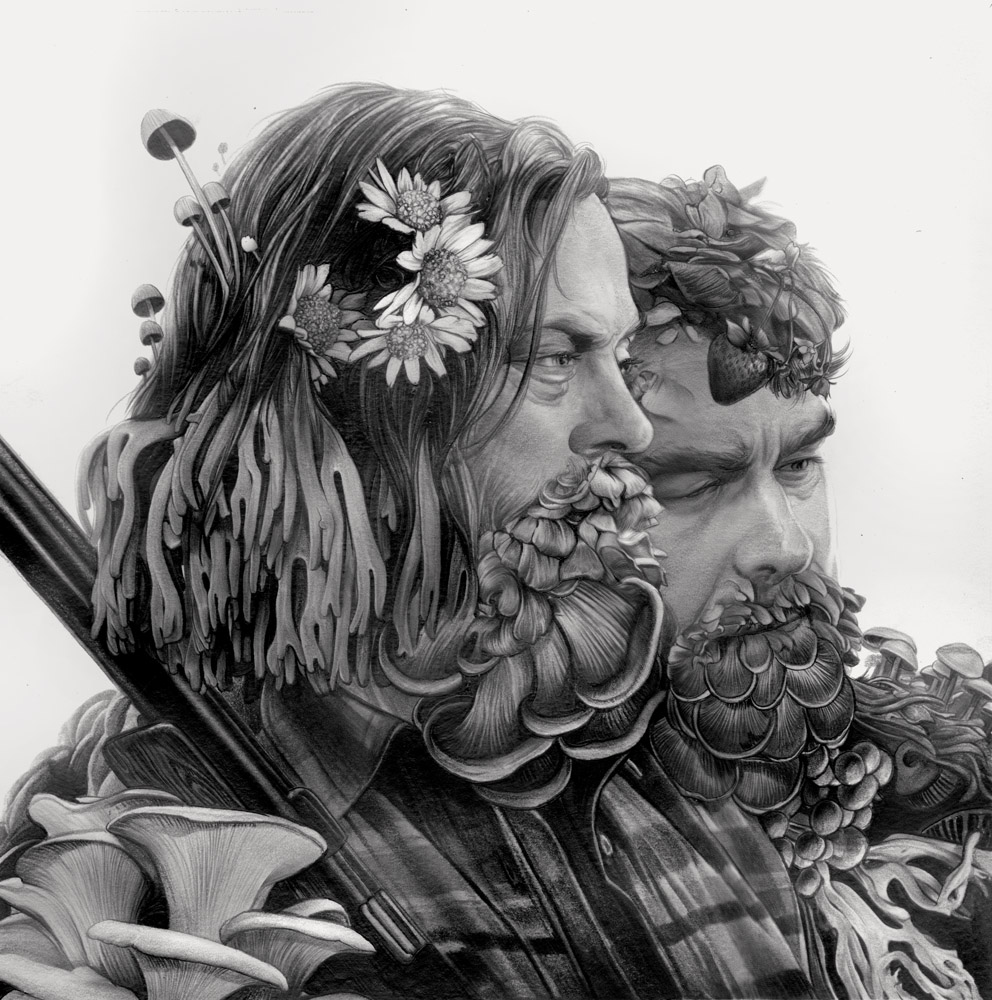 When I resurfaced to my feed later after doing these, the first piece had snowballed into a full on avalanche and when these landed, it turned into a tsunami. The timing could not be more perfect for me personally. I had become exhausted by the funerarium of my days and needed a shaft of light and the support and enthusiasm that came pouring in was a lovely and truly therapeutic distraction form it. The perfect medicine. All the other work had been halted, I couldn't;t bear zoom meetings, but workaholic that I am, I started devoting each day to furiously drawing this now series of pieces. It was hard enough to process the flooding emails, replies and personal messages in for these three drawings. No one really knew yet about my mom, but they were seeing my process of working through all of it in these pieces. I was in it now and there was no getting out.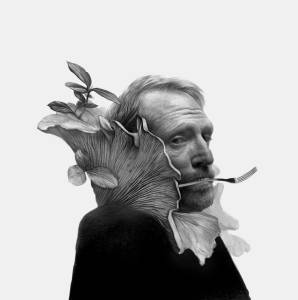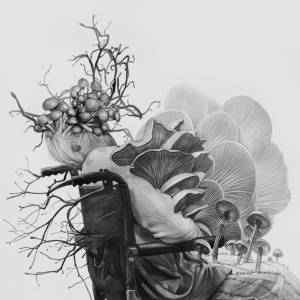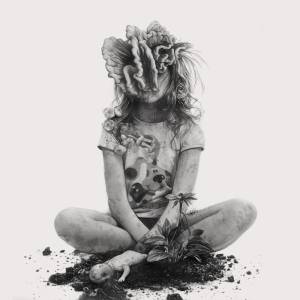 Among the wave of support coming was the surprise gift of notes and letters from Neil Druckman, Craig Mazen, Nick Offerman and Murray Bartlett among so many others from the production about the new drawings for THE LAST OF US. In all of my years making book covers and posters for films, the greatest achievement has always been when the creator, writer, director or whomever, reached out to express their joy over the work for their projects. SO this flood from such brilliant actors and creatives coming in from this work was remarkable to me. It fueled me forward in a big way and I could never express my gratitude enough for that unsolicited contact.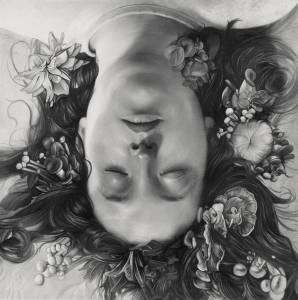 So I had by pure accident gotten my lasso around a big wild and beautiful stallion, and I could either grip hard and try to ride it, or cut loose and let it go, happy with what had occurred and be done with it. I chose the mount up and go for it. There was something of a wild apocalyptic abandon to it that was extremely healthy feeling. It was what The 52 Weeks Project had always been for me: a kind of codified hooky and self indulgence that harkened back to when I was holed up in my room as a kid drawing and sculpting and making stories alone with myself awaiting my escape from Texas. The "Pure Flame" as my brother, Ethan Hawk called it once, and I have never thought of it as anything else ever since. I built a special page on the website, uploaded the exisiting drawings and set course to execute at least one response in drawing for each episode as soon as I could roll it out. I promised to not to sell any of them yet, and wasn't sure at all if I ever would. I was certainly never going to sell the first one as it was too important a piece for me when I made it and exponentially more now that the series had burst on the scene like this.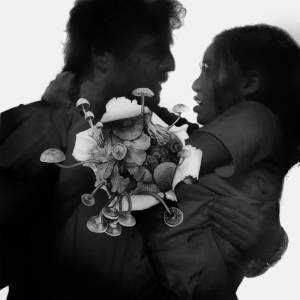 The lack of infusing money as a value into this all was deeply freeing. It's almost impossible for it not to get inside your head, especially when there's already an active and volcanic social media response to navigate with your work. It's easy to have last week's immediate sale drive one to repeat the approach to sell again. This is after all, not a hobby for me, but the way I support my family. It's just as easy to see one not sell quickly or even at all as a value derision to steer from such an approach. Removing these so I could just make what was that pure flame response to the episode on the table was essential to this. And still is- (as I type this we're a couple;e of days out from the finale and the last two pieces of the series). Some of this meant going back to attend to the first episode I hadn't met yet on paper- essentially playing a lot of catch up while new episodes were rolling out. I also had work returning into the previous vacuum and new work to fish after as well.
But it was the pure joy of the making of the work that really drove the train for me during this. Each piece getting a find and enthusiastic reception, each one made with that same self imposed ignorance and responsiveness to the material on its own terms I hadn't enjoyed this much since I did the White Lodge series of drawings for Twin Peaks. This was illustration at its most joyful for me. The subject pushed me hard into new experiments with graphite, and developed a wholly new language for me for the series itself. It was challenging but moreover, inspiring to all my work to be working on this. And each week I anticipated the new episode with a kind of excited relish one must feel as a horse, chest pressed against th bear of the racing stall waiting for the gun to fire to begin the race.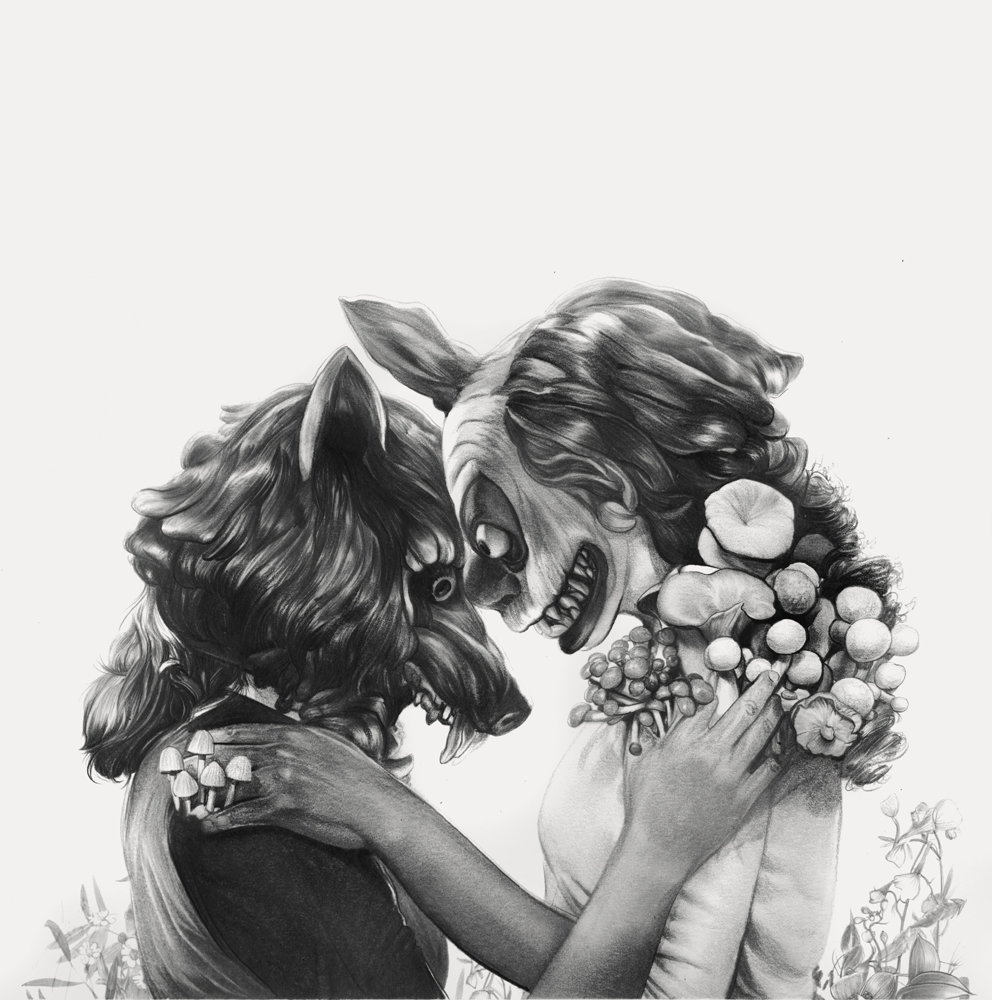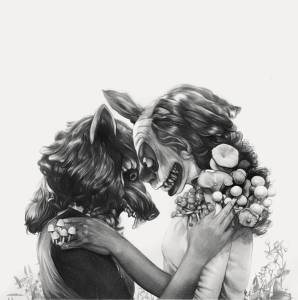 This has always been a feature of the 52 Weeks Project… a place of art making for me that was to be an escape from work, through working… that always blossomed into something beyond its original mandate to ironically, become a new project for work. Whether it was the initial random sums drawing of Obama I did on Election Day in 2008 that led directly to OUR ENDURING SPIRIT, a children;'s picture book illustrating President Obama's first inaugural address, more than 60 drawings fro Twin peaks that led to a gallery show and a massive print series, or any of the other ones that led this way and that, The Project always affirmed for me the value of returning to the cave where Childhood Greg hunched over his little table scribbling away to make a world he preferred to live in, to that pure thrust that made me become an artist in the first place. Absent of ridiculous Clement Greenbergian art theory telling me what I was supposed to be making, or the art world I lived and worked in during my early days in NYC, or the comics I made or the life I built from it all. It's helped fuel my embrace of a career that is mostly known for it's commercial and pop culture work to seize upon the subjects they bring as a value as equal to any other in their making. It broke and continues to break down the artificial barriers of value between low-brow illustration and supposedly higher end art making, and continues to teach me to take every single opportunity to work on whatever comes in as essential and valuable as anything coming after or having come before. You never know where you're heart will take you, what you might find when you let it lead and what may come as a reward for trusting it to pilot your ship, and I credit this Project with keeping me going strong decades in to this career and life in pictures and stories, grateful humble and in awe of it all.
I had essentially broken into Craig Mazen and Neil Druckman's house and started painting on the walls. To my tremendous surprise, they found me and invited me to stay, and keep going. It has been an exhausting, healing and magnificent surprise, and worth every ounce of disruption it caused.
You can visit the entire series of WIPs and final pieces from the series ONE WORTH SAVING, HERE
TODAY also marks the rollout of all the remaining 17 original graphite drawings from this series exclusively on the shop, HERE
If you haven't seen THE LAST OF US yet, fix that quick via HBOMAX, and I also heartily encourage you to dive into the podcast where Neil and Craig breakdown the process and storytelling behind each episode. Like the brilliant companion podcast to Chernobyl, it's as worthwhile as the show itself.