by Arnie Fenner
The recent Eowyn Vs Nazgul challenge included entries of all levels of quality and ability; while some suffer in comparison to others, I couldn't help thinking optimistically, "Everyone starts somewhere." I was reminded again of that fact while going through some of Jeffrey Jones' early work following his death last Thursday.
It used to be that fanzines were the fertile training ground for young fantasy artists: Jones, Wrightson, Kaluta, and countless others honed their craft drawing monsters and superheroes for amateur magazines like Gosh Wow, Spa Fon, and Seraphim. Then there were the fan club pages for comics magazines like Creepy and Vampirella which included drawings young readers would send in. Fanzines and fan club pages are, for the most part, now things of the past and have been replaced by blogs and websites where pretty much any art can be posted without competition, vetting, or criteria. I think the value of activities like Jon Schindehette's challenges is that they not only excite young artists and make them want to get involved, but also encourages them, via exposure and feedback, to get better—to want to get better—at their craft.
So…everyone starts somewhere (and the "starts" don't always seem auspicious). I thought I'd show some examples of very early works by artists that have gone on to profoundly influence our field.
First up is one of Jeffrey Jones' very early Tarzan paintings,
Followed by his Spectrum Award-winning Tarzan painting 30-some years later:
Next is a drawing by a very young Baltimore fan named Bernie Wrightson that appeared in Creepy's Fan Club pages.


Followed by a masterful Frankenstein illustration by the mature Wrightson.
One of Phil Hale's teenage game card paintings: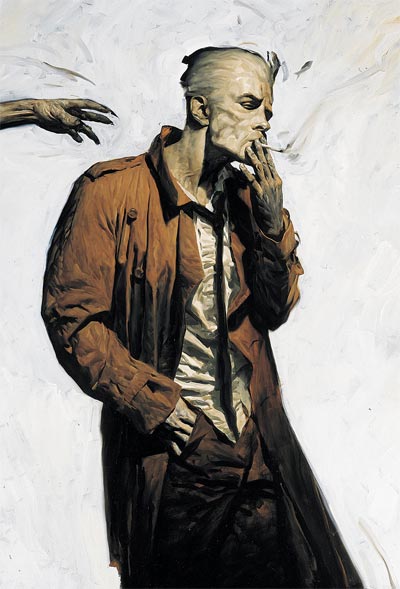 A Captain Marvel fanzine illo by Don Maitz,
Followed by Maitz's unparalleled cover for The Second Drowning:
One of Frank Frazetta's early sketchbook pages, showing his infatuation with the art of Milton Caniff,
Followed by his stunning "Egyptian Queen" painting:
A fan drawing of Vampirella by a 16-year-old Thomas Blackshear that appeared in the "Vampi's Flames" fan club pages,
Followed by his unforgettable "8th Wonder" painting: