-By Dan dos Santos
Over the last 7 years or so, Penguin books has commissioned me to paint the coves for most of Patricia Briggs' books. I am really fortunate, as Patty is a very popular author, and they pretty much all become NY Times Bestsellers.
Book #2 in the Alpha & Omega series.
I am also really fortunate to have a phenomenal Art Director on the project, who has managed to keep the series really fun for me. Being a NY Times Bestselling book is a big deal for a Publisher, and that means that a LOT of people want to have their say in what the cover should look like. Luckily, the reverse has actually been the case here. Every time one of Patty's covers sells better than the last, the AD responds by giving me even more freedom. To date, they have yet to request a single revision of me (knock on wood).
This cover is for the third installment of Patty's 'Alpha & Omega' series, a spin-off of the hugely popular 'Mercy Thompson' series. This piece also marks the first hardcover printing in this series. For the publisher, that means greater printing costs… for me, it means more cover space to work with!
Because this was to be the first hardcover, and a new beginning of sorts, the AD wanted to revamp the series' image a bit. As we discussed in a previous post, visual continuity in a series is really important. My first solution, as it often is, was a montage. I looove montages. Unfortunately, my clients rarely feel the same. Montages were very popular in the 70's, and as a result, it tends to make a book look very dated. In this case, I was going for more of a movie poster vibe, and the AD picked up on it. She expressed a real interest in it, and I thought that I had finally convinced someone to let me paint a montage, something I have yet to do professionally.
Sketch #1
I also did two other sketches. The second being a really safe bet, sort of a common composition for an Urban Fantasy cover, and typical of what the series already looked like. The third was a bit more graphic, and looked like a lot more fun to paint.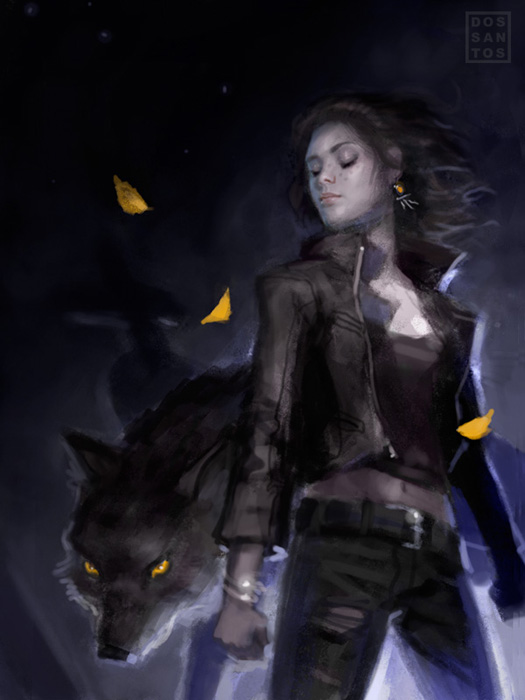 Sketch #2
Sketch #3
Ultimately, the AD decided she wanted the third sketch (dashing my dreams of a series of montages), but wanted me to use the colors of the first sketch. This was actually a bit harder than it may seem. A black background makes treating things graphically very easy. Elements can just 'emerge' from the black and have very little impact on one another. But as soon as you have to paint a background, spacial relationships and proportions now play a much greater role, and all of sudden that cool composition starts to look really weird. The piece required a lot of compositional revisions to get the combo to work, but I think I finally achieved what she was looking for.
Lastly, here is the final cover with it's type treatment. The book, which is already available for pre-order on Amazon, won't actually be available until February of 2012. In fact, I'm not certain the manuscript has even been completed yet. So when someone asks why it is that that the covers don't always match the content within… now you know. Illustrators have to sometimes paint the covers a year in advance, long before a manuscript is even available.
And for those of you that follow Muddy Colors closely, this is the first of two red paintings that I had mentioned previously.