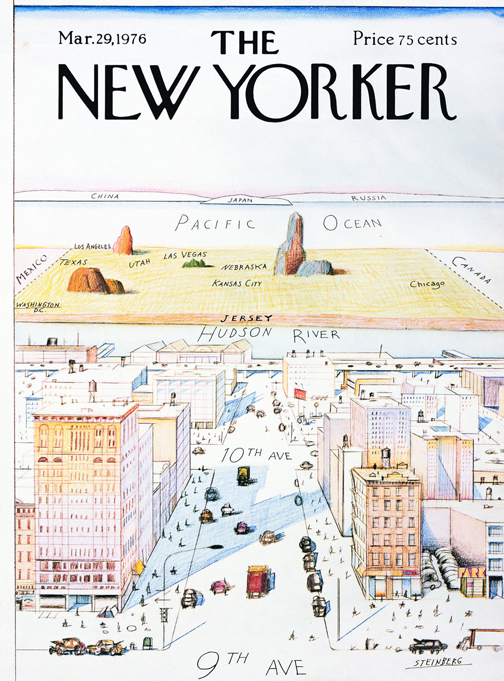 The famous 1976 New Yorker cover by Saul Steinberg depicting the U.S. as seen from NYC.
The next time I post, Spectrum Fantastic Art Live! will be history. Good or bad, success or failure: the outcome will be what it will be (though I think everyone will have a good time). People have already been asking about "next year"—including some of our committee members (who are almost certainly gluttons for punishment)—but Cathy's and my response has always been the same: let's pull the first one off, then we'll see.
The purpose of SFAL! is exactly the same as that of the Spectrum annual and the two Spectrum exhibits at the Museum of American Illustration (in 2005 and 2009 respectively, thanks to Irene Gallo for being the prime-mover behind both): to raise the public's awareness of and appreciation for fantastic art. Simple as that. Spectrum—and by extension, SFAL!—has always been an umbrella under which all are welcome, not a fort or a cell. Fantastic Art was a term we used as marketing short-hand to help describe the books when we were starting twenty years ago, but was never intended as a set-in-stone guide. The goal was never to define "fantastic art" exactly: defining any art is a way of confining it. It wraps everything up into a neat package and answers questions before they're asked. It's the end of a conversation, not the beginning.
No one can "own" this field nor can they create some sort of private club that sets artificial parameters which excludes those who don't fit this or that largely specious "criteria": much like herding cats, it's an absurd notion. Realistically, I believe that we all want people to experience fantastic art in a multitude of venues expressed in a multitude of styles and mediums—and come away with their own impressions and reactions and, yes, personal definitions and criteria. By "defining" it for themselves they're actually investing in the field's—or genre's, if you prefer— longevity.
The key to growth—to success—for artists is in outreach. To enlarge their audience and not fall into a trap of retreating into "safe" (and ultimately contracting) enclaves. To create new fans while nurturing long-term patrons. To growing our field by opening doors and inviting the curious in.
And part of that growth has to come with more opportunities for the public to experience the art and to interact with the artists who create it. More exhibits. More educational offerings and PR efforts. More conventions. More…more.
Traditionally, in order to get an "art fix" (fantastic or otherwise) the common belief is that we must journey to one coast or the other (our overseas readers, of course, have their own challenges): why?
You've got me there.
When we first announced SFAL! some Internet wag posted, "This sounds great, but who wants to go to Kansas?" Never mind that the poster was geographically challenged, it's an odd and often-repeated expression of cultural prejudice against other parts of the country that is, quite frankly, based on ignorance and false perceptions. I love California and I love New York…but I also love Chicago and Dallas and Denver and Minneapolis and all points in between. Do you want to see one of the finest collections of American Painting anywhere? Go to Bentonville, Arkansas. Yeah, Arkansas. You want to see the largest exhibit of Mucha art in the U.S.? Plan your trip this summer to Cedar Rapids, Iowa. You want to see one of the most exquisite Carravaggio paintings in the world? Come to Kansas City. (Kansas City, Missouri, that is, just so the aforementioned poster doesn't get confused…)
No region has a monopoly on art…and that includes Fantastic Art. Nor should it.
So that's why, yes, of course, I'd love for as many people as possible to come through the doors for SFAL! May 18, and talk to the artists and buy paintings and drawings and sculptures and prints—but I also enthusiastically encourage folks to attend the "At the Edge: Art of the Fantastic" exhibit that Pat and Jeanne Wilshire are sponsoring in Allentown in June, and their IlluxCon in November. I encourage people to attend the local SF and Comics conventions, big or small (there is one or more somewhere virtually every weekend of the year), and become patrons of the participating artists. I encourage people to journey to GenCon in Indianapolis or World Con in Chicago and make attending the art shows and interacting with the artists a priority. And then talk about what you see and experience. Share your enthusiasm with others. In other words, I'm encouraging everyone to pitch in and help to grow the appreciation for the art and for the people who create it.
Every drop in the ocean lifts all boats. Expanding our field is good for us all.
"Crowbot", created by & © Jon Foster—the symbol for SFAL!