Before I start this post, I am going to begin with the points I hope to make by the end of it.
– The art/illustration world is big enough for everyone –
– Life is better when you help others along their path –
– It is important to teach kids that you can work as an artist –
The other night I had the chance to go and speak to a large group of people about my artwork.  After speaking a woman in the audience came up and re-introduced herself.  She was one of my art teachers in Junior High.  She was so supportive of me, even back then when I was a gangly nerdy art kid (not much has changed).  It was great to see her and little emotional for me.  It started me thinking about all the people who have so generously given of the time, energy and feedback along the way.  I thought I would write a few thoughts about this and then, since this is an art blog, share a few things I have been working on over the last couple weeks.
My family has always been incredibly supportive.  My parents didn't blink an eye when at 12 I told them I thought I should be an artist.  My mom took me to visit the studio of an artist shortly after and this artist was kind enough to make me feel important and told me that if I wanted to be an artist that I could, and should.  His name was Greg Olsen.  It was inspiring.  To see that someone could actually make it.  For a kid, my vision of an artist was drawn from cartoons and caricatures that made them all seem a little crazy or poor.  Here was an artist working and normal and kind.  He gave me a full set of slides of about 60 of his paintings.  I still have them.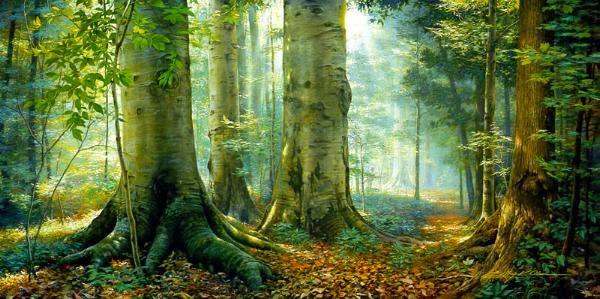 Sacred Grove by Greg Olsen
Through junior high and high school I had wonderful teachers.  My physics teacher, who makes really high end field cameras (K. B. Canham Cameras Inc.) told me that I should really get serious about being an artist.  He offered to photograph all of my work for me to help me apply for scholarships.
Citrus by J.D. Parrish
While in high school an artist came and did a demo in class and showed some amazing artwork.  A lot of incredible pencil work for Hollywood posters.  His name was J.D. Parrish.  He went to Art Center and did some work with Drew Struzan.  He was kind enough to treat me like an equal and we became good friends.  I still have a roll of linen that he sold to me at an incredible price when I was a poor college student and the strobes that I do my photography he also sold me for almost nothing.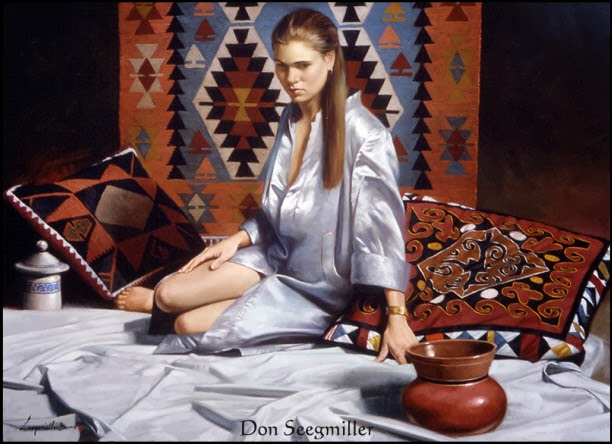 A beautiful painting by Don Seegmiller
Don Seegmiller was one of my teachers in college and then my art director when I worked at the video game company Saffire.  Don would let me come to his home and watch him paint and see his setup.  He sold me a beautiful old Santa Fe easel that I still use for about the cost of a tube of paint.  He also gave me two original oil paintings that hang in my studio.  More than that, he gave me knowledge and support.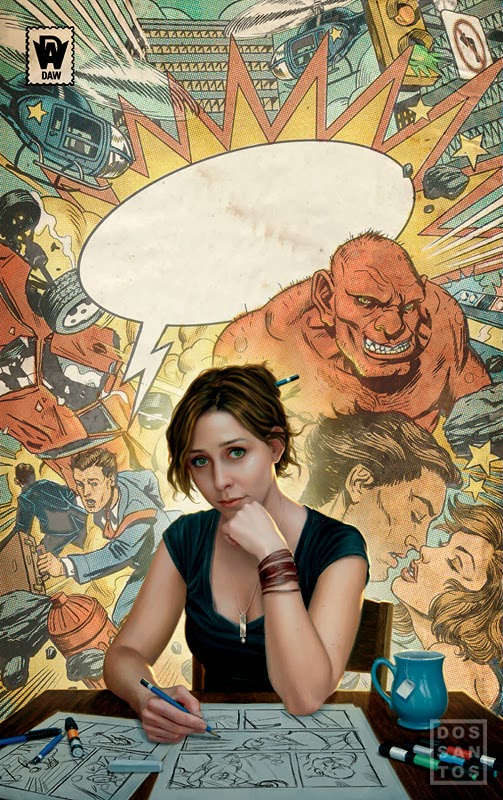 Trolls in the Hamptons by Dan Dos Santos
Another important person in my career is Dan Dos Santos (who needs no introduction here of course).  Dan is incredibly generous, as many of you know.  Dan helped me make contact with Greenwich Workshop, who now have a few of my prints in their line up, something I have dreamed of since I was a kid and used to pour over their catalogs.  Those of you who have been to the Illustration Master Classes know that Dan (along with all the other teachers) holds nothing back, sharing everything he can.  Thanks Dan!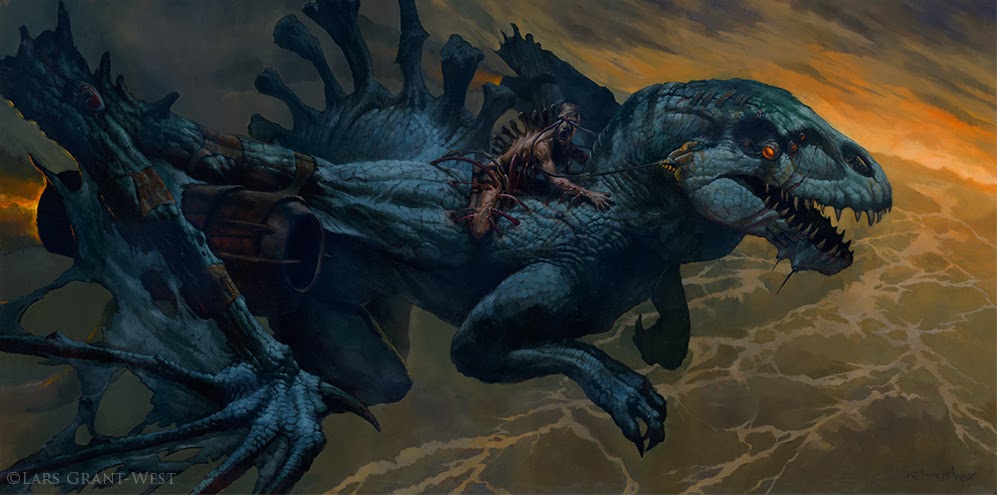 CyberDragon by Lars Grant-West
Lars Grant-West also comes to mind.  I was at Gen-Con and signing for a book I had done illustrations for.  I met Lars and showed him some of my work.  He said, "You should meet Jeremy Jarvis and do work for Magic: The Gathering."  Fifteen minutes later, I was showing Jeremy my work and started doing work for Magic a few weeks later.  There were no thoughts of competition, just Lars being Lars and giving me an introduction.
There have been many others along the way that have encouraged, supported and given me help.  I consider myself both lucky and blessed.  I work hard, but wouldn't be where I am at without so many others.  Most artists I have met are generous both with their knowledge and support.  I think it is because so many of us have had others lift us up.  It is part of the common experience to this field of work.
So, now that I am working as an artist, I always say yes if at all possible when cub scouts want to come visit the studio, or parents want to bring their child and talk about being an artist.  If the kid asks if they can make it as an artist, the answer always yes.  Lots of hard work, but most definitely yes.
Take the opportunity to go into schools (by invitation, don't just show up…) and present artwork of the old masters and talk about art.  Here in Arizona they have an 'Art Masterpiece' program just for this purpose.  See if that exists where you live too.
Answer as many questions as you can when those who are a few rungs down on the ladder ask and if you get the chance, mentor someone.  It is both eye-opening and rewarding.
Now, a few videos from some studies and a painting I have worked on over the last couple weeks.
A study:
Another study:
And lastly, this is a painting I did of my brother's dog who died a few months ago.  He was a great little King Charles Spaniel named Charlie.  He was part of their family and a great companion to my sister-in-law.