I moved to Utah four years ago from Arizona. There are things I miss about my home state, but Utah holds some pretty spectacular scenery and it is also home to a remarkable number of artists. Within just a few minutes of my home, there are dozens of successful, working professional artists. I love it! One of those artists is Casey Childs. Casey is an award winning artist at the national and international level. Just this last year, Casey won the gold medal in the 27th Oil Painters of American national show with his painting Take These Broken Wings.
The same painting won the Springville Museum Award in the ARC salon. His painting Sliver won second place in the Portrait Society Conference show this year in April. 
Casey is good. Really good.
I have watched Casey paint many times before. He opens his studio on Thursday nights for a portrait or figure session. When I attend, I am always impressed by the way he paints. It is very deliberate, but spontaneous in feeling. Casey has a great eye for accuracy and aesthetic.
Which is why I was excited to see that he has a just released an instructional video (use the code 'buymorepaint' to get 20% off, today only) of him painting a portrait. It's a three hour video, shot in real-time. About 2:40 minutes of the video is him painting with a short introduction. The title of the video is Painting the Direct Portrait. Full disclosure before I get to the review. Casey is a good friend. Having said that, he is also an exceptional artist, so I feel very comfortable reviewing his video and sharing my recommendation.
In the video he starts by covering the tools and palette he will be using.
The video is very well organized an is broken into the following segments.
Casey takes the viewer through each step of the painting process
The video is very well done from an instructional standpoint, with the occasional text overlay to provide added explanations
The camera changes from behind, to the side to overhead to allow you to see the colors he is mixing on his palette.
I love where he takes the painting. Such beautiful marks and brushwork.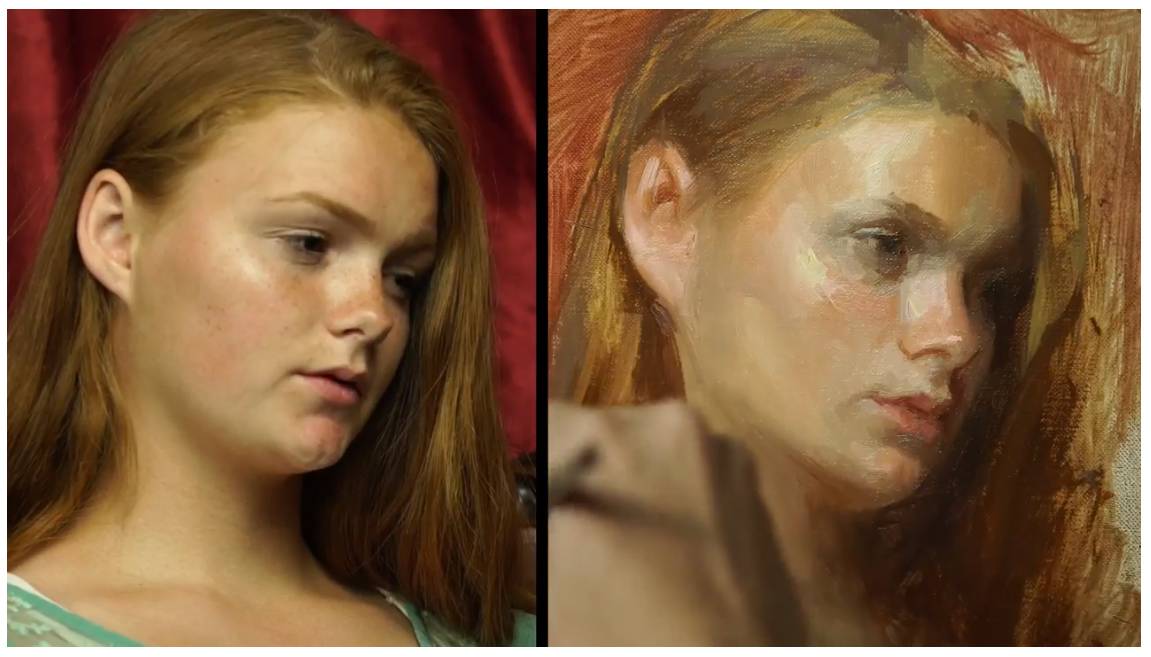 Lots of great insights are shared throughout the video. Casey paints the demo for a group of his students and there is some good interaction and answering of questions along the way.
One of the best things about it, after all the information, is the price. It will be $34.95 for the digital download on Gumroad, but for today (November 9th) you can get an additional 20% off using this code: 'buymorepaint'. Here is a direct link
Casey Childs – Painting the Direct Portrait
This is a wonderful bargain. If you have any interest is painting people, go get the video and support Casey's efforts and get something exceptional in return.
Here are some more of Casey's paintings. He even painted my hairy face looking much cooler than I am for a recent commission. It has a companion piece and the two will hang side by side and reflect the power of music to bring people together.
I love this study and the variety of edges and rhythmic brushwork.
One more painting. This one is an absolute stunner.
Thanks for giving this post a read! You can see more of Casey's work on his site and on his Instagram account: @caseychildsart
Howard