Just returned from the fourth Spectrum Fantastic Art LIVE! held in Kansas City.
This year was one of the best yet with so many attendees, and packed with artists. But the real difference this time was the quality of art. Especially the level of skills presented in all of the portfolios I looked through over the weekend. Good. Really good.
Amazingly good.
Took a quick shot of one of Spectrum's masterminds, and Muddy's own 
Arnie Fenner (Cathy was there, too!) on the Iron Throne.
I usually give portfolio reviews throughout the event not only because I make myself available, but because I want to see what upcoming artists are thinking about. There was a marked advance in skill and insight evident across the range of books.
I felt that last year showed a bump in progress in the samples. Handling of practical skills like value, color, composition, and concept advanced away from the typical feeling of a young professional's post-graduate offerings. Far less figure studies for example. An art director needs to see much more than just the capability of handling a figure. They need to know that an artist can manipulate figures into scenes and concepts.
Reviewing Sasha R. Jones' portfolio together…
I don't know what happened between last year and this, but there's definitely a disturbance in The Force. Maybe it was Spectrum 21 coming out and being so incredibly good. Maybe it's that far more genre artists are really paying focused attention to their progress and taking bigger risks. It just seemed that the level of understanding of how to engage the viewer had risen to a place where talking with young artists felt more like guiding them toward their goals than pointing out problems and explaining how to fix them.
Besides doing portfolio reviews at my booth and around the hall, I gave a painting demo on the main stage. I had sixty precious minutes to knock out a portrait demonstrating the way I go about structuring a head. This year: Furiosa, from Mad Max (because Irene Gallo made me).
Saturday evening's gala awards event was as dramatic and encouraging as ever. The Folly Theater sparkled with an aire of old show biz, with energy rivaling the Academy Awards. Nowhere in this industry is there an event anything like it.
Bill Carman, above, and the front row reserved seating for nominees…things were a little EXCITING….
Everyone on stage, from introductions to eventual winners, spoke with such a relaxed confidence in front of an audience made invisible by bright lights that it seemed the whole genre world was watching with loving support for each and every one of them. We all laughed, some came to tears, but all were cheered to happiness. And then Gary Giani gave the most theatrical introduction for Scott Gustafson being presented the Grand Master Award it was worthy of an Oscar itself.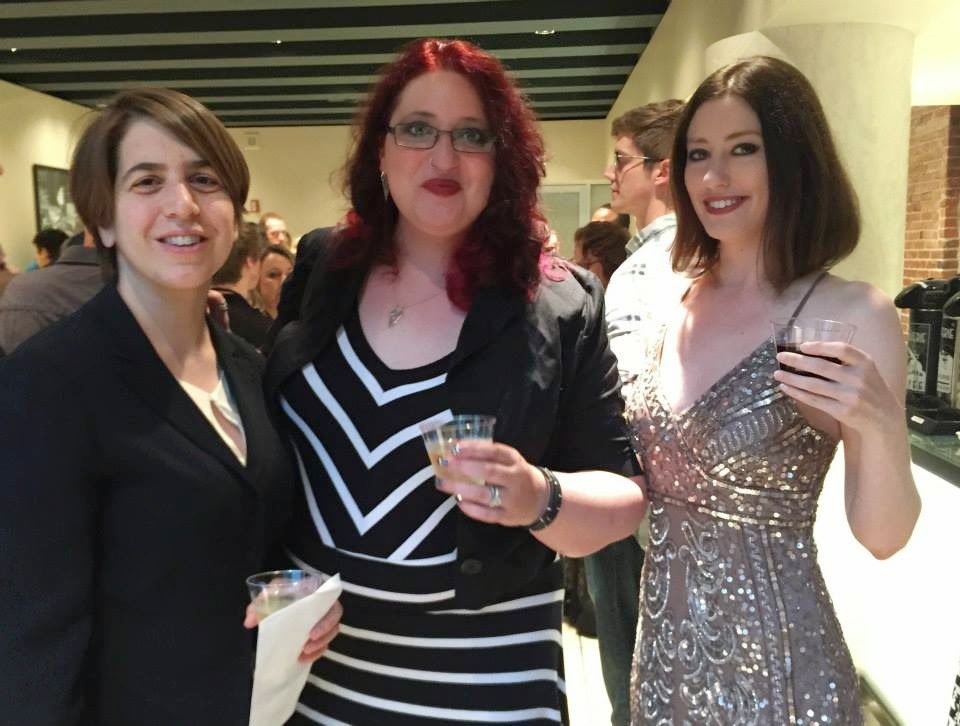 Pre gala, l to r: Irene Gallo, Zoe Robinson, and Cynthia Shepard
There's never enough time to get around to see all the booths or hang with all the folks I want to chat art with. From seeing old friends to making new ones, meeting bright-eyed graduates, or seasoned pros, it's nonstop. Then it's back to the hotel for a relaxed evening of shop talk.
Hangin' with Bill Carman and Arnie Fenner at the Marriott….
WiFi (Women in Fantasy illustration) gathering for a shot at the Alamo Draft House!
All the artists gathered for a group shot to wish good health for our close pal, artist Allen Williams, who couldn't attend.
The art field expands and yet, The Genre Family gets tighter every time. I wonder what's in store for this coming year. I bet the whole industry is on its way to phenomenal new visions.