Here's a private commission I recently finished up titled 'Eos Taking Flight'. It is a depiction of Eos, the Greek goddess of Dawn, as she prepares to take to the sky, bringing dawn in behind her.
It's not often I get to paint something that's not a cover. Trying to squeeze in private commissions between publishing deadlines is really tough, and it seemed like this piece just kept taking a back seat to more pressing matters (which never seem to end). As a result, I had been working on this piece off and on for an embarrassingly long time. The client was remarkably understanding of this though, and let me take as long as I wanted until I was happy with it. It was really great not having to rush a piece for a change.
This commission started off like most others, with lots of thumb-nailing, sketching, and color studies.  I gave the client several options to choose from, about four in all. And although some did not suit his tastes, I quite like some of the rejected ideas and may very well go back and paint them someday.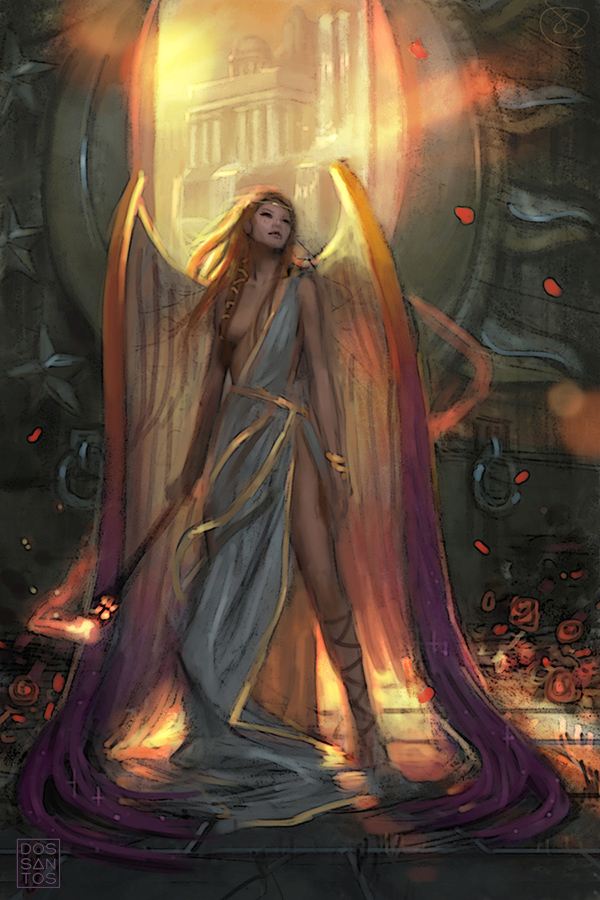 Unused concept for Eos I still hope to explore.
The original painting is oils on illustration board, and is 24 x 36 inches, which is quite a bit smaller than I would have liked to paint this particular image. But as with many collectors, wall space is a real commodity, so we had to bring the size down some. The slightly smaller size meant that the painting had to be extremely detailed. In fact, the head of the Eos is actually just 1 inch tall.
I had an unusually hard time with the face on this one. I probably repainted it about 6 times or so. Every time I tried, I seemed to miss the desired look by just a tiny bit. Due to the small scale, even minute changes altered her face dramatically, making it difficult to capture the personality I saw so clearly in my head. I do think I eventually got what I was going for though.
Below are a few additional details showing some of the passages I enjoyed painting.
Like any job, I always do some research and shoot a ton of reference. I hired a few models for this one, but probably the funnest part of the reference process was building 'Mt. Olympus' which was to appear in the background.
I used some of my children's old building blocks for the main structure, some cheap wedding cake toppers served as Greek columns, and wrinkled craft paper made for some mighty convincing mountain reference.
For anyone interested in reproductions of this piece, I should have this painting available as large canvas prints very soon. It will likely be a very limited run, so feel free to email me if you are interested in being placed on an early reservation list. My contact info can be found at: http://www.dandossantos.com/