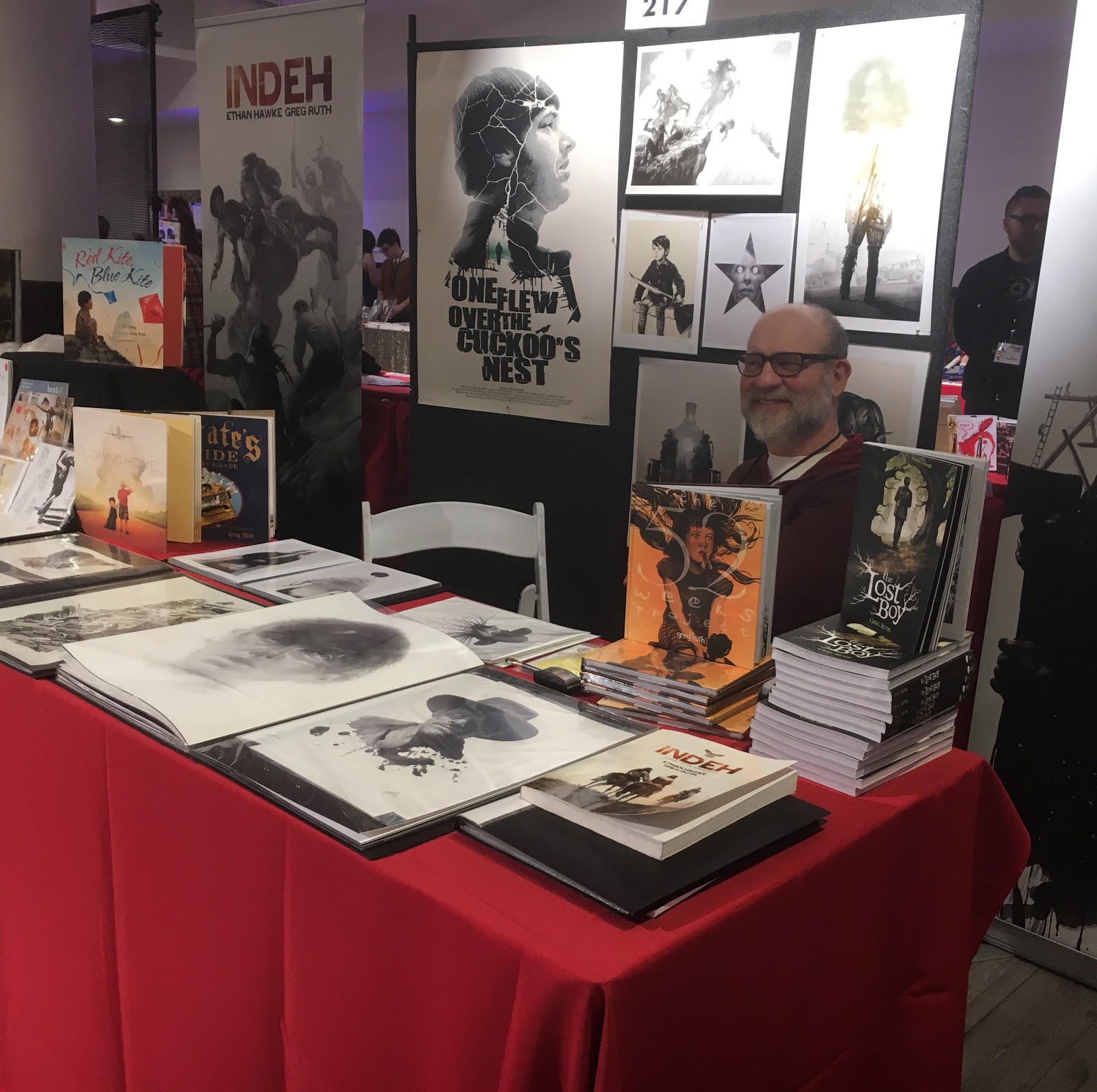 Short post this week as I am still catching up on work this week, but I wanted to share some highlights from this past weekend's always excellent and fun, MoCCA Arts Festival sponsored and run like a fine tuned harpsichord by The Society of Illustrators. I've done this show just about every year since back when it held its inaugural year at the Puck building in lower Manhattan, and it really just seems to grow each and every year. Despite rain and being a wholly new building out near where the Intrepid is parked, the attendance was phenomenal if not sometimes absolutely crushing. It's a great show with a high caliber of art and artists- definitely more a book show than your typical becostumed comic convention, and always a great place to see old friends and meet new ones. 
Its always hard for me to get pics of everyone and everything from these shows, they just get so busy. But I tried and here are a few below:  As per usual Allen Spiegel and I set up together over near our pals Charlie, Chad and everyone else at Abrams Comics Arts, and traded oversight duties to give each other a break for food and a chance to see the show. Also as usual the show was preceded by editorial meetings the Friday before with Simon & Schuster, Criterion, Hachette, Marvel and Scholastic, so its a really long and packed in time. (If Friday underscored anything at all it's that you all of you who are looking to work in this field better get up on your websites, instagrams and facebook: these editors and ADs are totally watching these. So post away your work and behave yourselves out there!). Spent more than a little time at Every Day Original and even picked up one for my own selfish self. My old pal from Texas time, the screenwriter and director, Stiles White stopped by with his wife and creative partner, Juliet Snowden and their family entourage as well as Ethan Hawke and his brood. Got to catch up with my old pal and editor from the Matrix days, Spencer Lamm who had me a day longer than anyone deserved due to the New England snowstorm at home, and the weekend's duties are bookended nicely with dinner out with comrades and the wonderful sense of awesome in the NYC arts community. If you've not been to the show before and can make the next one, I heartily encourage you to do so. It's really worthwhile.
A near perfect robin on the sidewalk of North 8th near  Bedford in Brooklyn… except for the not alive part. 
 
 Some of the incredible art hanging in the
MoCCA Gallery show curated by the SOI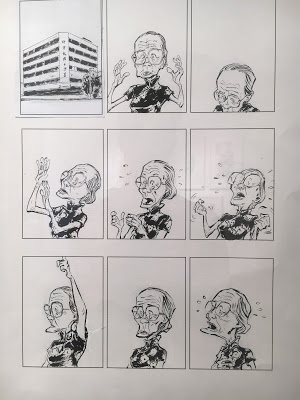 I don't know who did this and the one above, but I loved them. a lot.
Some Spy V Spying going on by she who is Yuko Shimizu
The Notorious RGB herself by Eleanor Davis
 The City from below and above. Despite my near two decades of living there mid and uptown still remain a mysterious place to me, and forever where the adults live and work.
From below around mid town across from the Tonight Show HQ
The view from the window outside David Saylor's office at Scholastic. That man has hit twenty years that very day, and no, I shall not post the pics of him from junior high that were plastered all over. Even I am merciful.
The lobby hall of the temple of where art and film meet and dance beautifully together, The Criterion Collection HQ.
Allen Spiegel preparing to take on Marvel.
The first peek at the mock up for the final dust jacketed hardcover for INDEH.
It all became real holding it like this. Its a biggin… and WIDE.
An unorthodoxed stop over to the outer Orbit of Hachette, wherein the sudden arrival of a rampant Tim got Lauren Panepinto just to the edge of She-Hulking out all over the place. Sort of.