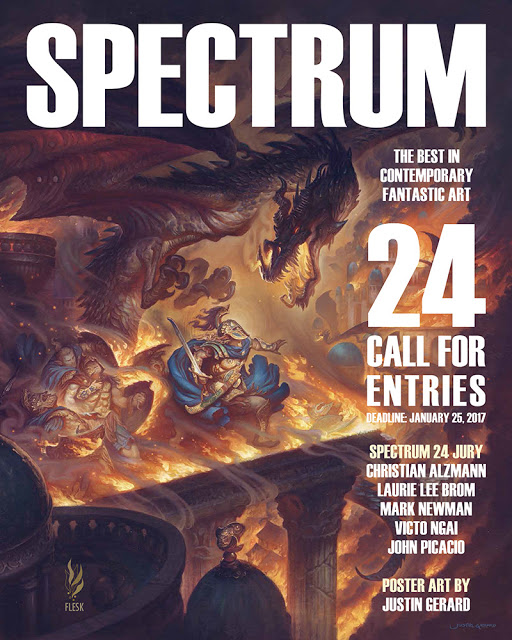 Justin Gerard's Call For Entries poster.


Awhile back Justin Gerard gave an advance peek at his wonderful art for Spectrum 24's Call For Entries poster; now that October is officially here, Director John Fleskes has announced the jurors for this year's competition.


Regular Muddy readers know that I've written about Spectrum's history in the past (and if you're new, please feel free to hit the hotlink above to read about the what and how). John Fleskes assumed the role of editor with volume 21 and does an exceptional job.


---
---
---


Mark graduated with honors from the Academy of Art University and immediately embarked on a  career producing work for Bowen Designs, Sideshow Collectibles, Hallmark, Lennox, and many others. He was the lead sculptor for Thomas Blackshear's "Ebony Visions" line, conducts artist anatomy workshops, and has worked on video games and films (including The Spiderwick Chronicles). Equally popular for his garage model kits as he is for his fine art statues, Mark was commissioned to create a pair of bronze fireplace facades by George Lucas for the Skywalker Ranch.


---


A graduate of the Rhode Island School of Design, Victo quickly became one of today's most in-demand illustrators. Her clients include Scientific America, The New Yorker, Wired Magazine, Lufthansa Airlines, Tor Books, and Variety. Victo was named by Forbes magazine as one of the "30 Under 30" breakout talents of 2014 and she designed the Call For Entries poster for Spectrum 22. Photo by Greg Preston


---


Based in San Antonio, TX, John is easily one of the most popular fantasy & science fiction artists working today. He has produced covers for Ballentine/Del Rey, Pyr, Pocket, MonkeyBrain Books, and Tor, illustrated George R. R. Martin's A Song of Ice and Fire 2012 Calendar, and has been presented with the Hugo, World Fantasy, Locus and Chesley Awards among many others. John's work was collected in Cover Story: The Art of John Picacio in 2006.


---


The whole of Spectrum is made up of—is only possible because of—the sum of its participants. Together we celebrate with those selected for the book and commiserate with—and encourage!—those who aren't. After 24 years it is extremely easy to assume that it will always be around, but Spectrum 23 is no different from Spectrum 1: it can only exist, can only continue to fulfill its mission, if everyone supports it.


Spectrum 24 will open for submissions on October 17; the deadline to get your work in is January 25, 2017. You can find out more details here. And there's still time to sign up to receive Justin's Call For Entries poster: just hit this link. Awards in eight categories (plus the Grand Master and Rising Star honors) will be presented at the historic Folly Theater in Kansas City during Spectrum Fantastic Art Live (April 21-23, 2017). Good luck everyone!