In the marketplace art books have traditionally been categorized as "gift items"—which is why you tend to see a flurry of new titles in the stores beginning in October as retailers stock up with inventory for holiday shopping. So with that in mind I thought I'd suggest a few books (and a calendar) to consider, either as a present for someone on your list or for yourself.
It's been a dry spell for collections by Grand Master Michael Whelan; the last two were the big The Art of Michael Whelan from Bantam way back in 1993 and the poster book Cathy and I put together for Mark Ziesing, Something In My Eye, in 1996. Why it's been so long since the last book, I don't know: it's not like Michael hasn't been busy painting over the last 22 years. Enter Bob Self and his company Baby Tattoo to rectify the problem. He not only organized "Beyond Science Fiction: The Alternative Realism of Michael Whelan" exhibition at the Riverside Art Museum in California in early 2017 but has now produced a wonderful book of the same title this year chronicling the event. All of Michael's other collections are out of print, so if you want to introduce your friends to one of the F&SF art field's true superstars, this is the book to do it.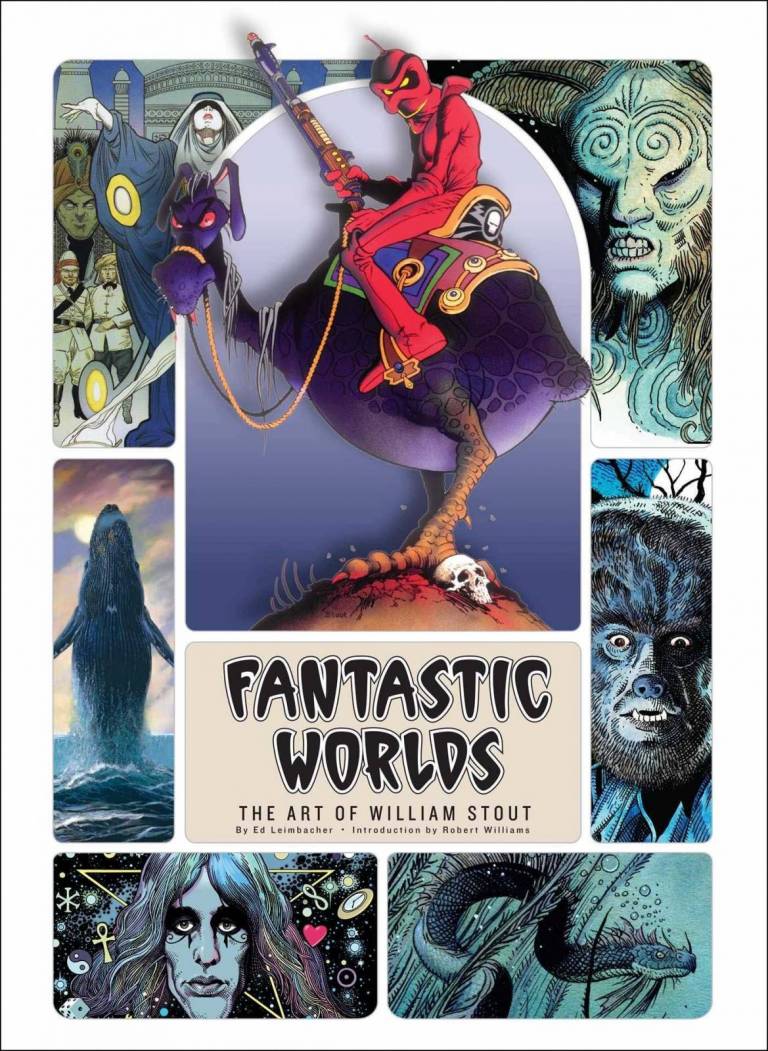 If the late James Brown was described as "The Hardest Working Man in Show Business" then I have to consider William Stout as "The Hardest Working Man in the Art Biz." Comics, comix, editorial illustrations, book covers, album covers, movie posters, film & TV design, Paleoart, even murals for museums, Bill has done it all! And done it all with equal skill and passion. Even as Fantastic Worlds explores every aspect of his multi-faceted career, its 304 pages (including multiple gatefolds) leaves readers happily enlightened (who knew he had designed a water theme park for China?) and satisfied and, at the same time, wanting more. Knowing Bill, he's probably already got a sequel in the works.
https://www.youtube.com/watch?v=NxQxdqhZ5qM&list=PLHim-otnK2kSgZnRKZI7NIhD6UnE_veA-&t=0s&index=4&frags=pl%2Cwn
Jeffrey Alan Love's new wordless graphic novel, The Thousand Demon Tree, is an expressionist wonder; a bold, and compelling heroic fable that seems almost like animation on paper. Really. You can hit the link above and watch a flip through and see for yourself. Eisner jurors, take note.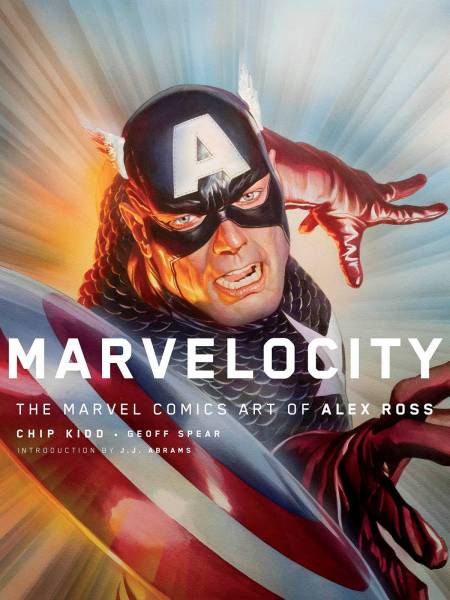 Alex Ross didn't do the first painted comics or painted comics covers, but boy oh boy nobody has been more influential or done them better. Marvelocity is a companion/sequel to Ross' Mythology (which is devoted to his work for DC, published in 2003) and will bring a smile to the face of any member of the Mighty Marvel Marching Society. As Stan would say: Face front, True Believer!
Carbon 3 is the latest monograph devoted to drawings by the inimitable Mark Schultz. Including everything from heroic fantasy to pin-ups to scenes from Mark's own Xenozoic Age, this is a beautiful compilation of previously unpublished pencil and brush & ink drawings by a creator at the top of his form.
Yoshitaka Amano: The Illustrated Biography—Beyond the Fantasy. 400 artworks and photos celebrating the career of the legendary anime stylist and illustrator. Nothing more needs to be said: a must have.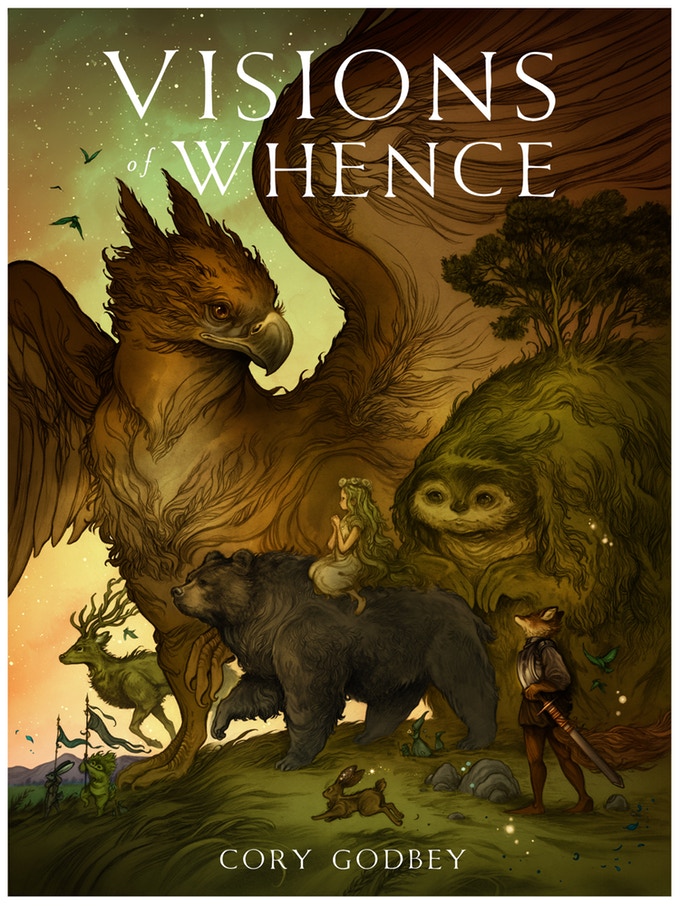 Muddy Colors columnist Cory Godbey is currently shipping out copies of his glorious 9″x12″ compilation of drawings, Visions of Whence, to all of his Kickstarter supporters. If you missed out supporting the campaign earlier this year and the stars have aligned properly, he may have printed some extras to sell. It's not currently in his store so I'd suggest dropping him a note to check on availability.
Of course you knew I'd mention Spectrum 25: The Best In Contemporary Fantastic Art. C'mon, who are you talking' to here? Anyway, editor John Fleskes has taken the jury's selections from the 25th anniversary competition and showcased them in 304 big, beautiful pages. Featuring 450 works by over 260 diverse visionaries readers will encounter gorgeous art by Brom, Annie Stegg Gerard, Donato Giancola, Edward Kinsella III, Gregory Manchess, Miranda Meeks, Victo Ngai, Olivia, Chris Rahn, Forest Rogers, Yuko Shimizu, Paul Bonner, and Bayard Wu among many, many others. Also included is John's insightful "Year in Review," my profile of Grand Master Claire Wendling, and remembrances of those members of the art community who passed in 2017. (And don't forget: the deadline for entries to Spectrum 26 is coming up in January!)
There are a number of artist-published sketchbooks each year; the press runs tend to be extremely limited (usually in the hundreds rather than thousands of copies) so if you snooze you often lose as they get snapped up by eager fans PDQ. That's why as soon as I heard about the new sketchbooks by Fluharty and Gerard I didn't hesitate.
Thomas Fluharty is a renowned caricaturist of the first order and The Joy of Drawing features a skillful and witty mix of drawings depicting various musicians, actors, politicians and dogs (not in that order). He has also, in his own words, "filled the book with wisdom and insights as to how I think and create. Topics include Angles and Observations, Perfection, Exaggeration, Asymmetry, the 10,000 hour rule, Blind Contour Not Really concept and many others. It's ultimately 72 pages of pure drawing hedonism."
Muddy Colors Fellow Justin Gerard describes A Spectacular Journey (and why it sports 2017 on the cover instead of 2018) thusly: "This book contains drawings, studies and conceptual work done for a variety of projects from 2017. It features maidens and monsters, wizards and warriors and a host of other fantastic characters." The illustrious Mr. Gerard shares his preliminary process and includes some of his most recent finished works in full color.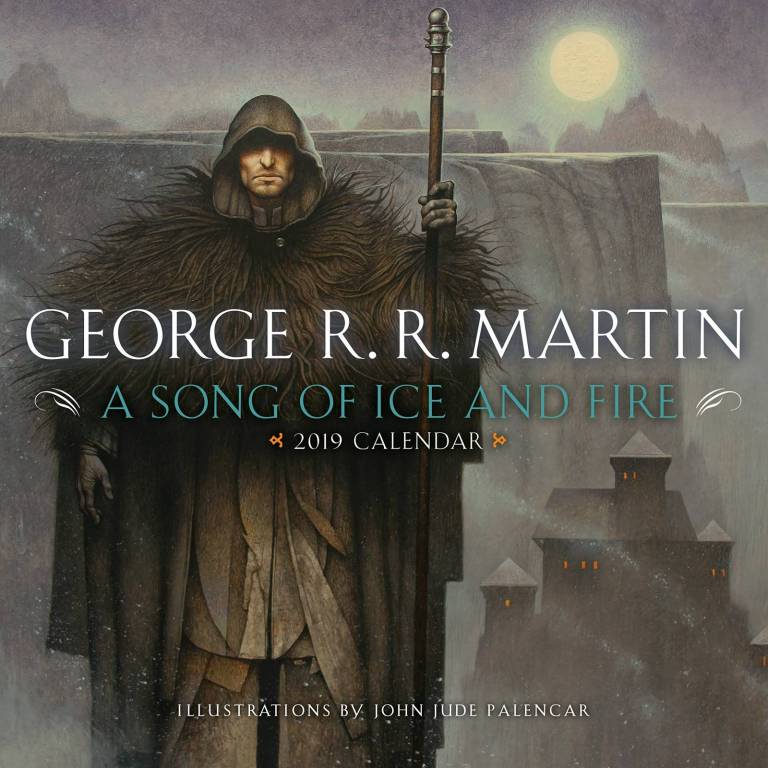 Grand Master John Jude Palencar was tapped to illustrate the 2019 calendar based on George R.R. Martin's epic A Song of Ice and Fire saga and, wow, did he deliver. Winter is coming in 2019 (well, at least for the Game of Thrones HBO series—George is still working the final book) and John Jude's calendar will be a broodingly beautiful way to keep track of the year.
Are there more? Of course there are–and feel free to weigh in with your own suggestions in the comments section. Happy reading!