For one of my recent posts I showed a shot of my palette and I thought it would be good to have an official review of the product.
Expressionist Confidant
The first thing that you will notice when you pick up the palette and tuck in into your arm is the ergonomics of it.  It's shape has a curve that fits high on your arm and hip that feels perfect.  When I first used one it made we wonder how it has taken this long to have a palette with this design.
Below is my Expressionist Confidant.  It is one of the smaller palettes from New Wave.  I have been using mine nearly everyday for 5 years and it is still in excellent shape.
Expressionist Confidant fully loaded out and still plenty of mixing room


They are remarkably lightweight.  The natural wood palette comes in under a pound at 13.6 oz.  They also have a hardwood version (the Avant-Garde) that is painted with a grey enamel (I think it is enamel) that weighs in at 1 lbs. 3.8 oz.  The weight difference is definitely noticeable, but the grey version is still comfortably light.  The grey also has a rubber gasket around the thumb hole that is nice.  The natural wood finish version doesn't need the rubber gasket because it has a contoured opening that is nice.
Avante-Garde version of the Expressionist Confidant
I like my handheld palette, as opposed to a flat or fixed palette because I can hold it right up next to the area I am painting, or put it on my lap, sit with it or stand.  It is wonderfully versatile.
You can purchase the palette finished or unfinished and save a little money, but I recommend paying the extra and purchasing the finished palette because they are so beautifully made.  They aren't cheap, but they are very well made and I think well worth the price.  If well cared for I don't see why they wouldn't last your entire career.
I just purchased the Grand View Confidant, which is a bit larger that then Expressionist.  It will let me arrange my paint in one continuous arc instead of the two rows.
Highland model for Plein Air aritsts
If you work in acrylics, the offerings aren't as robust but they do have a palette for you, The Easy Lift, that doesn't bind with the acrylic polymer making clean up simple.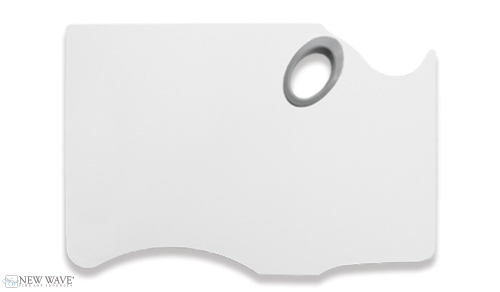 Easy Lift palette works for both acrylics and oils
The palettes are made in Pennsylvania by the Amish and the natural wood versions are beautiful.  They come in left and right hand versions.  They are also freezer safe, meaning they won't warp or crack.  It is handy if you have the space that you can put the palette in while not in use to extend the life of the paint.
You can read more about the palettes on their website and purchase from them.  They are also available on Amazon if you search for New Wave Palette.
My favorite is the Expressionist Confidant but I look forward to trying my new Grand View.