William (Bill) Whitaker passed away last week on the 6th of March. The world lost a great man and artist with his passing. I was just getting to know Bill, but his influence on my career spanned 20 years. I always referred to him as my "artistic grandfather" because he was the teacher of one of my primary mentors, Don Seegmiller.
I first met him in 2004 at the Concept Art workshop in Austin. It was hot, crowded, hot, sweaty and HOT! But there was Bill painting away, surrounded by hundreds of young artists asking questions and patiently giving answers while painting a beautiful figure study from a model. I enjoyed chatting with him then and he was generous and funny. Happy to be there teaching and sharing.
I moved to Utah a few years ago and among the artistic community here, I think it is hard to overstate his influence. There is a wonderful art community thriving here and I think for many, Bill was the spearhead. He came to visit me in my studio one month before he passed (he was doing great), on the 8th of February and we chatted for several hours. It didn't take long to feel like I had met a kindred soul. He had actually called me first because he was researching Meissonier and came across a post here on MC. He enjoyed the photos and wanted to share some of the hi-res images he had collected through the years. Some of his were large scans from photo transparencies that he had tracked down on foot! We talked about the collections we had cultivated and were excited to share what we had gathered.
When talking to Bill, his wit and sharp mind were always apparent. He seemed to have something wise to share every few minutes, in between stories of artists, travels and paintings. The first thing I think of when thinking of his life, is that he was always the teacher. He held artists in great esteem, and when talking to him you couldn't help but think a little better of yourself because of his words. I want to share some of what has been written about him.
From the Springville Museum:
William Whitaker (1943-2018) is one of the most respected living classical-realist figure artists in the Western United States. Whitaker describes his training as being "Most influenced by the academicians of the last century for their craftsmanship, by the impressionists for their color and life, and by the abstract expressionists for their boldness." He earned a BA from the University of Utah where Alvin Gittins was his mentor and later studied at the Otis Art Institute in Los Angeles. Whitaker taught for many years at Brigham Young University before focusing full-time on his studio practice. The list of awards, lectures, exhibits, articles, and other honors received during Whitaker's long career is impressive. He has been designated a living master by the Arts Renewal Center, and an AOA Master by Artists of America. His work is in the collections of Brigham Young University in Provo, Utah, the Church Museum of History and Art in Salt Lake City, and the Museum of Fine Art, St. Petersburg, Florida. Articles about him have appeared in Arizona Highways Magazine, Southwest Art, and Art Talk. In 1982, he was featured in the PBS Televisions series "Profiles in American Art." Since 2016, Whitaker has devoted his time to commissions, mostly historical subject matter
From Casey Childs:
We lost a great man and a talent today. I'm honored to be able to call him my teacher, mentor, and friend. Such a kind, loving, generous man who strove for perfection in all he did. A wonderful example to me, a grand influence, and a huge loss…his contributions to the Utah art community and his influence to the world of art will last forever. Casey's website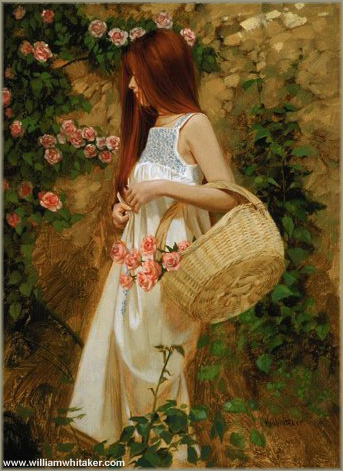 From Jenedy Paige:
What an extreme honor it has been working next to this man for the past eight months. Words cannot express my gratitude, admiration, and love for William Whitaker. He always gave me praise I didn't deserve, and spoke of me as the great artist I had yet to become. What a treasure you were to me, and how I will work to become the artist you envisioned. Just "One more layer" right Coach? Jenedy's website
From Mary Sauer:
Today an amazing friend and mentor passed away. William Whitaker was a great influence not only in my work, but in his many other students and will be greatly missed. He was very generous and willing to share his time and vast art knowledge with others. Not only that, but he had a way of building me up every time he told me everything that I was doing wrong in my painting. I always thought that his painting studio was one of the happiest places on earth. Mary's website
From Joseph Brickey:
William F. Whitaker, who exemplified greatness–as an artist, a teacher, an advocate and a friend–passed away yesterday, on March 6, the same day Michelangelo was born. It is a great loss to countless of us artists who have leaned on his experience, excellence, and expertise over the years.
Ten days ago I had an unforgettable experience with him in his hospital room as he recovered from open heart surgery. He was as animated and vivacious as ever. In his typical charming and happy spirit he was being both witty and wise, but this day he was especially full of passion and purpose for the arts and artists in Zion. On full display was his signature obsession: helping other artists to fulfill their potential.
As always, it was a delight to be with him as he spoke of practical things, technical things, philosophical things, and spiritual things; in everything he spoke with the gravitas of a sage. He seemed unfazed by the surgery and everything seemed to indicate he would make a full recovery. Although I felt certain we would be talking on the same subjects very soon, his words flowed with such eloquence and insight that I found myself grabbing a pad of paper and taking copious notes as he spoke.
Here is a small selection of his insights:
Your talent is outside yourself.
Artistic decisions and judgments should be made by someone who wields the brush.
Artists should patiently improve. This is an old man's business.
There are true Samurai and pretend Samurai. The pretend Samurai are often those who are thriving because they know how to drive a bargain.
There is no reason why lawyers–who are a dime a dozen–should be more valued than an artist who is a rarity and a cultural treasure.
We're family–it's not a horse race–it's apples and oranges and we each have a different contribution.
Whitaker freely shared his knowledge and experience. On his site you can see some of his works and also process.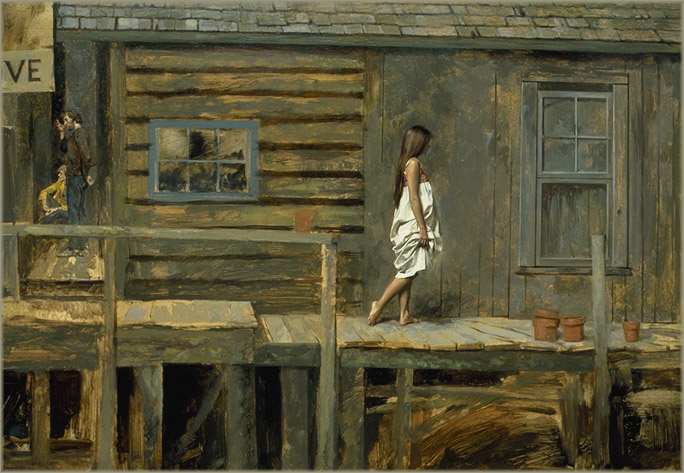 Here is an article on Deseret News about Bill
I am sad to lose him too early and as I was just starting to really get to know him. I am joyful for the influence that he had upon so many artists and friends. He left beauty and knowledge and inspiration.
His funeral is today (the morning of the 16th of March). I look forward to seeing many of the artists he loved and influenced and to hearing the words they will share to honor his life and art.
Thank you, Bill.