Last year I wrote an artist spotlight featuring the life and works of children's book writer and illustrator, Gyo Fujikawa. What initially prompted me down that rabbit hole was my then nearly two year old son; he just adores her books.
Everything from Baby Animals to Fairy Tales and Fables. Nowadays he asks for her books by name which, if you'll indulge me, I find unbearably endearing.
It seemed worthwhile to take another look at what books his two and a half year old self is excited about these days only this time with a focus on contemporary illustrators. These are the recently published works he asks for again and again. Each time he pours over the illustrations enjoying every detail, ending each reading with, "Do it again!"
Without further ado!
We first came across Olga's work with Little Green Frog.
It's a beautifully illustrated little board book with some inventive use of flaps. Instead of just hiding the next line or simply revealing the hidden art, there's this great way that Olga builds out the illustration beyond the edges of the book.
It's something that wouldn't quite be possible in a traditional children's book but a board book with flaps does the trick. And goodness, I just love her use of shapes and design.
A recipient of multiple Caldecotts and the Theodor Seuss Geisel Honor (and most recently, Order of Canada) Jon Klassen needs no introduction.
All that aside, This is Not My Hat, will forever hold the honor of being the first book where the ending caught my son by surprise and he laughed with total delight. That poor, thieving fish. He got what was coming to him, didn't he?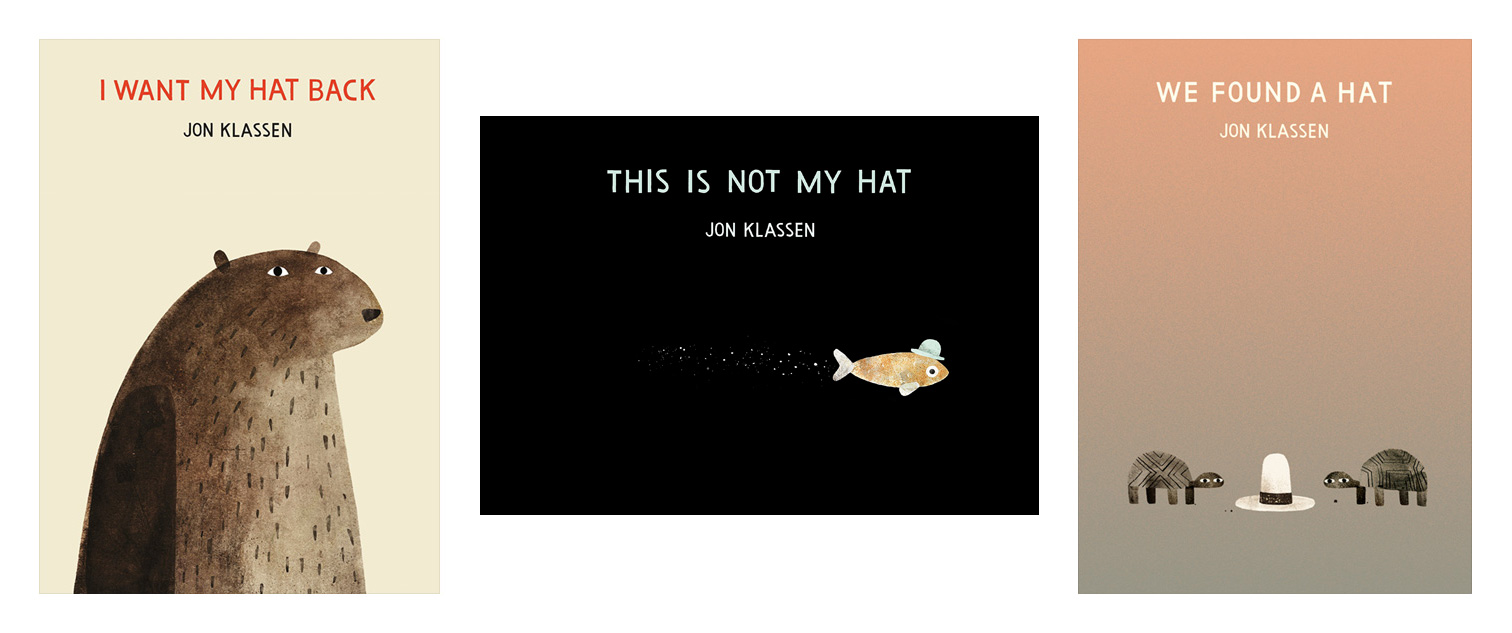 From galleries to books, Teagan's work exploring flora and fauna is among my personal favorites. My wife and I even chanced to acquire a small painting from her Zenith and Nadir show. Her children's books, created under the banner of Tiny Moth Studios, is the source of no small enjoyment for my son (and me, too)!
Emily's Day Dreamers and Dream Animals have been on rotation in our house since the beginning (well, at least since Kit was a couple months old). He hasn't yet gotten his fill and it's easy to see why not; these books are simply lovely.
An amazingly prolific illustrator from Taiwan, Yu-hsuan Huang has illustrated dozens of children's books. The ones which first caught our attention were her board books with these sliders. They function a little like pop up books, I guess you could say, except instead of popping up the sliders move parts of the illustration around or break the boundaries of the book.
Let me tell you, however I'm describing it, I'm underselling it. Because it's one of the most inventive and satisfying things I've ever seen a board book do. Here's a look!
What can I say about Emily Hughes' work? It's completely enchanting. We just love it.
For what it's worth, I think Wild is the only children's book which can sit along side Where the Wild Things Are. That's a big statement, you say? Sure! It is! And I mean it.
You go and read this book and tell me you don't feel the same way.
I hope you enjoyed this look through contemporary children's illustrators! Maybe another time we'll dive into more children's book illustrators from the past. Goodness knows, my son can't get enough of books illustrated by Garth Williams, Ezra Jack Keats, and Clement Hurd.
Until next time!