Our mission at Muddy Colors is to provide aspiring and professional artists with access to a free art education. In keeping with that mission, we are extremely happy to announce a new project that we created with our community in mind. We call it 'Sit & Crit'.
Any professional artist will tell you that constructive criticism is an essential aspect of artistic growth. Unfortunately, not all artists have a group of peers that they can go to for helpful input and support. Muddy Colors is hoping to change that!
Sit & Crit is a website dedicated to providing artists with a venue to share their artwork, meet new people, and receive helpful critique from their peers. All without the pretense and toxic discussions that plague most social media venues. No politics, no religion, no fluff… just serious critiques for people who want to grow as artists.
All you have to do is make an account, sit at any table you want, and start critiquing your fellow artists. Upload artwork of your own, and get feedback in return. Don't know any other artists? That's OK. Just sit at a table and make some friends!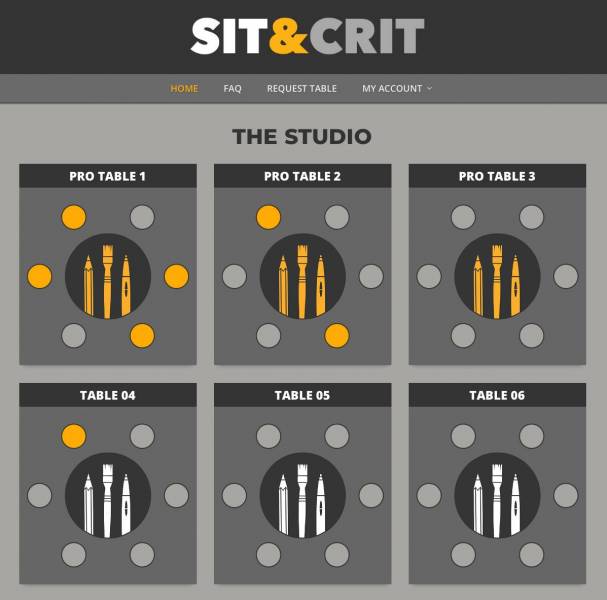 We even have a built in draw-over function to help make your critiques easier and more informative.
Our plan is eventually grow Sit & Crit into something much larger, but for now, we are keeping it very small and limited. Because we have no idea how much traffic and data storage something like this will take, and because there will most likely be some bugs that need to worked out, we are temporarily restricting the number of available seats for now. Empty spots are available on a first come, first serve basis. So, hop on over to www.sitandcrit.com and grab yourself a seat before they're gone.
We hope your experience with the website will be a positive one, but we are still in a de-bugging stage, so don't be surprised if you encounter some weird quirks along the way. If you encounter any issues that you think we should be aware of, please let us know here in the comment section.