In August, I got the opportunity to be part of the line-up for another Pow! Wow! festival to work on a 40'x24′ mural at 309 Pine Ave., Long Beach, California. I had an amazing time with the locals and Pow! Wow! Long Beach crew as usual, and got to paint my largest mural to date! Also, special thanks to Rebecca Crossing for coming out on the first day to help me block in colors on a very hot Cali afternoon.
Prior to heading to Long Beach, a sketch had to be approved by the city/building owner. After a wall was selected for me by PWLB, they sent in its details so that I could work up a rough sketch.
I initially sent in this sketch, which was then approved by the city.
While refining the approved sketch, I decided to simplify things to keep it portrait based. I sent the PWLB director, Tokotah, an updated refined drawing, which she approved.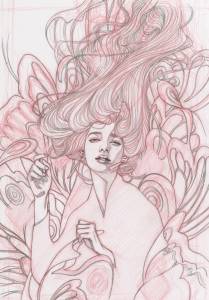 After the approval, I made a comp to plan out how the colors and lines would lay in the final (with a bit of extra bleed for safe measures).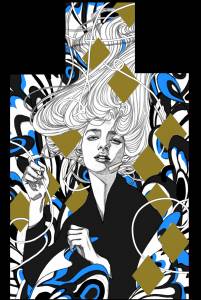 I landed in Long Beach on Sunday afternoon and began projecting my sketch that evening using my Epson Projector.  The PWLB crew took care of buffing the wall prior to my arrival so that I could start immediately.
At the end of each day, I took frontal shots of the mural's progress which you will see below.  The rest of the photos (of me working on the mural) were taken by the wonderful photographer, Ian Lundie, with the final shot taken by Lanny Nguyen.
DAY 1:  After the sketch projection, I retraced all the line work with Montana black spray paint.  This wall was a huge issue for me in the beginning.  I've never painted on such a heavily cobblestone-textured wall with so many small protruding elements.  It made painting with brush extremely inefficient so I decided to switch to spray cans.  This was my first time using the spray cans and I'm glad I did because it proved faster than painting with brushes.  I was able to fill in all the cracks, crevices, and block in color in a more efficient manner against the difficult surface texture.
DAY 2: I started off with a bang in the first few days by blocking in color to major areas.  Once I got to the fine details, such as the face, my pace began to slow down.  For the skin tone, I used the Montana cans in Gravel and Marble.  I also mixed similar house paint colors to it so that I could brush in details in areas where I couldn't with the cans.  The painting was mostly made up of 70% spray cans and 30% Behr house paint.
DAY 3:  Personally, the face is one of the most important parts of the painting so I spent the most of two days refining it.  On day 3, I finalized the face and hands, while using transparent spray paint to add tints of rosiness to the cheeks and hands.
DAY 4:  After finishing up the face, I went back to blocking in the rest of the butterfly shapes.  I ran out of black paint till this moment which was why I stopped mid-way.  I also started masking out certain areas to color-block in the yellow/gold diamond shapes.  I recommend using the Golden iridescent gold acrylic paint in deep gold (fine) for outdoor murals.  They have amazing lightfastness as oppose to the Montana gold or other outdoor gold paint brands.  It's expensive but can last for many years under UV exposure.
Photo by Ian Lundie and Lanny Nguyen.

DAY 5:  The hair took a whole day to finish — it was difficult to create one smooth swooping line while working on the boom lift.  There's a few truncated and messy lines that I wish I could fix, but it's a best not to worry about minor flaws when you're working on a tight deadline.
DAY 6:  The last day was spent refining all the edges, cleaning up stray lines, and last minute touch-ups.  The swooping string that billows around the figure was most challenging for me.  I found it extremely laborious to keep the width of the line consistent.  Luckily, there's a lot you can hide from the naked eye when you're working large.
Final: Metamorphosis, 40′ x 24 mural in Long Beach, CA, 2019