In a world of constant social media connection, face-to-face introductions and real-time sharing still can't be beat.
I've just returned from the seventh annual THU held this year under the crystalline blue skies of  Malta. If anyone ever thought that artists always work in private, huddled up in some out-of-the-way aerie, THU proved that thinking wrong.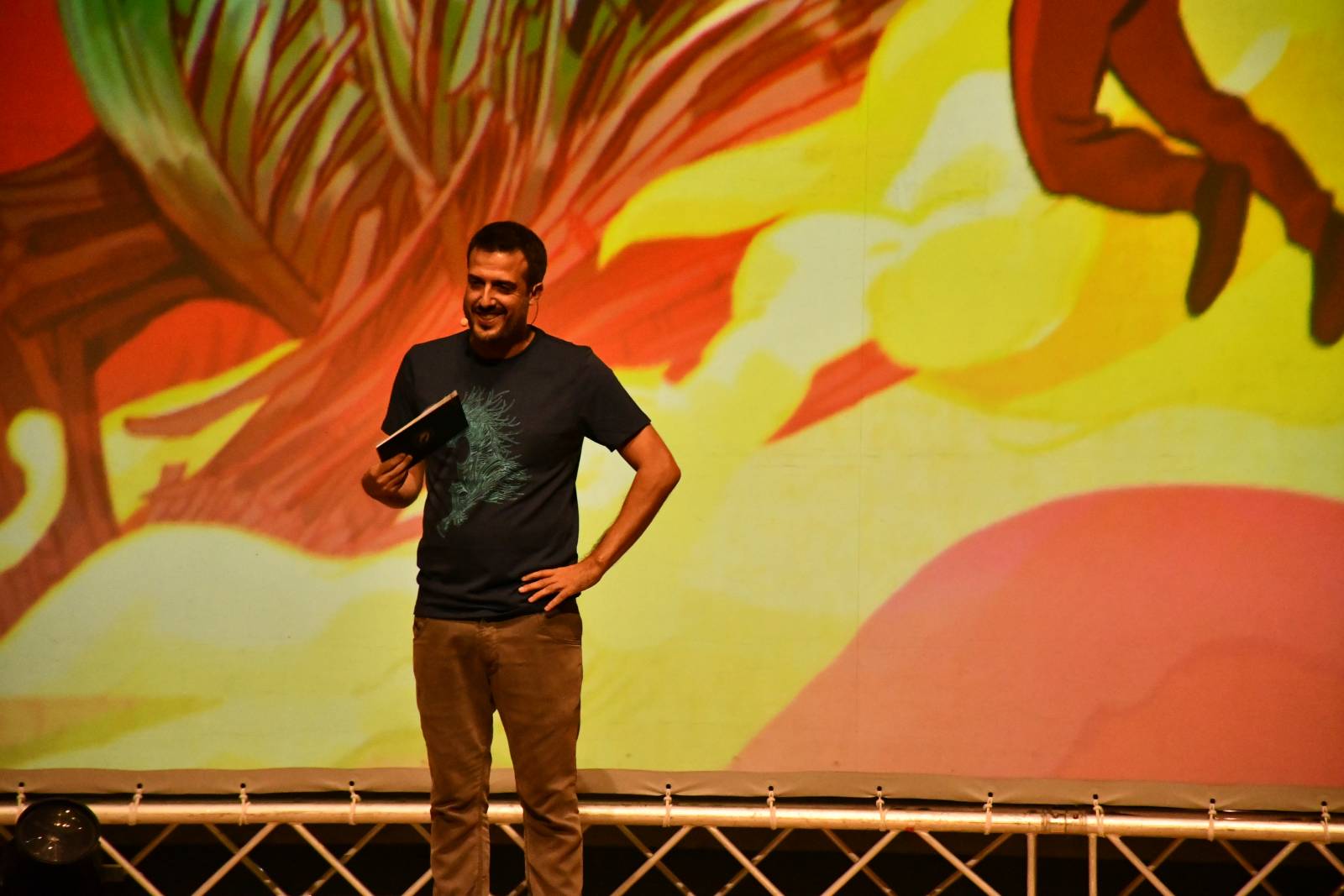 André Luis and his phenomenal team have a vision to pool working professionals from many fields together with aspiring artists and encourage them to talk and share. He gathered creatives from all over the world that flew onto the tiny island nation, literally a large limestone rock in the middle of the Mediterranean, to convene in the lovely town of Valetta for a 7-day event of presentations, lectures, tutorials, mentorships, demonstrations, portfolio reviews, dinners, parties, and just about any other art-related education one might want in order to feel a part of a worldwide community.
I was referred to as a "Knight," wearing a badge of red to identify me as a guest artist. Attendees as "Warriors" wore yellow badges and were encouraged to approach any Knight and introduce themselves for a portfolio review, or just to ask questions about the industry. (Interestingly, the event took place on the grounds of the ancient Knights Hospitaller) Despite the tribal overtones to push professionals and new talents together, Irene Gallo and I found it easy to corral young professionals to explore and dissect topics of illustration.
The attendees are eager to enter the business and create a career for themselves in the creative arts. The guest creatives from many disciplines had been asked to be there either because of their long experience in the field, or their extreme recognition for achievement. The combination made for an intense mingling of creative energy.
A sample of the 50+ professionals this year included Peter Ramsey, one of the directors for SpiderMan: Into the Spiderverse; Vicki Dobbs Beck, Executive in Charge of ILMxLAB; Illustrator Yuko Shimizu; Nicolas Nemiri, French illustrator and comic artist; Dr. Erika Woolsey, marine biologist; Chris Bangle, revolutionary car designer; Kevin Young, immersive real-time VFX creator at The Mill, London…and so very many more.
The centerpiece of the week was The Gallery. Housed in a huge vaulted room of Fort Saint Elmo, artists, sculptors, VR and AR wizards, set up their spaces to entice attendees. The Gallery was filled with professionals and participants in collaboration, trading ideas and sharing skills. The free dispersal of practical information was exciting to watch. Walking through the hall, one could watch Megan Brain (creator of the paper sculptures for Kubo and the Two Strings) work on paper sculptures, watch Kim Jong Gi work one of his large scale ink drawings, study drawing lessons with Victor Kalvachev, participate with Rachael Chang creating crochet characters, watch Karl Kopinski draw and oil paint, see Andrea Blasich sculpt maquettes, or try out painting in 3D with the latest VR technology. And all were available for questions.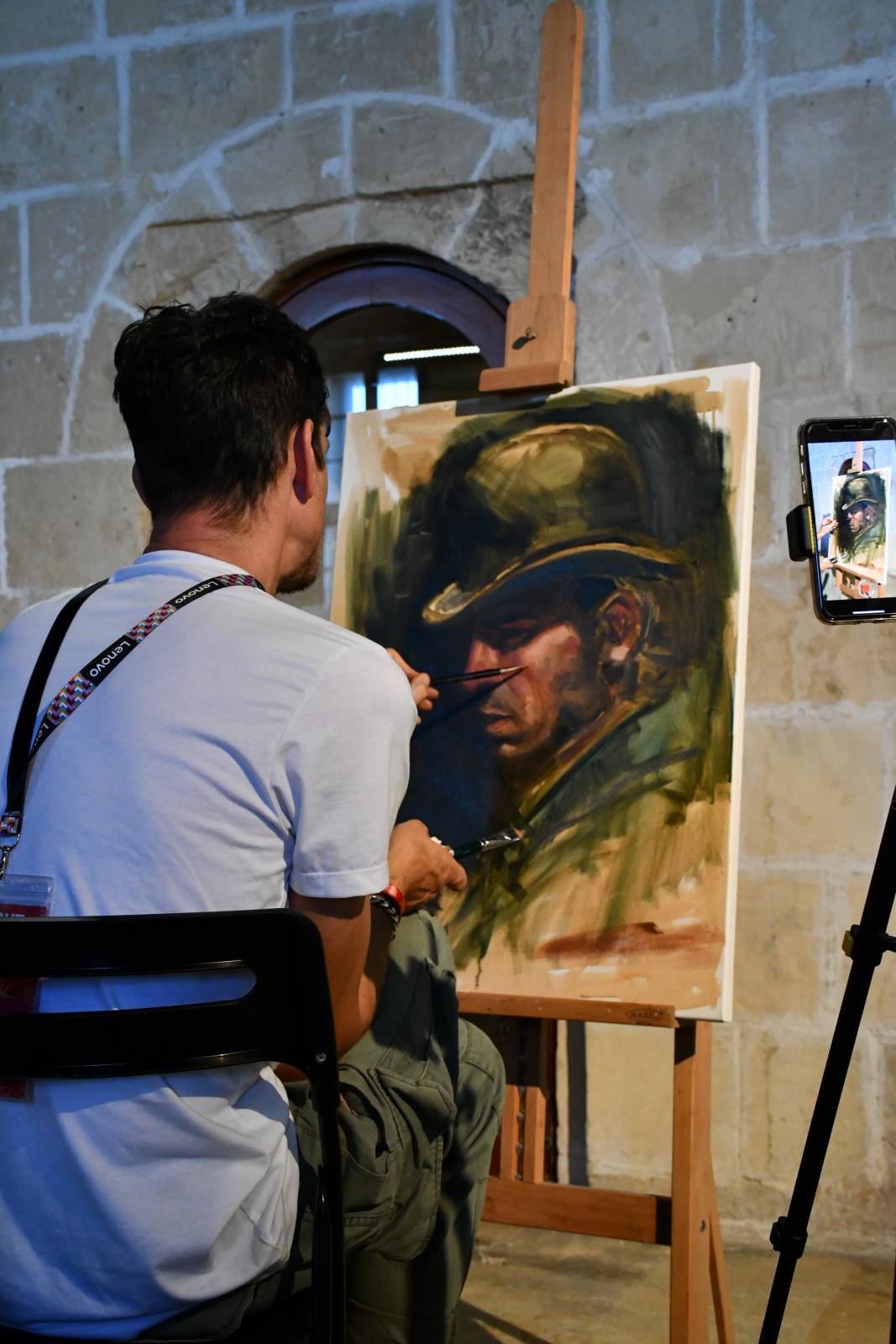 Personally, I spent the week creating demos in oils to share my process and to demystify the method of laying down pigment. I moved through portraits and animals and even a skull. In a high-tech, high-skill environment like The Gallery, I wondered if classic painting could find its place. But by the end of it, many digitally skilled viewers had renewed their interest in working in traditional media.
Also within the Fort, in the middle of the main traffic area was The Oasis, a gathering place with food courts where attendees could meet and exchange ideas, share portfolios, or hang out with professionals and discuss aspects of the multiple fields presented at THU. Evenings were spent lounging in The Oasis, or attending some of the nighttime programs like the onstage 3D drawing battles.
Y'know, when oceanographers, film directors, scent creators, and innovative car designers show up to talk about multiple levels of creative thinking, one realizes the broad range of available passions and how a simple career in the arts can effect societal change.
Whether low tech or high tech, nearly every person at THU was working on their core skill: drawing. The figure drawing sessions were always filled. There was a wall for free-drawing, started by professionals and added to by a myriad of attendees with great drawing skills.
And those drawing skills begin with ideas. The ideas grown from the interaction between experienced pros and passionate young idealists. Crazy mingles with practical and sparks ensue.
But until those ideas get fleshed out, they're only just so much hot air. Eventually ideas must get to paper and from there, the real possibilities grow. The professionals have been down that long and confusing road of having a vision and then know how to spend the time, energy, and commitment to manifest something from nothing.
Meeting new people can be a fleeting endeavor, but over the course of a week THU allows for deeper connections. Irene had noticed, "Casual meetings on Day One became friendships by Day Four."
By the end, we'd met and made many new friends, from beginning students to industry pros, and had shared and learned a great many aspects of the art business that served to, at least for me, expand my own approach to painting. The inspiration gained was exactly what an experience like this is supposed to muster.