Above: Art by Jon Foster
Playing Captain Obvious for a moment, the coronavirus pandemic is causing all sorts changes in our lives; some most certainly will be short-termed but others could very well become a new standard for work, retail, travel, entertainment, and education (along with, well, maybe everything else). It doesn't take a crystal ball to predict that today's crisis will be felt in various ways for sometime to come; likewise, not all change is bad and sometimes decidedly good things can result.
An annual tradition, the Illustration Academy's Summer Workshop in Kansas City, recently announced that this year's gathering of instructors and students would be going virtual. I thought I'd ask Director John English for his perspective:
"Because of the effects of COVID-19, we decided to conduct this year's Illustration Academy workshop online. Simply stated, it will be an expanded version of the classes we offer through our sister company Visual Arts Passage. What does this mean to students? It means that next semester, in addition to our existing curriculum, we will deliver 9 additional live classes on Sundays. Those classes will feature guest lectures and demonstrations by Jon Foster, Vanesa R. Del Rey, Bill Sienkiewicz, Francis Vallejo, Karla Ortiz, Iain McCaig, George Pratt, C.F. Payne, and Wesley Burt. They'll be joining the Visual Arts Passage instructors for its Programs: Illustration featuring John English, Sterling Hundley, Edward Kinsella, Audrey Benjaminsen, Dale Stephanos, and Brent Watkinson with guest speakers Raymond Bonilla, Hokyoung Kim, and Leslie Herman; Concept Design featuring John Neimeister and Viviane Kosty with guest speakers Lake Hurwitz, Peter Konig, and Andy Park. This will be a one-time opportunity for students of both the Illustration academy and Visual Arts Passage.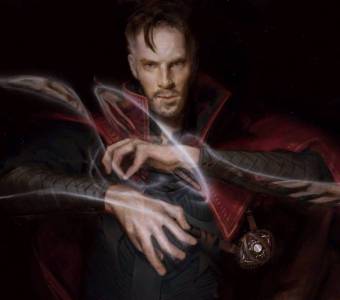 Above: Art by Karla Ortiz
"The existing Visual Arts Passage curriculum consists of 10 weeks of class: each class is live online for 3 hours on Saturdays using Google Classroom as our Learning Management System to organize assignments and documents. Both the Illustration Program and the Concept Design Program offer four skill levels of courses: every class has a Slack channel that our instructors use to communicate with students throughout the week and during a 2-hour live study hall on Wednesday evenings. With the addition of 9 Illustration Academy classes, each week will consist of its regular curriculum plus a 3-hour live class on Sunday, giving each student a total of 19 classes per course. All classes are initially delivered in real-time and then offered to the students as on-demand recordings for repeat viewing and future reference.
Above: Art by Viviane Kosty
"In summary, students will receive 19 classes with 10 Study Halls and the Slack instructor communication access next semester. I am confident that this joining of the 2020 summer workshop with Visual Arts Passage adds a tremendous value to our existing classes. I hope to see the students back next semester and thank everyone for entrusting us with your education needs!"
I've worked closely with John English and his partner Timmy Trabon over the years and sat in on their classes, workshops, and presentations: they're unwavering in the pursuit of their goals to not only give students a first-rate, practical education but also in preparing them for a sustainable career in the arts. Nothing is ever sugar-coated and they never make false promises to their students: attending their classes requires a lot of hard work, intense focus, and maybe a few tears…but that's pretty much the only way we achieve anything of value, right?  You can learn a lot more about the Illustration Academy/Visual Arts Passage, their instructors, and their classes at their official website.

And in the meantime, while we're all in quarantine lock-down, you can "isolate in good company" by sitting in on their series of weekly online live demos by hitting this link. Timmy notes that artists can book a free portfolio review with John at their website and that they're "cooking up a live, costumed figure drawing session that will be streaming for anyone who joins this Thursday, [April 2]."