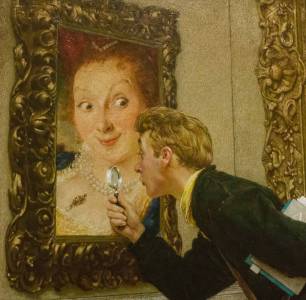 Above: A detail from Norman Rockwell's "Art Critic," 1955.
It's a holiday in the U.S.—Memorial Day, to be precise—but this post has nothing to do with it.
Likewise, after weeks of lockdowns, social distancing, and Covid-19 news & gloom 24/7, this isn't a post dealing with coping, hope, or perseverance. Nothing somber, nothing heavy, nothing serious. Naaa: I just wanted to put up something art-themed to make us smile today. So…"The Critic," a 1963 animated short conceived and narrated by Mel Brooks in collaboration with director Ernest Pintoff. It won an Academy Award in 1964 and is still funny (and I think still resonates) after 57 years. After all, everybody has an opinion when it comes to art, right?
Brooks returned to the theme of the art critic in his 1981 film "History of the World Part I" (there was never a Part II) in this segment starring Sid Caesar. And, yeah, I think many of us can relate. Enjoy!