When I was a young illustrator, I thought it would be cool to be the first artist in space, or on the moon.
Recently the Dragon Crew One lifted off at 7:27pm EST from pad 39A at the Kennedy Space Center in a spectacularly smooth and dreamy night launch. (39A is the historic pad that the Apollo 11 crew lifted off for the moon landing.) The next day, some twenty-seven hours later, they successfully docked at the International Space Station, thereby setting in place the first SpaceX/NASA collaboration of America's return to space.
And right along with them, stitched to their suits, was their mission patch, designed by me.
Through a convoluted process of attending conventions and patiently waiting for the right timing, I'd met an astronaut who is a fan of science fiction. Kjell Lindgren, the year before, had opened the envelope to read one of the winners for the World Science Fiction convention in 2016. . .while floating in zero g at the space station.
The following year, Kjell (pronounced 'Chell') attended the WSF convention in Helsinki, which I attended, and I got to meet him. A year after that, I ran into him again at the same convention in Texas. I asked him about his next flight up and joked that I'd like to come along. He asked if I knew how to handle a robotic arm and I said, "Man, I can handle a brush. How could that be any harder?" I think he actually did a spit take on that one.
Then I asked him, seriously, who was doing their mission patch. Several conversations later, I found myself on a Skype call with Kjell, the mission commander, Mike "Hopper" Hopkins, and mission pilot, Victor "Ike" Glover.
One never knows when an opportunity may arise that can be taken advantage of. My timing was right and my enthusiasm authentic. A deadly combination for winning over clients.
Only thing was, I didn't think they'd actually use my design. I figured we'd get through the process and something would come up that nixed the whole thing, or some NASA rule kicked in that didn't allow for my design to be accepted, or mission-patch-design-killing rays were discovered coming from Mars. I dunno. I couldn't get it into my head that they'd actually be able to use it.
I suppose that feeling provided me with a sense of freedom. So I didn't hold back in presenting ideas of dragons and shapes that I thought would make a cool patch.
You can see some of my initial approaches to different shapes here. The crew picked about a dozen of them and then we started whittling them down to about five. I adjusted and manipulated them to include aspects they wanted to show which was mainly a "C" for 'crew' and the numeral "1." I'd designed one to be a close up on the Dragon capsule with rockets from the draco engines alight. Mike told me they couldn't use that one because, "if those engines are firing, then we're in some really serious, uhh, trouble." Turns out, those engines fire if there's an emergency and they carry the capsule away from the danger.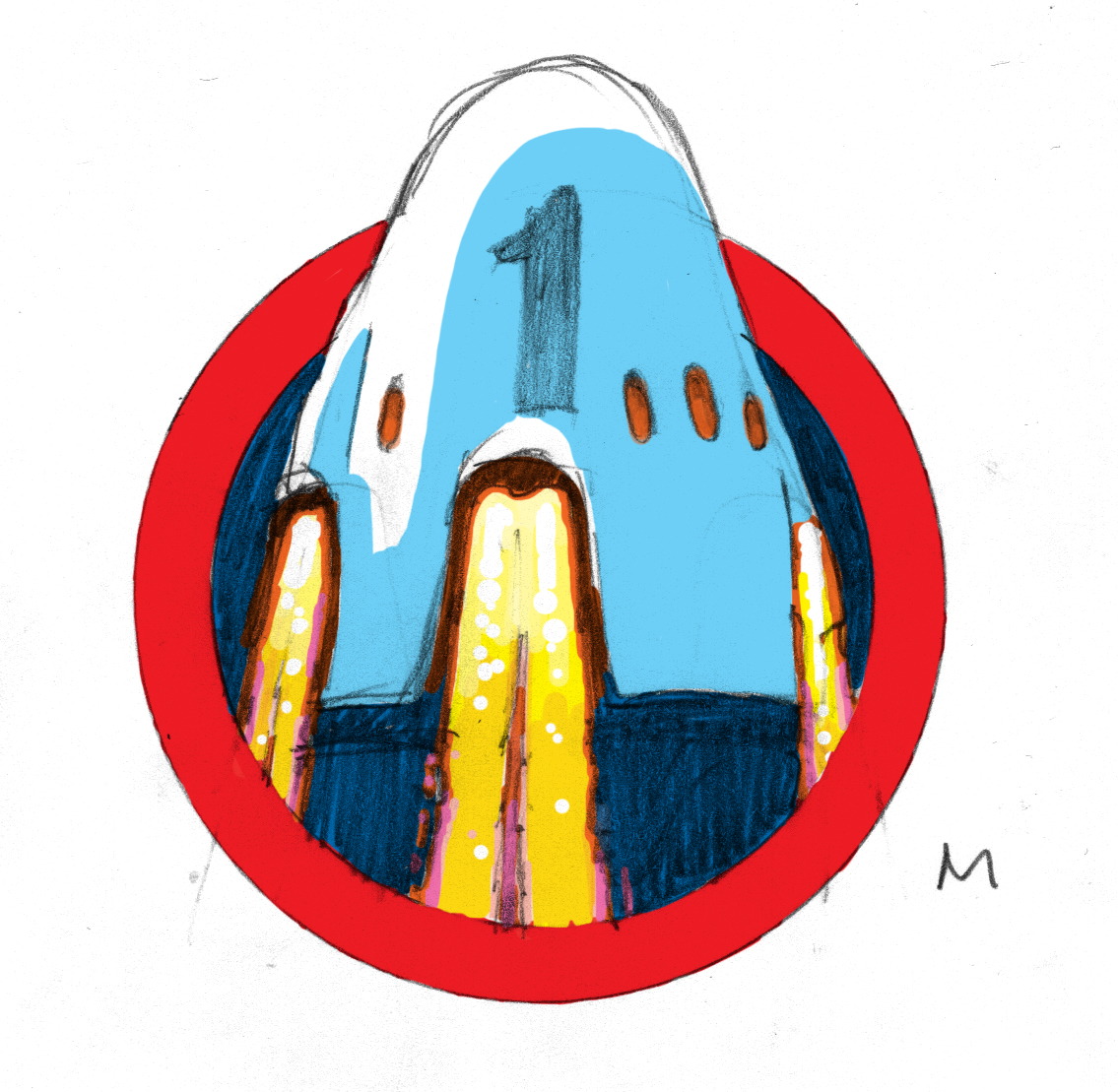 I finished the final design in late Spring and figured I wouldn't see it again unless I visited the Johnson Space Center and viewed it sitting along with the myriad of other mission patches on the walls.
I was stunned when I tuned into the NASA channel on launch day and saw the patch on their shirts, the walls, notebooks, cups, on the pad, in the gantry, and in the white room (where the astronauts enter the capsule)!
I can't explain how delighted I am to have been a part of it. To watch the guys suit up and enter the capsule and to actually know them is thrilling. There was Kjell, too, on camera, helping the crew get ready, dressed in black as "Ninja #9" in the shots of the preparation room. (he's going up on a later mission) I got an email from Hopper the other day and he shared how much the NASA and Space X teams, and all involved, love the patch.
I recently finished the design for Crew Two's mission patch in October. And I'm starting designs for Crew Three. I'll keep y'all posted as you'll be the first to know.
I started my illustration career being told that versatility in skills worked against my desire to freelance. I'd listened to seasoned professionals tell me that an illustrator had to have a "look" or a "style" in order to succeed. While that's generally accurate, the sheer breadth of my career to date has shown how much that simply isn't true.
The lesson? Don't hold yourself back. I've wanted to create for so many aspects of illustration, and now my work just left the planet.
I finally made it to outer space.