I love searching through auction sites. The quality of the images that are shared are getting better and better. They used to be pretty small images, but now they are usually at least 2000 pixels in one of the image dimensions and sometimes much larger. I also love looking through auctions because I will find artists that I've never heard of before.
Sotheby's recently hosted an auction titled Two Centuries: American Art. including several living artists. It was an absolute killer collection of works. Here are some of the highlights for me:
Andrew Wyeth – Wash Bucket
I really love Wyeth's work for lots of reasons. I love his finely rendered details that both meticulous and minute but still maintain a sense of spontaneity. Look at the splashes of pigment and broad washes of ochres next to careful drafted elements like the tin bucket. It's a feast of texture and detail. But more than anything, I love his compositions. Look at the design of this one. The massive open space in the middle, the sweep of shadow in one corner splitting the louvered window slats, balanced out by the high contrast of the small bucket on the right.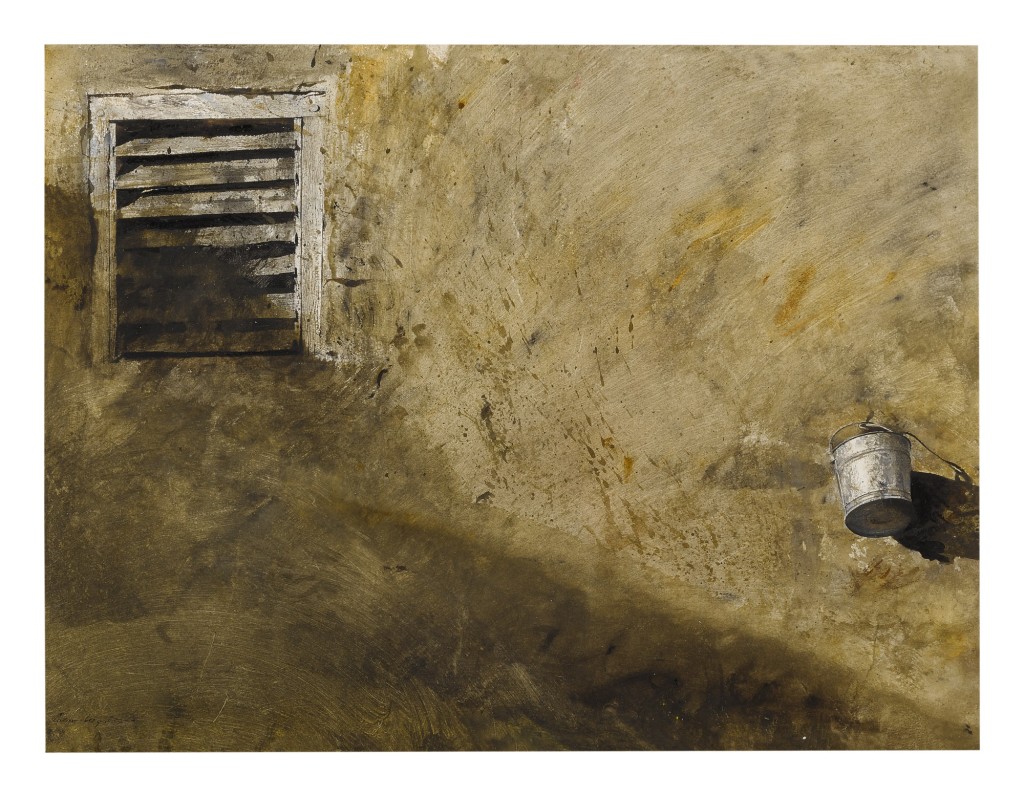 Dean  Cornwell – Return From the Cross
Cornwell! And this is just one of four… in one auction! I've always loved this painting. Cornwell was so good at making giant shapes within his composition and then just filling them in with brilliant figures. Squint down at this painting below and look at it as 3-values. Beautiful done.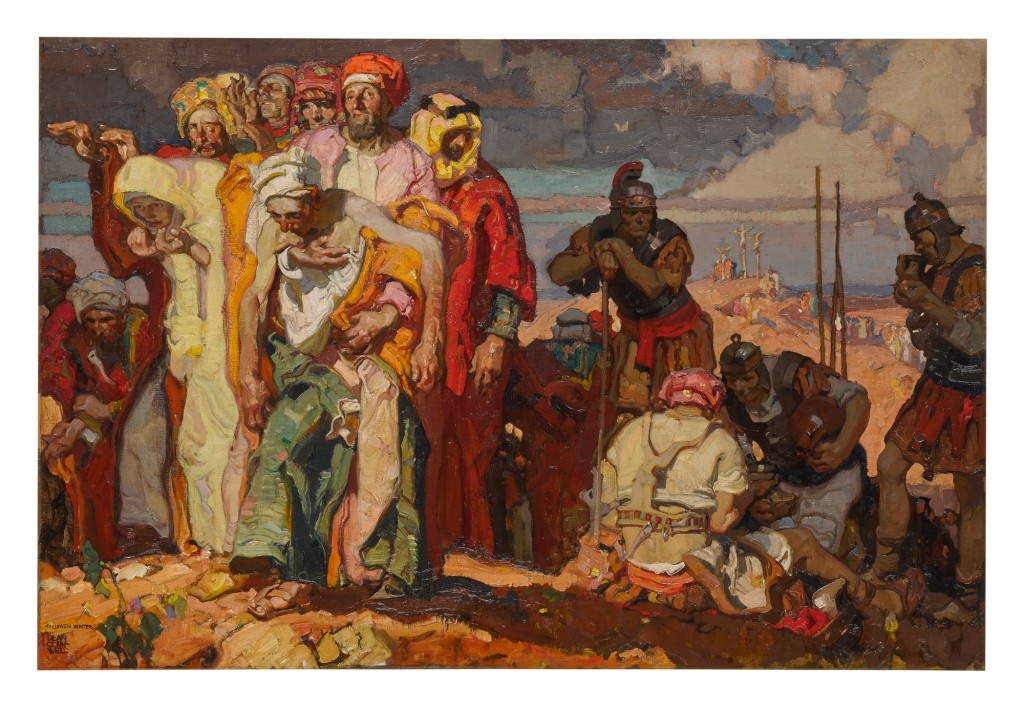 Dean Cornwell – The Yearling
A beautiful little painting rich with textures and light.
Dean Cornwell – Untitled Soldier and Woman
I've see this study floating around for years and have always been so intrigued by the palette. I might have been for a black and white, or very limited color printing, but it has stuck with me and I love it. The man's face looks like it was carved out of paint and the woman is more delicately handled. The quick strokes in the background buildings are efficient and effective. I love seeing studies!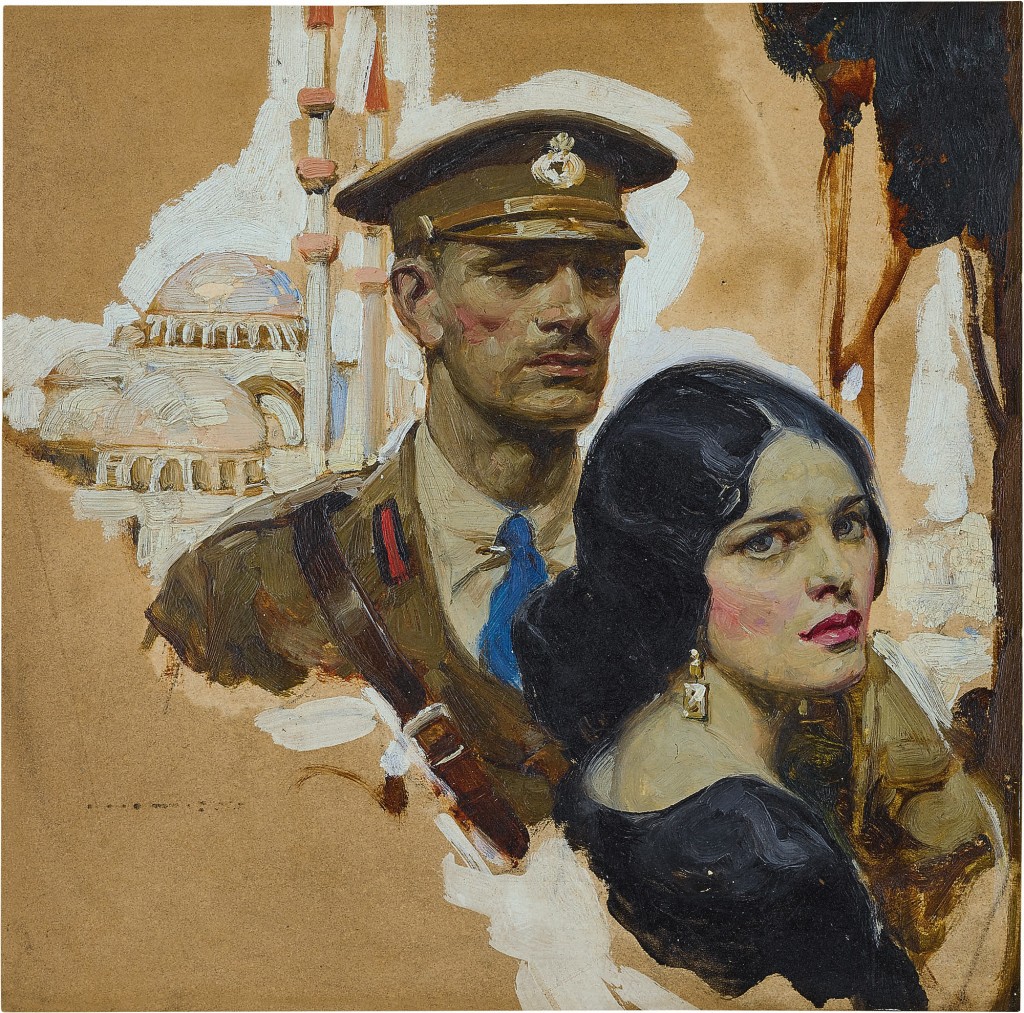 Dean Cornwell – Woman in a Red Dress
Lots of fun details in this illustration. The way Cornwell just used a stylus or possibly the back of his brush to scratch out the crossing lines on the material she is laying is really cool. The rendering of the red dress is beautifully done. I've painted some strong red fabric before and it can be tricky. I struggled early on to not make things look pink. I found that using orange to get a little lighter can be a good solution. This painting does that beautifully. This could have saved me lots of discovery time!
Edward Hopper – Horse and Buggy
I wasn't going to include this drawing from Hopper, but I couldn't stop looking at it. It's quite beautiful. I like the placement of the sketch on the page too. I wonder if it was a plan for a final composition or just where he happened to place it.
Ernest Martin Hennings – Sunlit Aspen Grove
This is an artist that I wasn't familiar with, but I think this is a stunning painting. Be sure to click on it, or download it so that you can see the details in the surface.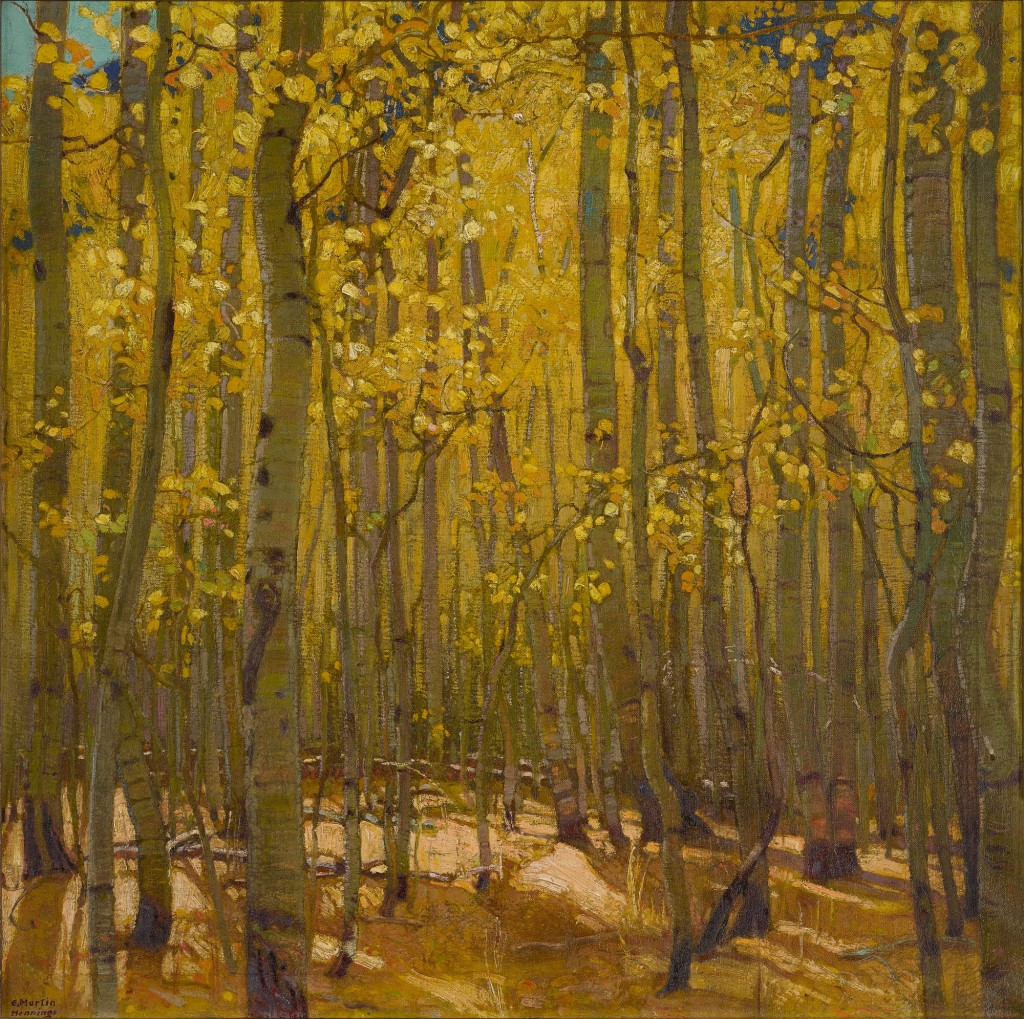 Frank Earle Schoonover – Approaching Camp
Schoonover is an oft-overlooked contemporary and friend of Norman Rockwell (his wife is the woman standing up in Rockwell's painting with the boxer) and I think his work is a beautiful blend of NC Wyeth and Harvey Dunn. Every time I see one of his paintings I wish I could see more.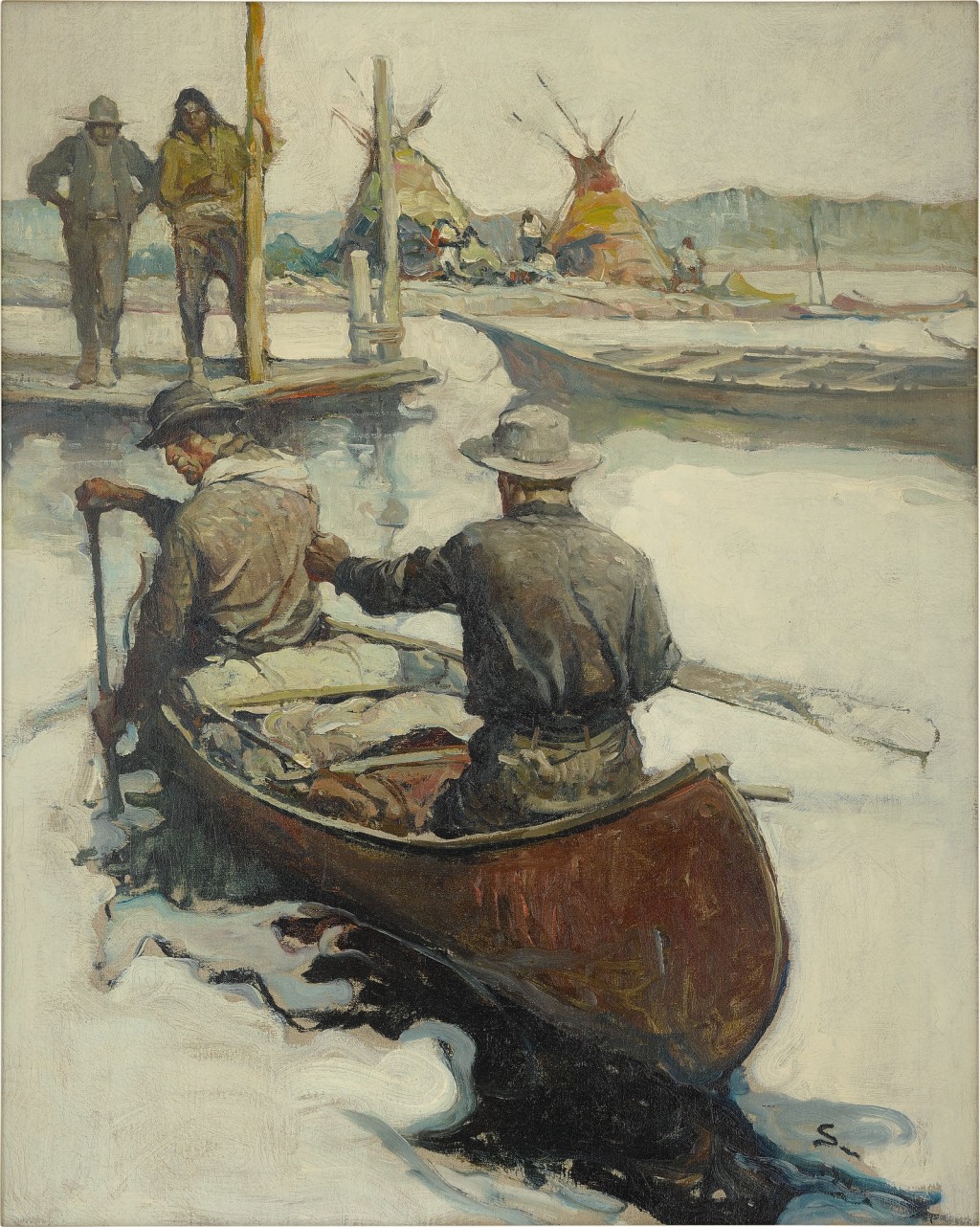 Frank Weston Benson – Ellen in the Woods
This little study by Benson is rough, but I love it. You still get such a great sense of light and atmosphere. There is so little rendered, but so much is conveyed. Even the barely-there hint of eyes tells you just enough. Shrink this one down and admire how beautifully Benson captured the light in this painting.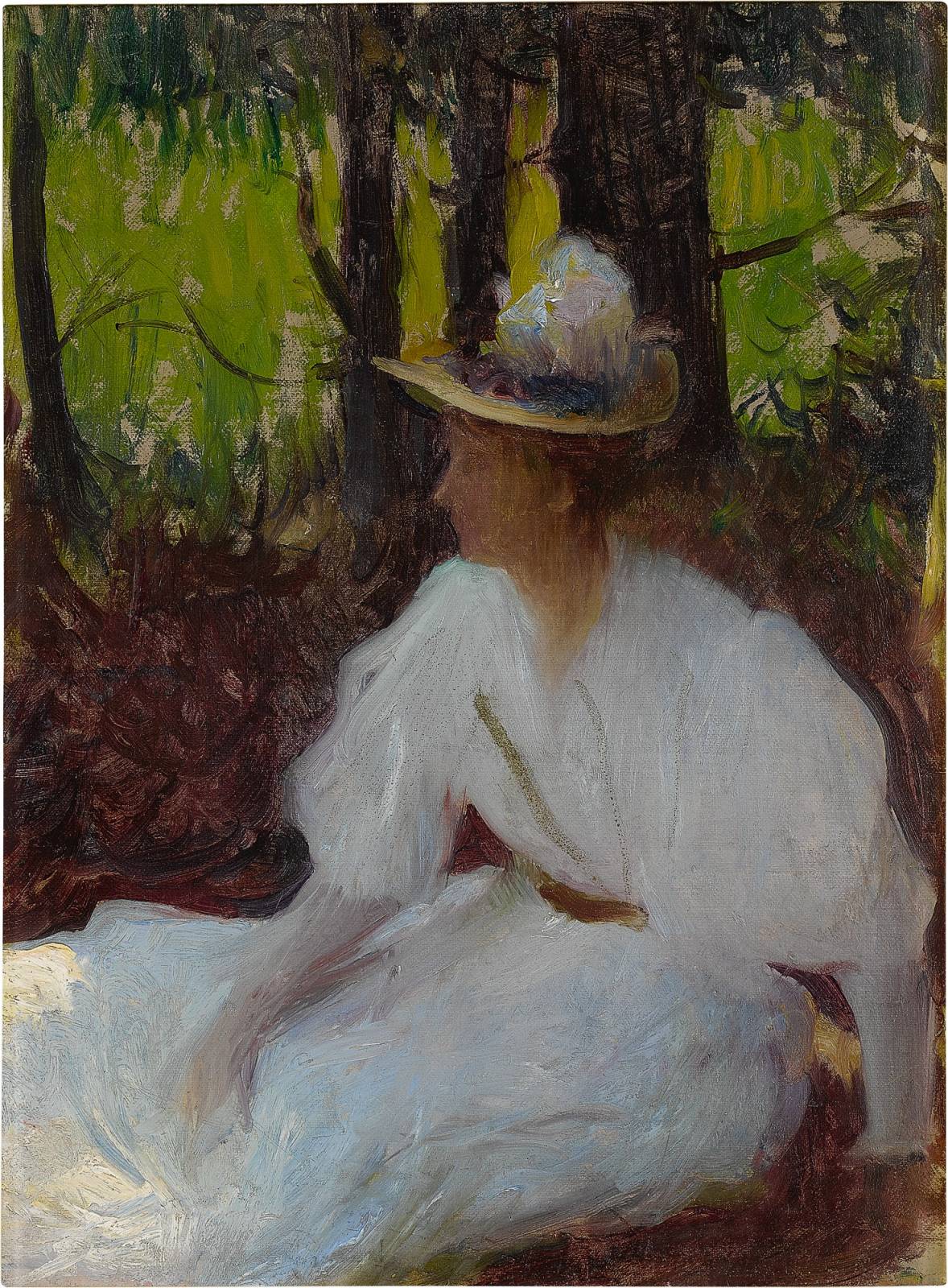 Frederic Remington – The Sergeant 
How great is this character!? Remington's work feels like the best of American illustration, cast into bronze. His work is always bold with narrative and characters.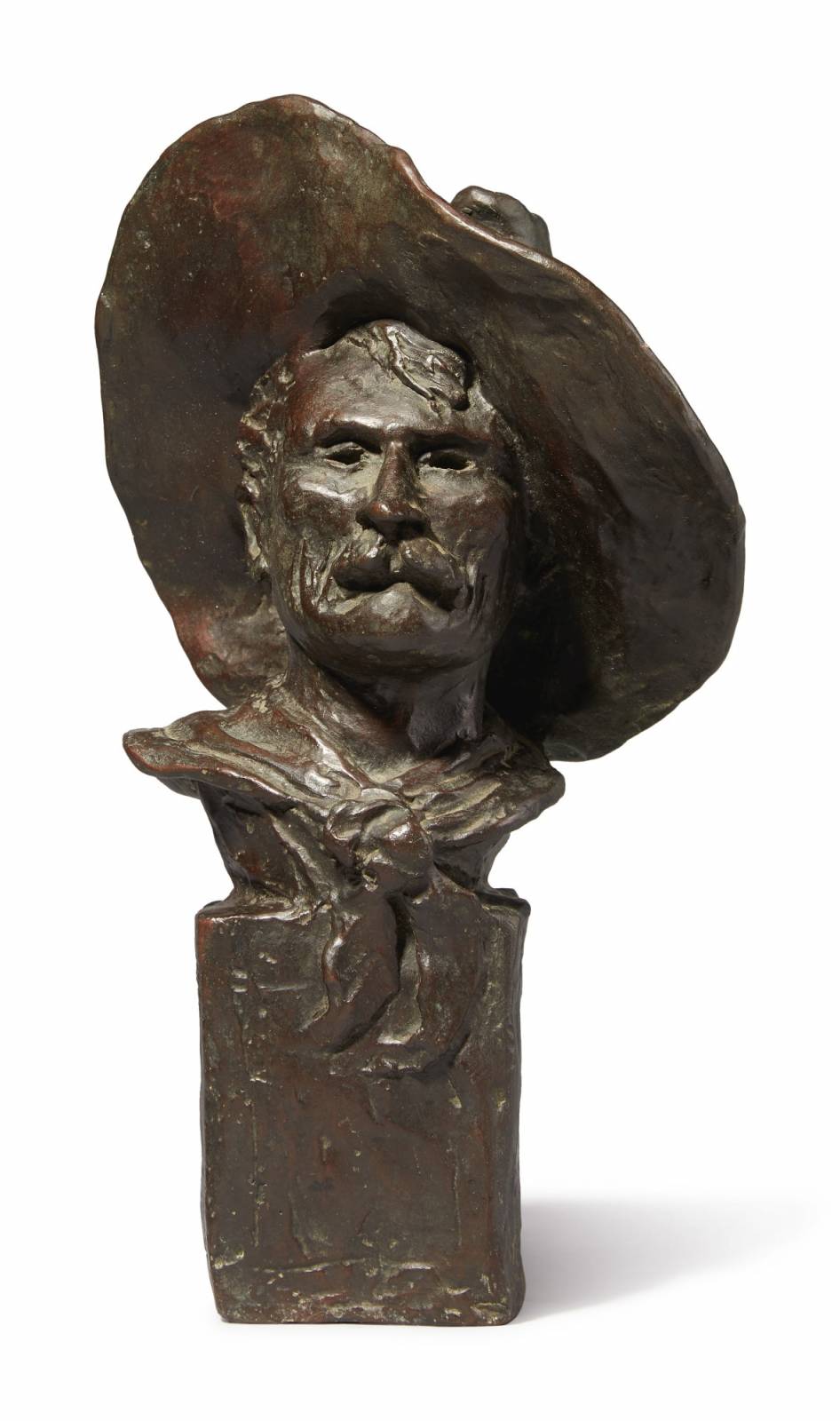 Harriet Whitney Frishmuth – Joy of the Waters
Frismuth has been someone that keeps coming up in my action finds lately. I absolutely love her work. I think if I could choose one American Sculptor's work to collect from the last century, it would be hers. I just need a small fortune to build a good collection of it. Anyone? What a beautiful, stylized figure. Full of movement, subtle rendering of forms and it's full of joy. I love the patina that has formed on the bronze too. If I were a sculptor, she would be at the top of my list of artists to aspire to. Right there above Bernini and Carpeaux, but keeping them good company.
Howard Pyle – The Duke of Gloucester Sends for Edward Maudelain
This isn't the most amazing Howard Pyle, but I'll never complain when I get to see a new Howard Pyle! The little splash of armor peeking out from the figure in the front is brilliant.
Mian Situ – Yangwu Market Day
I had the good fortune to attend a Thomas Blackshear show at the Trailside Gallery in Jackson Hole. While there I was wandering around and found they had a massive Mian Situ painting hanging in the backroom. Absolutely mind blowing. I don't know how he develops his paintings. Does he have hundreds of costumes? Are they invented to some degree, or maybe miniatures. Whatever he is doing his works is almost always hugely ambitious and as beautifully painting as anything I've sever seen.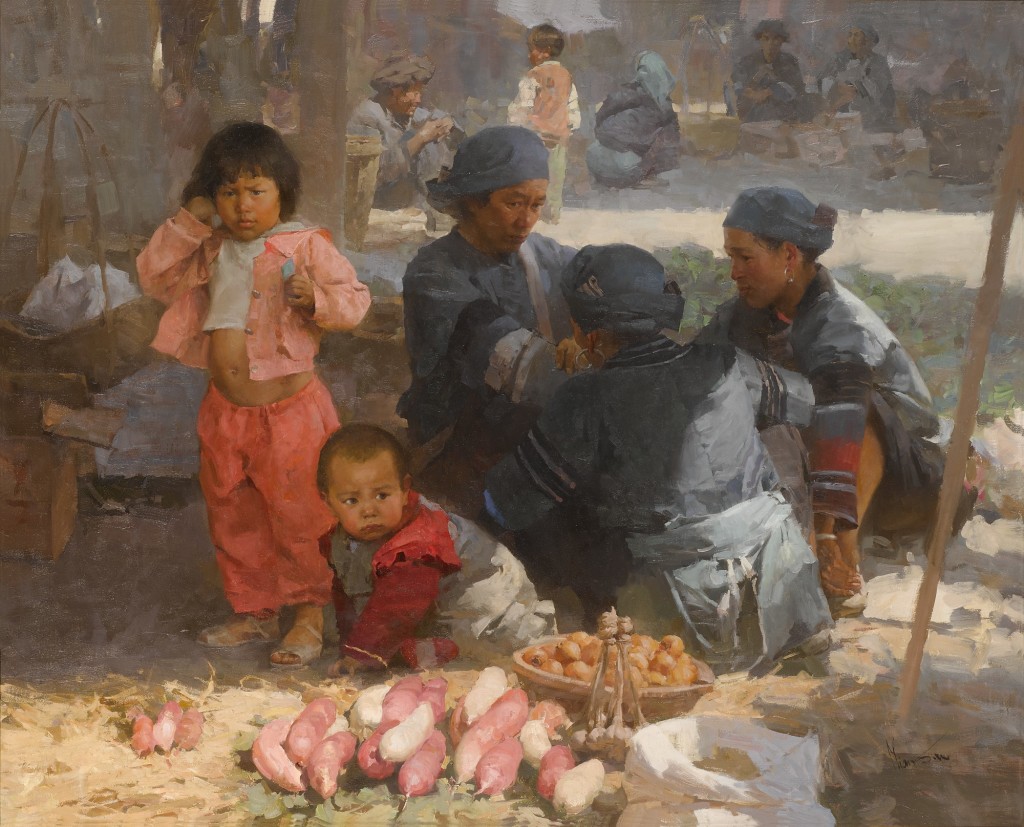 Thomas Hart Benton – Study for Leisure and Literature
Another great study that gives some insight into the process behind the painting. Interesting to see the grid in red pencil for transferring or scaling up the drawing. Nothing too unusual, but it's always fascinating!
Thomas Moran – Newark Meadows
I'll never get tired or cease to be inspired by Thomas Moran's paintings. What a beautiful arrangement of light and dark shapes! The clouds are beautifully done and the warm brilliant reflection of light on the pond is a great balance to the sky.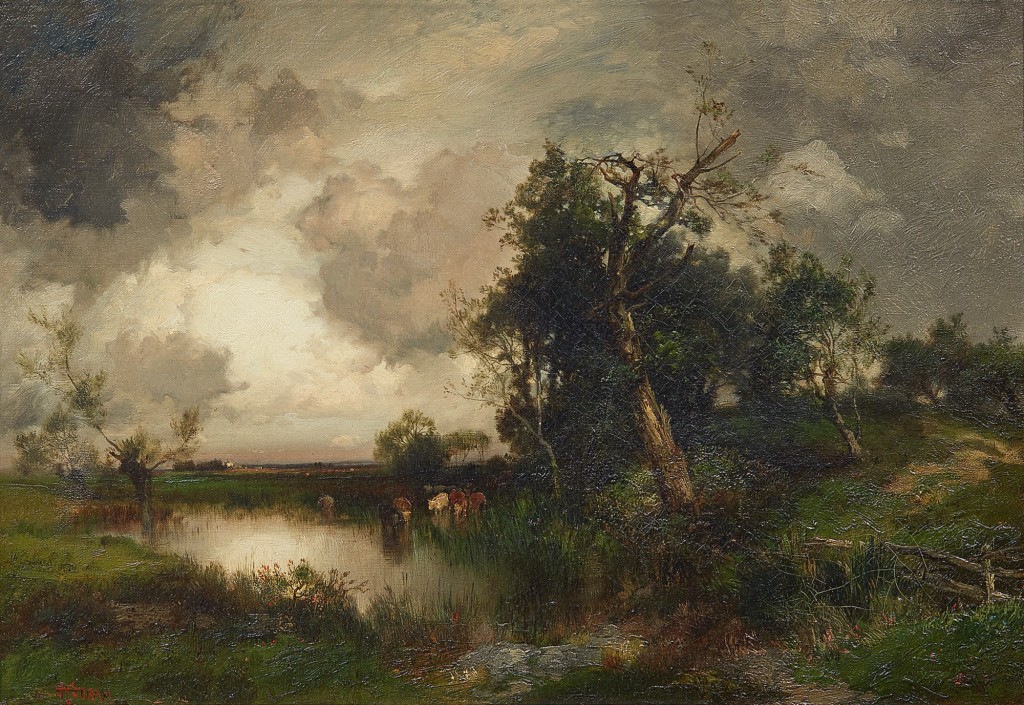 Tom Lovell – Bridal White
Lovell! What an auction to have the great range of American paintings! Lovell, to my mind, was the closest to Sargent of any American artist. He could render fabric and faces with the skill and efficiency of Sargent. Incredibly, by the time Lovell was painting the market and environment that Sargent benefitted from was long dead so Lovell's great skills were used in illustration. I don't mind of course, but it probably means that he won't ever see the same regard as Sargent has. But maybe his day will come. Rockwell's star has certainly ascended so maybe Lovell will get his as well.
Tom Lovell – On the Rocks
Another great composition from Lovell. to wrap up the post. The faces here are so well done! Look at the strong blue shadows paired up with the oranges of everything in the light. The sense of the warm light they are resting in just radiates from the painting. It's like bright sunshine glowing from the surface.
I hope that you enjoyed these images! What were your favorites and what stood out to you in them? Thanks for giving this a read!
Sincerely,
Howard