Today I have a bit of a process tour from a recent cover illustration for the Land of Eem RPG, from the Rickety Stitch series.  The illustration was painted in traditional watercolor and digital and is for the cover of their RPG rulebook.  
The original character designs were made by Ben Costa, the illustrator for the Rickety Stitch series. Working from another artist's designs always presents interesting challenges, as you try to abide by established character designs, but also make the image your own.  In this case I sent in several iterations of the image design to make sure I wasn't straying too far off model for the characters. After we wrangled the design into something that fit into the cover format, I dove into a traditional watercolor painting on hot press watercolor paper.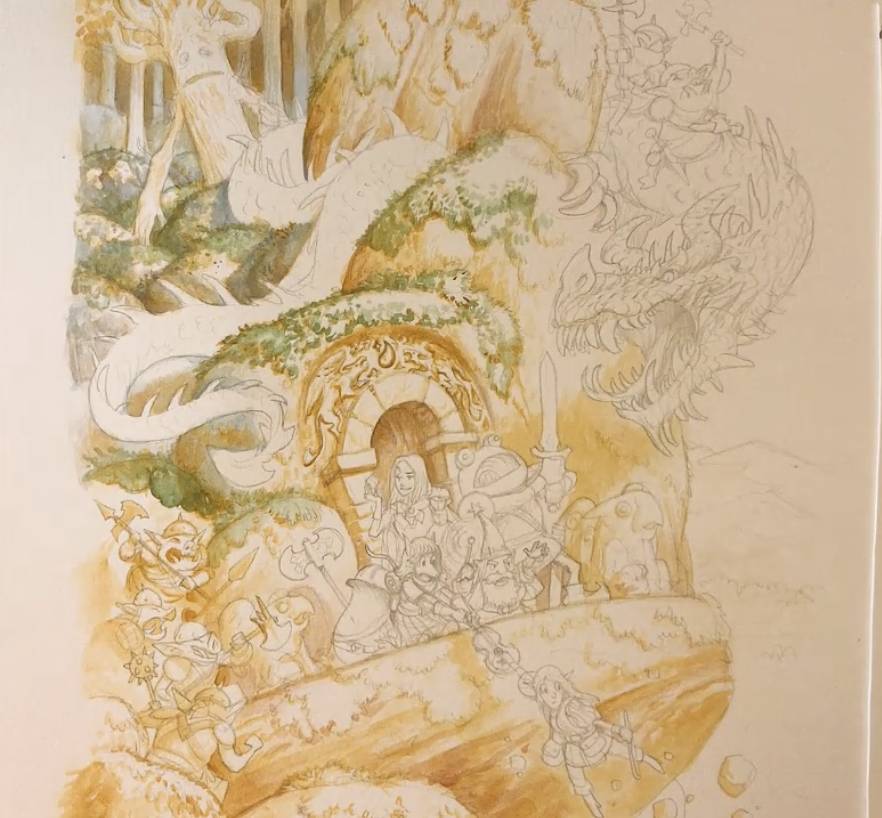 All of the characters were a lot of fun to work with, each representing different reactions a player might have to a crisis situation. My favorite reaction to paint was perhaps the frog warrior, who has arrived suitably prepared for combat, but who is nonetheless terrified.
If you'd like to see the traditional watercolor process in greater detail, you can check out the VODs on my Twitch channel.  We streamed the painting of the image in 4-part series and the broadcasts should remain up for about a month from the time of this post.
After finishing the traditional watercolor work, I scanned the image in to add another layer of finish and vibrance to the image in Photoshop. While working in digital I made small adjustments to the characters here and there, to correct any off-model design errors that had crept in while I was happily splashing away with real paints. I like to tinker as little as possible in digital after painting an image traditionally, but I do find that making any corrections or adjustments is just SO much easier in digital. (It is utter folly to draw swords and challenge a traditional watercolor to a duel.)
If you'd like to check out The Land of Eem and support their new kickstarter, you can find them at www.landofeem.com!