As artists, we spend so much time creating our works. Once the art is done, however, it is really just beginning to embark on yet another journey. It may be published in print or online. It may go out to a gallery or museum. Whatever the adventure, the work must arrive to its final destination safely. So often, artists fall short in the final stages and that is when things can go not as planned.
I would like to share with you some advice that an esteemed collector, buyer and seller of Golden Age illustration art once shared with me. "Focus your efforts on the packaging", he said, "that way, no matter what happens in shipping, the work is safe and you avoid having to fight with the insurance for reinbursement." So, let me share with you some of the things that I do when it comes to shipping.
The large shipping box featured above was custom made by a professional packaging company. The design is created in such a way that it can be easily grabbed underneath by a forklift to be moved around during the shipping process. The reinforced sides balance the box and distribute the weight, allowing the painting to stand upright.
The custom box below was made by my husband using plywood. The bottom, edges and top are all surrounded by foam that you can cut to fit the shape of your box. The foam itself comes in a large roll so it can accommodate almost any size work that you are shipping. Glassine paper is placed over the work to protect it. This material is non-sticking as well as water and grease resistant.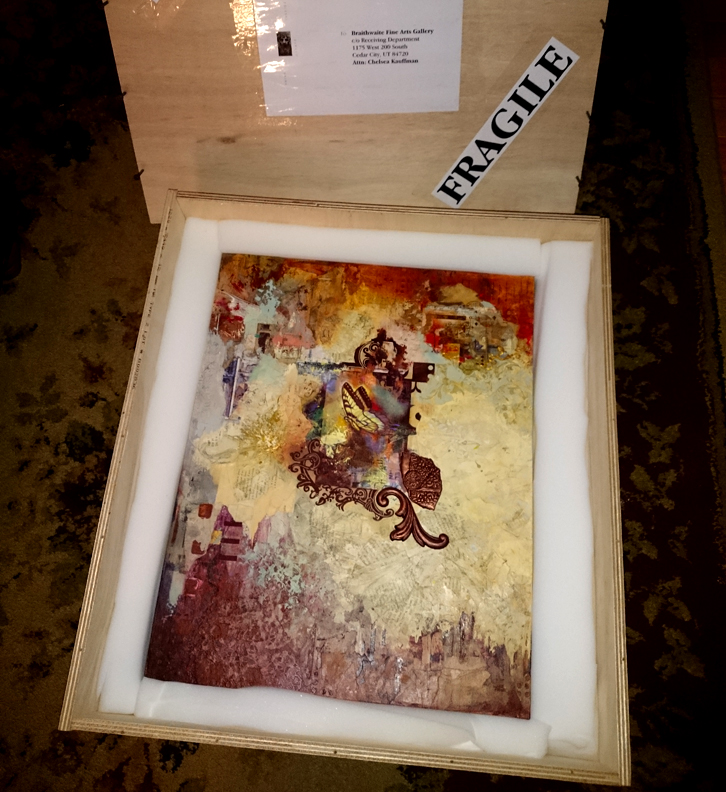 Featured below is the top layer of soft foam that is placed on top of the glassine paper that covers the surface of the artwork. Notice how the box is designed to fit the bottom, top and side layers of foam as well as the thickness of the painting. It is important that there is no freeform movement of the work. It is suspended in soft foam and surrounded by a hard and durable wooded box.
The screws that are placed on top are drilled first. They are meant to be screwed in for shipping and then unscrewed upon arrival at the works destination. If the work is in a show that is meant to be returned to the artist, the screws function accordingly, allowing the box to be reused even by different works of a similar size.
On top of the wooden box, labels for shipping as well as for the indication that the work is fragile are placed on top, using clear tape that completely covers the label surface. This adds extra protection to the labels that may face different weather conditions during the shipping process.
For works on paper, I use cardboard boxes with various packing materials, including side corners and heavy, hard foam to bubble wrap packaging. The work itself is enclosed in a sealed plastic sleeve, sandwiched between two layers of heavy cardboard that are protected by side corners. The work is then suspended in the outer box. Check out the video below that shows me packaging up my art on paper entitled Bonsai on the Edge.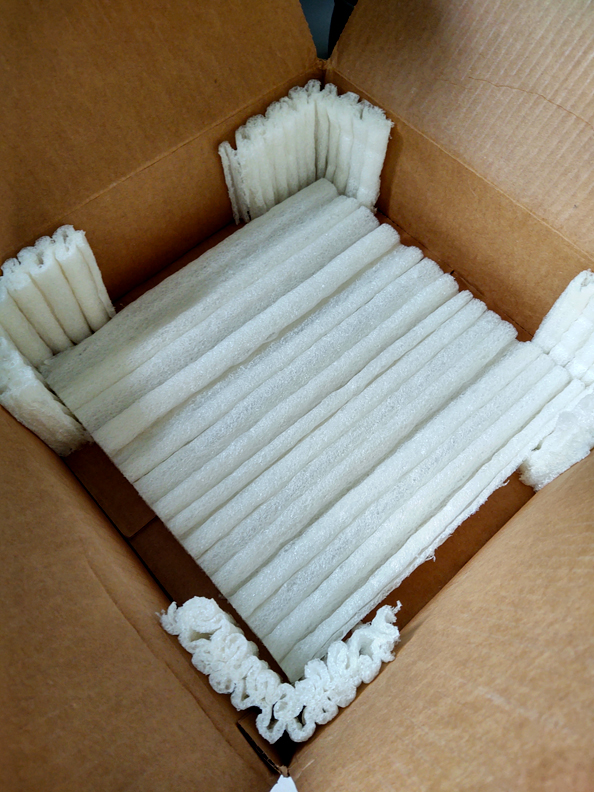 Building a custom shipping box can be the most economical way to ship art safely to its destination. Here is a step-by-step demonstration on how to go about making a custom box.
STEP ONE: Measure the painting and the foam that you will be using, making sure that the work fits snug but not with any tight pressure. Make sure to allow for the thickness of the wood and the blade.
STEP TWO:
Sand all the rough edges and double check all your measurements.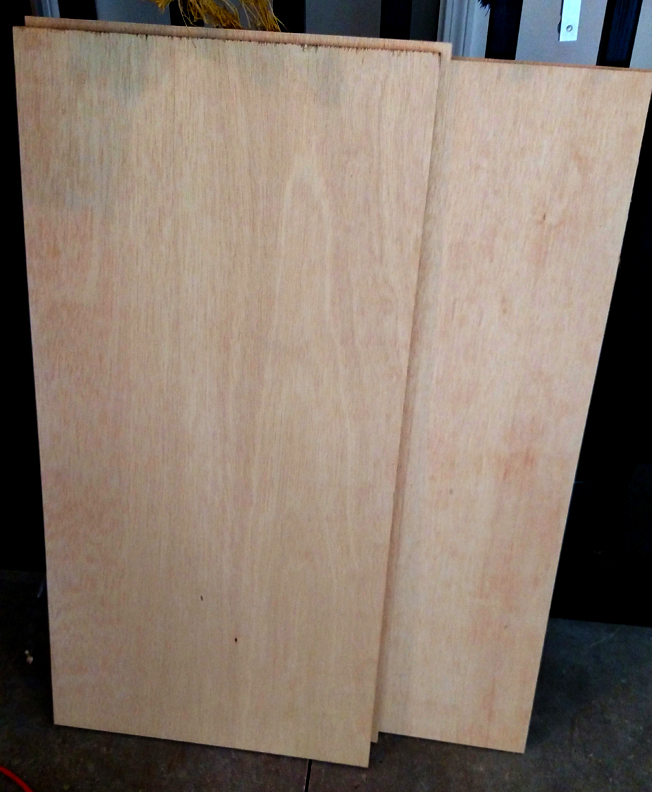 STEP THREE:
Using wood glue, assemble the box. Clamps and staples are used to keep things in place, during the drying process.
STEP FOUR:
Drill in the  screws, equally spaced apart.
The top screws are not fully screwed in until the work is in place.
For more practical painting tips and best practices, check out my series of videos on Muddy Colors!
In this video, artists will learn about how to properly select, prepare, size, prime and creatively texture a variety of flexible and rigid painting substrates and unique constructs. Step-by-step demonstrations on stretching paper, applying canvas to stretcher bars, glueing canvas to wood, sizing and priming decorative wood surfaces as well as how to plan and design works in unique formats, like diptychs, triptychs, and multi-pieced constructs, are included. From wood, metal, layered constructs, custom cut panels, engraved surfaces and inlaid constructs to canvas, paper and illustration board, a variety of substrates are explored.
PAINTING BRUSHES, TOOLS + EQUIPMENT (Coming Soon!)
Throughout this video, artists will explore a comprehensive array of traditional as well as altered, repurposed and custom artistic brushes, tools and studio equipment, thoroughly investigating their application in the painting process. By having an understanding and knowledge of the working instruments used in painting, artists can make the right choices for their artistic practice.
PAINTING PIGMENTS, MEDIUMS & VARNISHES  (Coming Soon!)
Throughout this video, we look at a variety of painting pigments, mediums and varnishes so that artists can make the appropriate decision for their art making process. When it comes to painting, a diverse array of oil to water-based media are available to explore. In this video, oil, acrylic and watercolor media, applications and approaches will be deconstructed to create a better understanding of the essential artistic materials used to create works of art that are considered permanent or archival, based upon current research.
copyright Lisa L. Cyr, Cyr Studio LLC, all rights reserved.