As I had mentioned in my previous post, the third volume of the Spectrum Fantastic Art Quarterly (ahem) has wrapped and is at the printer—and since our printer is in the U.S. we don't have to worry about Customs and it should be available before the end of October (if the crik don't rise). A big and beautiful 12″x12″ softcover, 88 full color pages, front cover by Brom, bacover by Alessandra Maria Pisano. We're staying true to our fanzine roots so it's limited to 1000 copies, meaning there will be fewer than that available after we give the contributors their books. Where can you get it? Bud Plant (who is creating a plate autographed by Brom), Stuart Ng (who should have copies in time to premiere at LightBox), and Greg Ketter (who should have copies to premiere at the World Fantasy Convention). What's in it? Well…
A profusely illustrated interview with Brom and Laurie Lee Brom. None of Brom's work that we've included has appeared in his art books while Laurie shares some of her most recent drop-dead-gorgeous gallery paintings. (Portrait of the Broms by Greg Preston.)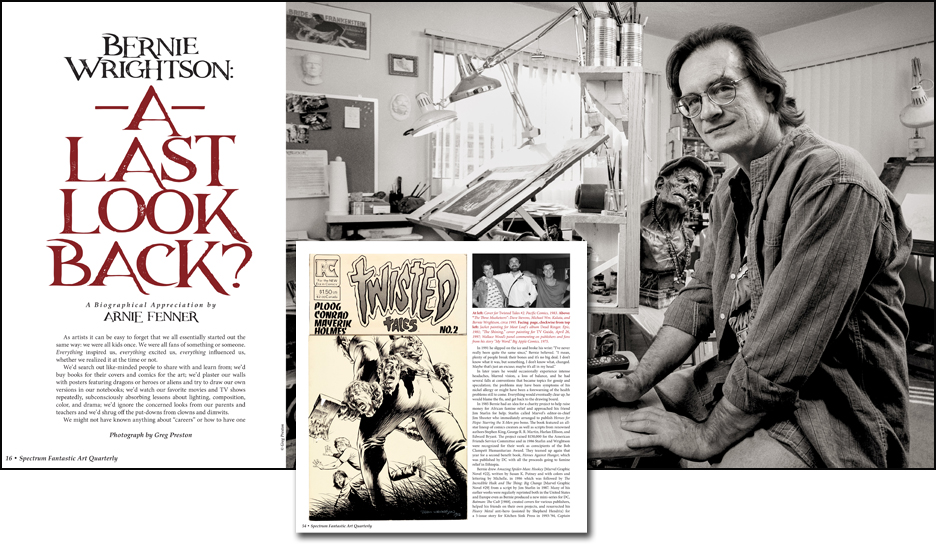 A lengthy appreciation of the late "Master of the Macabre" which covers his entire career, from growing up as a fan in Baltimore to his comics and film work to his collaborations with Stephen King. Frank Frazetta's glowing opinion of him is featured in a sidebar and David Salcido also shares his memories of adapting Bernie's "Mementos" painting into a movie—with Wrightson himself starring as the axe-wielding killer! (Portrait of Bernie in his studio by Greg Preston.)
Publisher Todd Adams reflects on his friendship and many collaborations with Bernie. It's both thoughtful and heartfelt.
Cathy talks with award-winning artist, dancer, and owl wrangler Alessandra Maria Pisano, all beautifully complimented by her stunning oil paintings.
"Monsterpieces" is a celebration of all the things that go bump in the night. Featuring a ghoulish gang of glorious creatures by John Jude Palencar, Mark English, Karla Ortiz, Jon Foster, Robert Peak, Dan dos Santos, Roger Stine, Jeffrey Jones, and Phil Hale.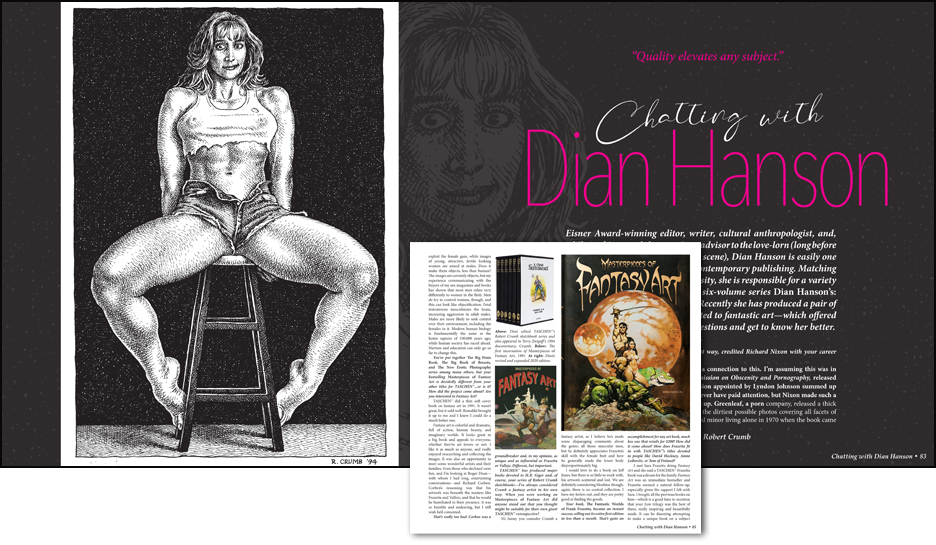 Opening with a portrait by the legendary Robert Crumb, we chat with Dian Hanson, Taschen's resident "Sexy Book Editor," about her career and her recent foray into fantastic art with this year's bestselling Frazetta collection.
There's also a remembrance of our late friend Bob Self and an introduction in which we write a little about why the hell we do what we do. Hopefully it won't be so long until the next volume—and when it does we hope we can wrestle another art director feature out of Lauren and a "10 Things" essay from Manchess (it's nice to have them in print, you know?). We've also got ideas cooking with George Pratt, John Picacio and Joe DeVito. Let's see if we can pull it off: time will tell.