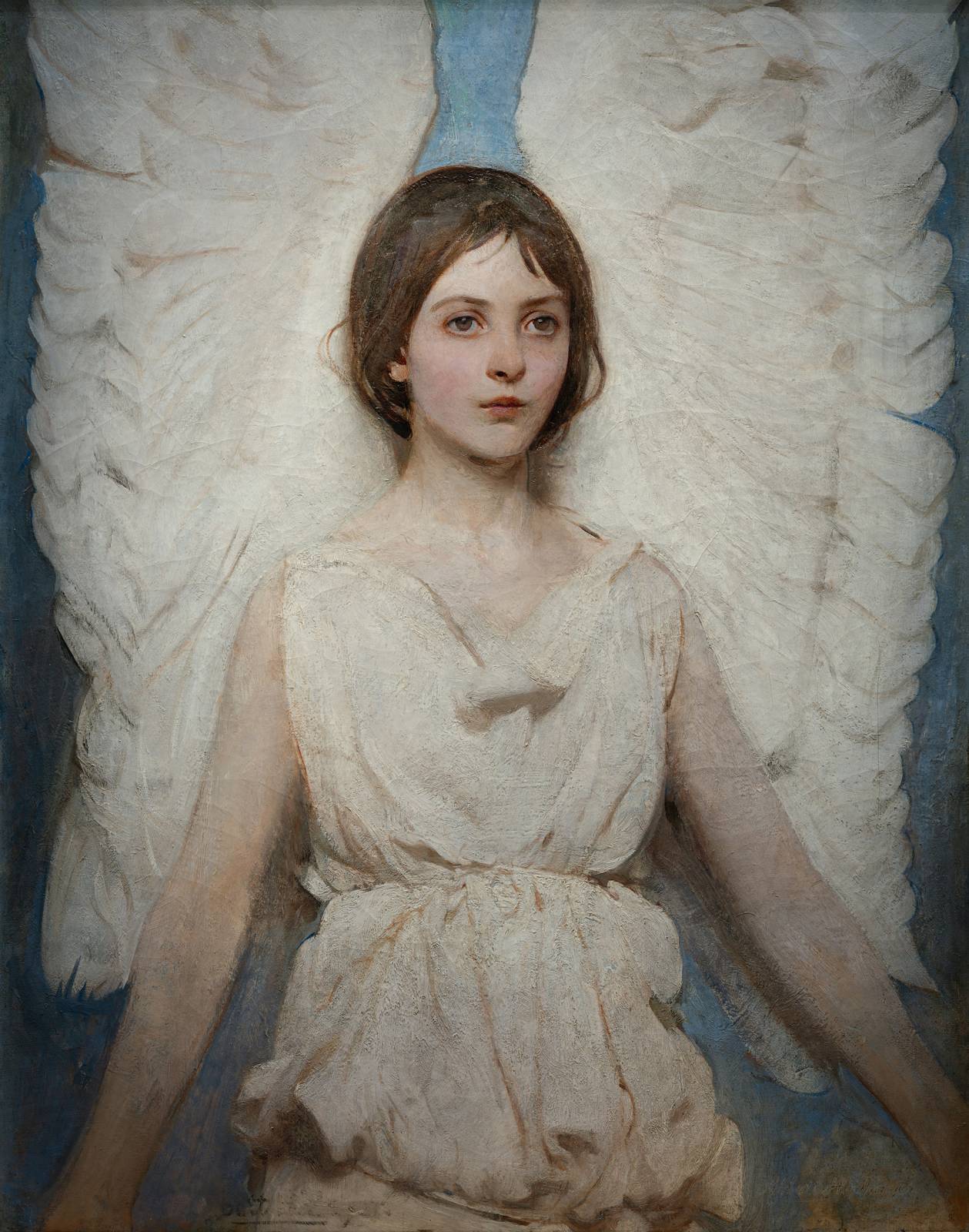 This painting has always captured my imagination. It is simple but so elegant and beautiful. The surface is compelling and fascinating and the subject's expression is subtle and powerful. Abbot Handerson Thayer, the artist who painted Angel was an American artist who lived from 1849 – 1921. For me, one of the greatest periods in art history saturated with some of the greatest artists and works.
I love trying to get as good of a capture of these masterpieces and I think I got a great one of this beautiful work!
Thayer was part of a Naturalist and Spiritualist movement, kindred in spirit to the likes of Emerson and Thoreau. He painted for the wealthy and intellectual societies thriving in Boston.
Thayer studied first in Brooklyn and became friends with the incredible sculptor, Daniel Chester French (see the Lincoln Memorial), and later in Paris at the Ecole de Beaux-Arts with Jean-Leon Gerome! Before heading to France he married Kate Bloede. He was set to become one of America's premier artists and was elected President of the Society of American Artists in 1884.
Sadly, Thayer's life turned to tragedy shortly after when two of the kids died one year apart. Loss and hope would become themes in much of Thayer's most famous works. He had no shortage of famous portrait clients, including Mark Twain and Henry James. But it seems that while his star kept rising, his life continued to be punctuated with sorrow. His father-in-law died and that led to his wife falling into a deep depression, being institutionalized and that led to her death after a long decline in health.
While this is all tragic, it is important to know when studying his works because many of his compositions are deeply shaped by these events.
Thayer is believed to have been bipolar and had fits of anxiety and suicidal thoughts that became more extreme later in his life. He was also a germaphobe and he and his kids slept outside as much as possible with the belief that it might protect them from germs, especially tuberculosis.
A side note about Thayer, he was very intrigued with camouflage and worked to improve both the US forces uniforms, ships, and vehicles and also the British. His input was not well received but was later proven to be sound.
The painting that is the subject of today's post is of his daughter Mary who was 11 at the time. It is recorded in the Smithsonian entry for the painting that Thayer used "brooms, scrapers, his fingers, and even a paint tube to achieve his effects."
If I could wish away the tragedy and trials of Thayer's life I would. It seems as though it pushed his work into what we admire today. Knowing what he faced and lived with makes me love his work more. His drive to create beauty, to inspire others, consistently overcame the hardships he faced.
The Smithsonian also offers really beautiful captures of their collection, but I think the one of Angel is missing a little of the richness of the original.
More reading on Thayer
Wikipedia entry
Abbott Handerson Thayer's art and fin de siècle American culture