Just in time to get your Oz on, this Saturday, March 2nd, Creature Features invites you to a sneak preview of Visions of Oz– A Celebration of Art From Over The Rainbow, in conjunction with Disney's release of their new take on the Wizard's life, Oz: The Great and Powerful, opening March 8th.
Come by for a wonderful afternoon at the Heritage Square Museum, 3800 Homer Street, Los Angeles, CA 90031, with food and refreshments from 12 noon to 4:30 pm. The reception kicks off a month-long celebration, from March 3rd to 31st.
The show is hosted and curated by Taylor White and Stephen Smith. A stellar crowd of artists (a gaggle of? a murder of?) will hang their personal visions of the adored story.
Deanna Rene Adona, Martin Astles, Rick Baker, William Basso, Louie Becker, Alexis Brandow, Michael Broom, Tim Bruckner, Felideus Bubastis, Andrea Coleman, Bruce Collins, Sandy Collora, Ricardo Delgado, Eric Diaz, Dienzo, Frank Dietz, Christopher Dombos, Dave Dorman, Archer Dougherty, Mike Dubisch, Jel Ena, Tess Fowler, Chris Gutierrez, Cutter Hays, Mike Hill, Brian Kesinger, Doug Klauba, Don Lanning, Tony Lombardo, Casey Love, Gregory Manchess, Nick Marra, James McPherson, Tony McVey, Christopher Miller, Kamila Mlynarczyk, Christopher Moeller, Ken Morgan, Nick Marra, Jezabel Nekranea, Bill Nelson, Mark A. Nelson, Gregory, Nemec, Eric October, Jeff Pittarelli, Mireya Romo-Bowen, Stephen Sandoval, Crab Scrambly, Mike Sosnowski, Javier Soto, William Stout, Drew Struzan, Kirk Thatcher, Pete Von Sholly, Paul Wee, Zombienose
I'll have a couple of prints available of each of the two following images.
This original, "Deeelicately" will be for sale there as well.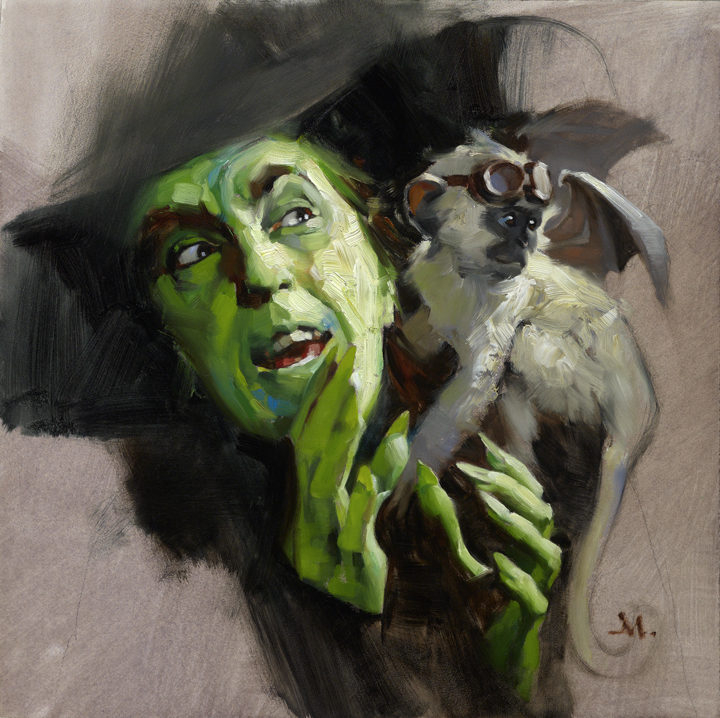 I've loved this story since my whole family used to sit and watch it together…in black and white. I wish I could go. I figure there'll be flying monkeys everywhere.