WIP of my self portrait collaboration with Allan Amato
In what now feels like many years ago, (though it's assuredly more recent than that), I was approached by Allan Amato and Marc Scheff to participate in a collaboration. The idea was pretty basic and simple: Allan the photographer, would shoot our portrait, and then we would be tasked with manipulating it in some way to achieve a final piece that combines both. Everyone went in crazy different and great directions, and mine's nothing special or tricky at all as you can see, but I'll walk it through anyway if you're interested.
Self portraits always gave and continue to give me the collywobbles, so my first instinct was to quickly craft a legitimate reason to say no to this. I don't enjoy gazing at myself or regarding my mug in a mirror overmuch and avoid the obvious egocentric aspects of making one's own head the subject of their work… But so many colleagues and friends were doing it and I was encouraged to rethink by many of them. Allan and Marc came up to Western Mass, to Scotty and Teresa Fisher's house in Belchertown to snap photos of We Who Reside in the Woods, including them, myself and Rebecca Guay. I happily had a last minute brainstorm and knew what I wanted to do, and it would easily eschew the vainglorious worst aspects of what I was fearful of. I came armed after concluding a visit to NYC to be at the opening of the NOAH show that Darren Aronofsky had easily roped me into participating in, literally straight from the train station right to Castle Fisher. All I needed was an axe.
Me and the pooch of pooches
the littlest Fisher.
So, the photo shoot, and dinner unfolded. Each of us put before a white screen while Marc held these riot cop style led lights in our face, and we posed. Allan smart and ace photographer that he is bracketed a good bit beyond my own personal request, and did a few extras which really turned out to be quite great for other reasons. I also had a rather important moment with the Fisher's pup, and he came aboard as well. But really as much as these were fun, I went back to the original purpose, and easily so. Great photos are unto themselves done and I see no need or reason to futz with them beyond what they already accomplish on their own merits. Even though the portrait with the axe is still in and of itself and excellent photo, I never once held it would remain on its own so it made it easy to attack, erase the parts I wanted to and take it to another level as preordained by me who is the irreverent god of this part of the project.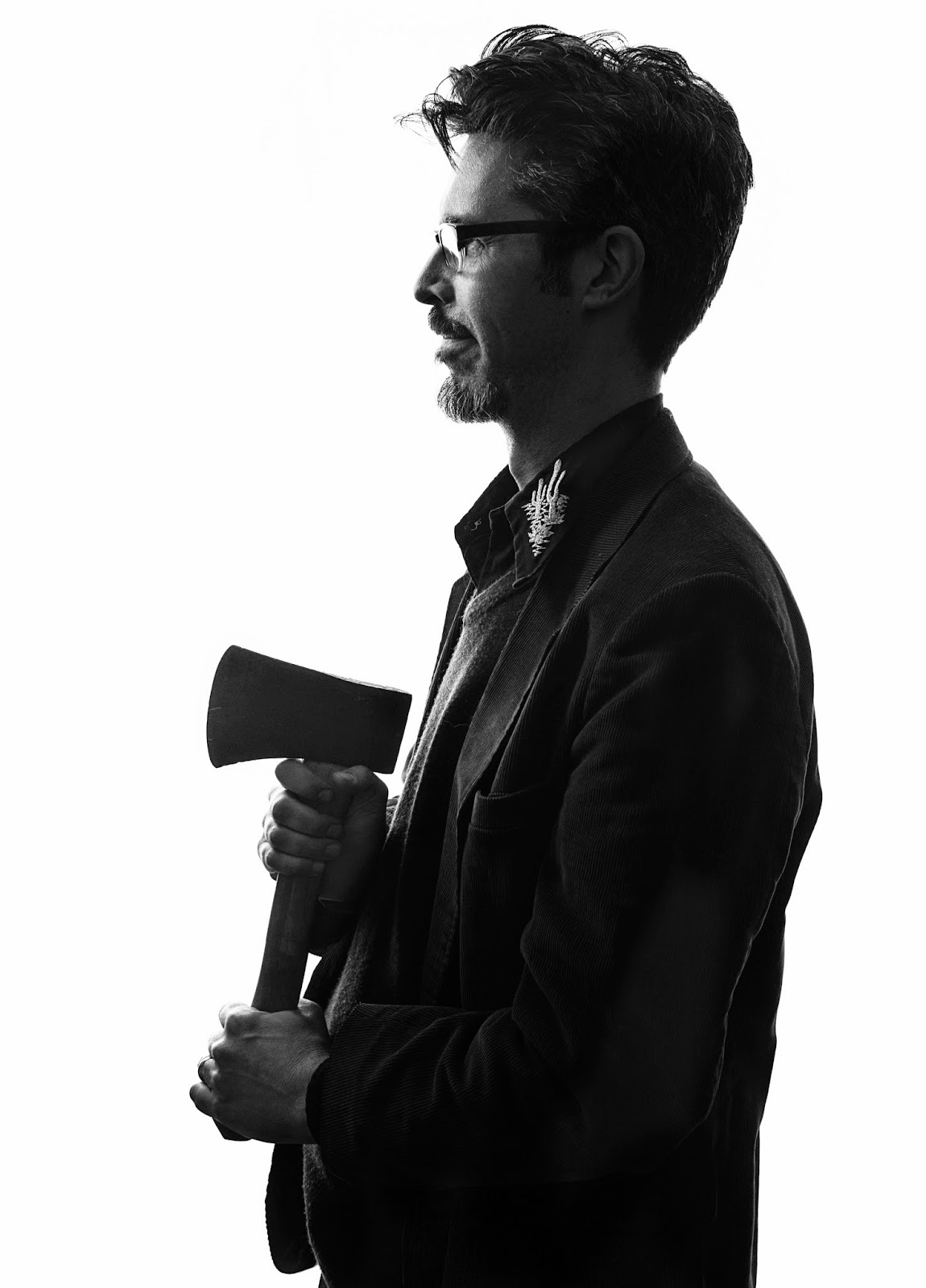 Original photo from which
the final piece was made
The first thing was to get back to the studio, make a quick 8×11 printout and sketch on top, erasing where I thought I'd need to. Then I went in on the final hi-rez file in photoshop and did the same there, printed out an archival giclee at 13×19″ and began to draw in what had been previously erased from existence. All of it was done using my new favorite graphite pencils, the BLACKWING PALOMINO. Just a tremendously velvety flow to them. I used eraser and sumi ink to better fuse the shinier aspects of the graphite into the matte deep black of the print, and after about a week of working on it, tweaking it and reworking, I ended up with the final piece, ready to go.
Final piece for the TEMPLE OF ART
I was tasked to do another by Allan for himself, based on a portrait he shot of himself. he had simply stated he wanted to have some kind of camera eye poking out of him someplace and with that I ran towards this final piece below which will be featured on the jacket of the book. I used pretty much the same techniques, though this one was a bit more involved and tricky in a number of areas given the different cracked rock effects and the hyper sharp requirements of the camera lenses, wires and so forth.
Second final portrait of Allan Amato
for THE TEMPLE OF ART
In the end what came out was one of my favorite pieces of the year. Even better was to see privately at first, what others were doing with their projects The results are and continue to be as varied and as seminal as each artist chosen to participate. It has been nothing short of a tremendous honor and a giddy sense of joy to be alongside the giants of our medium that inspired me to get into this business, whom I can now call friends and the new rising stars coming up behind us. This simulflow of the tradition of art and portraiture is what affirms its lasting qualities, and the familial community we all share together. They have begin to post to facebook some of the final works which you can visit for yourself HERE:
Below are a few of my favorites- though I must confess this was a Sophie's Choice like none other as I don't think there's a dud in the bunch. Which is kind of amazing in its own right.  Everyone really and truly knocked it out of the park, but since showing them all here would be insane, here's a few:
Rovina Cai
Jason Shawn Alexander
Kent Williams
Jaw Cooper
Scott Fisher
Rebecca Guay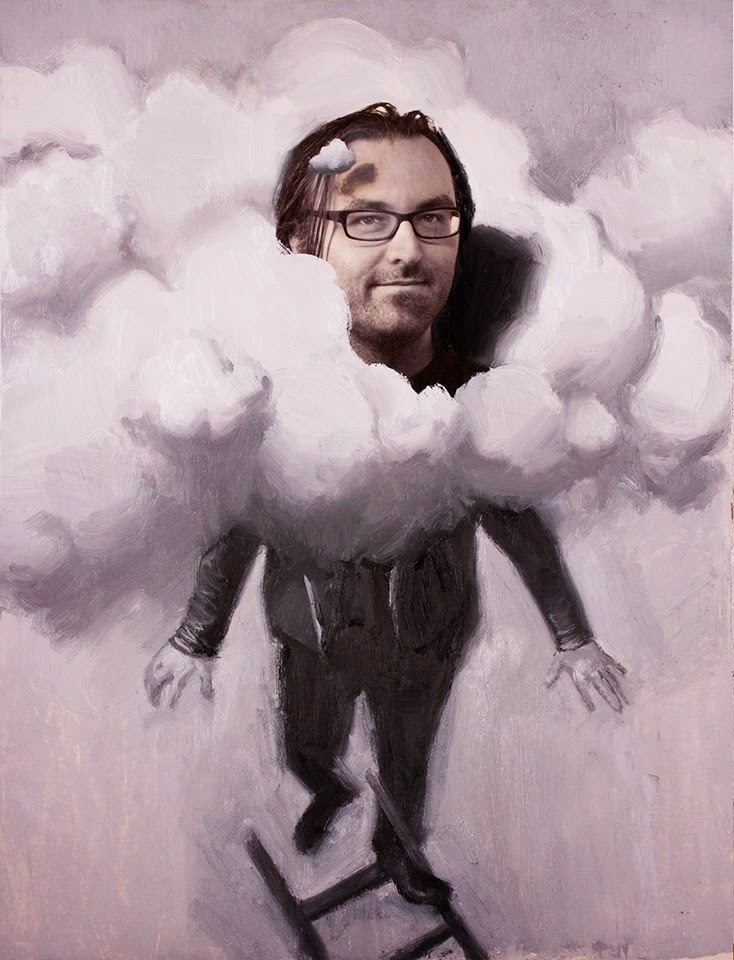 Kurt Huggins
Barron Storey
Dave McKean
Jim Mahfood
Junko Mizuno
The Gallery opening for the exhibit of the original pieces will be held this very night at la Luz De Jesus Gallery in Los Angeles, and will be up through my birthday on December 28th. You can learn more about the wheres and whens by clicking
HERE
. Tonight exclusively Grant Morrison will be delivering his spoken word piece live at the opening too!
There will also be a book collecting all the work from the project and a documentary film interviewing all of us who participated. Coming very soon I hear.