"Mason's Island", Acrylic on maple panel, 15″x 15″
I have always felt that there would be a conflict between my illustration and painting. Actually, they have both been made stronger. Each approach lends itself to discovery, simple experimentation (in my case) and using parts of your brain that you typically don't often get to use. But they work for each other, instead of against each other in a positive way – at least in my case. Sure – you'll screw up every so often but working on your own work will create an interior freedom and conceptual dialogue that's hard to come by any other way. Those of you that have more free time than established busy professionals… take heart. Now is the time to develop and give yourself challenges to accomplish before you get established in the industry. If you fall flat on your face, no one will hear your head hit the pavement. Pick yourself up , dust off your clothes and move on. Do what you want to do – it's all at your whim. This can be a rare and wonderful time in you career. As we know that goes for established professionals too ( See Donato's and David Palumbo's previous posts on personal work).
Often I describe illustration as having everything, all elements, visually turned up to eleven on the art amplifier. That being said, there are many illustrators that have a very subtle technique and conceptual approaches. Now that I have that covered…. When creating personal work, you have a chance to fool around will the EQ, amplitude or even the pitch of an image. Doing personal work will give you that opportunity to listen and develop your own internal voice. In essence you are the art director. I'm not saying – do an illustration. Do a piece of art with no thought of type placement or where does the authors name go… just paint. Creating personal work can be a monastic and almost spiritual in nature. Finding new creative layers within yourself can be surprising and liberating. How you choose to develop and at what pace will only get better and increase when the effort comes from your heart with sincerity and authentic inspiration.
"Discipline breeds freedom".
My examples shown here are not earthshaking or groundbreaking in any way. The drawings and paintings are just another foray into the dark. These are quiet attempts. In fact I don't see them as complete visual statements. They are somewhat malformed but they are a way of keeping my hands busy. These are artistic wanderings… they do however serve to gestate concepts and explore new avenues. They may and have led to new ventures and artistic opportunities.
I can't stress the importance of keeping a sketchbook. I have noticed that when I don't sketch or develop personal concepts my work and attitude are lessened. I am guilty of not drawing enough in my sketchbooks. So I yell at myself internally, and yes, sometimes even out loud. Pardon my noise.
Below are a few things I've been working on.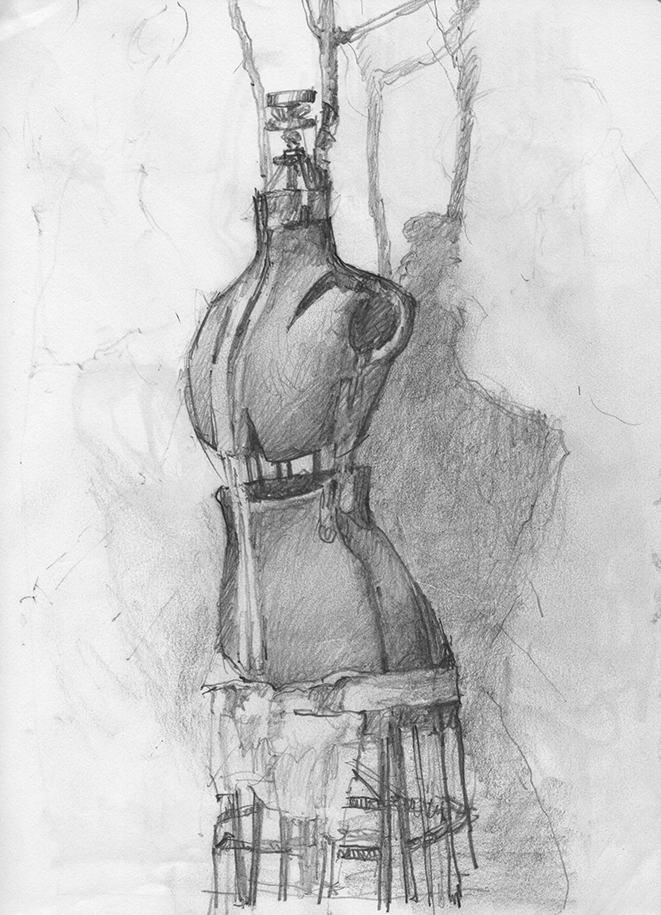 Dress Form Study #1 Pencil
Dress Form Study #2, Pencil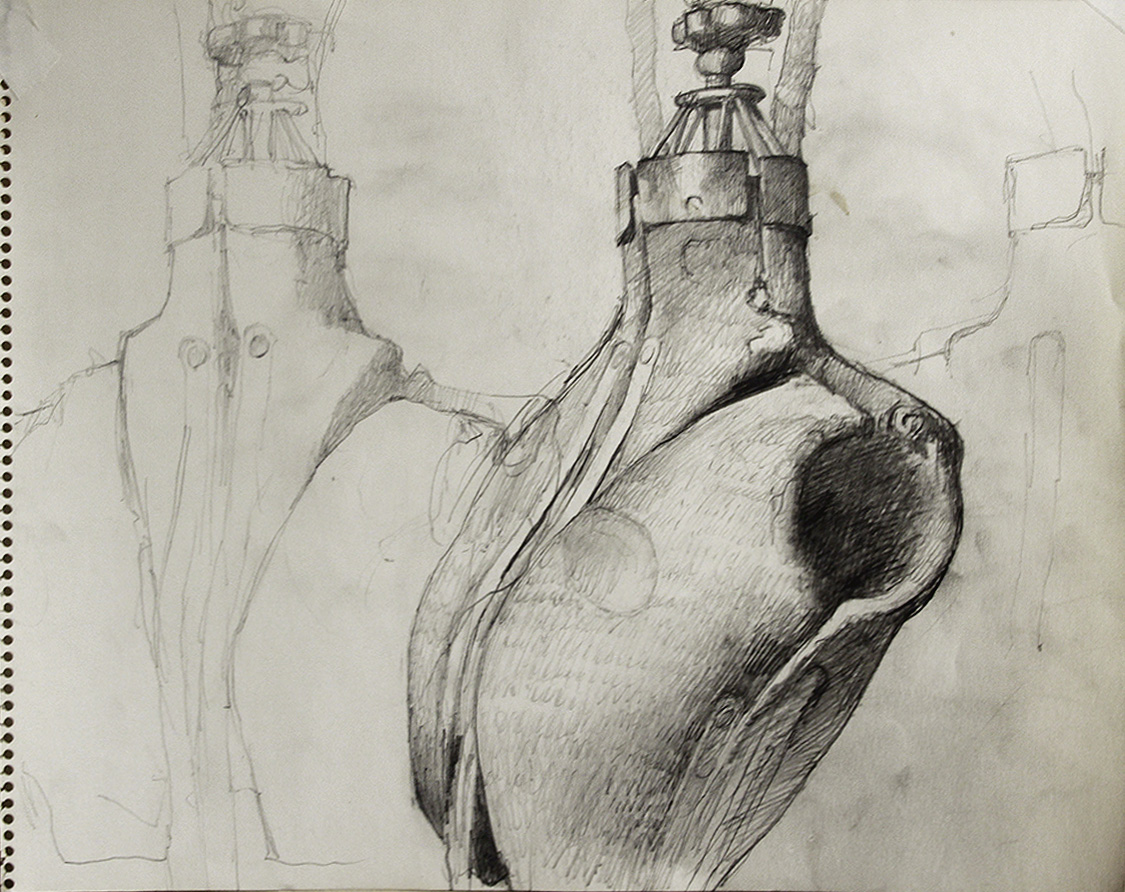 Dress Form Study #3, Pencil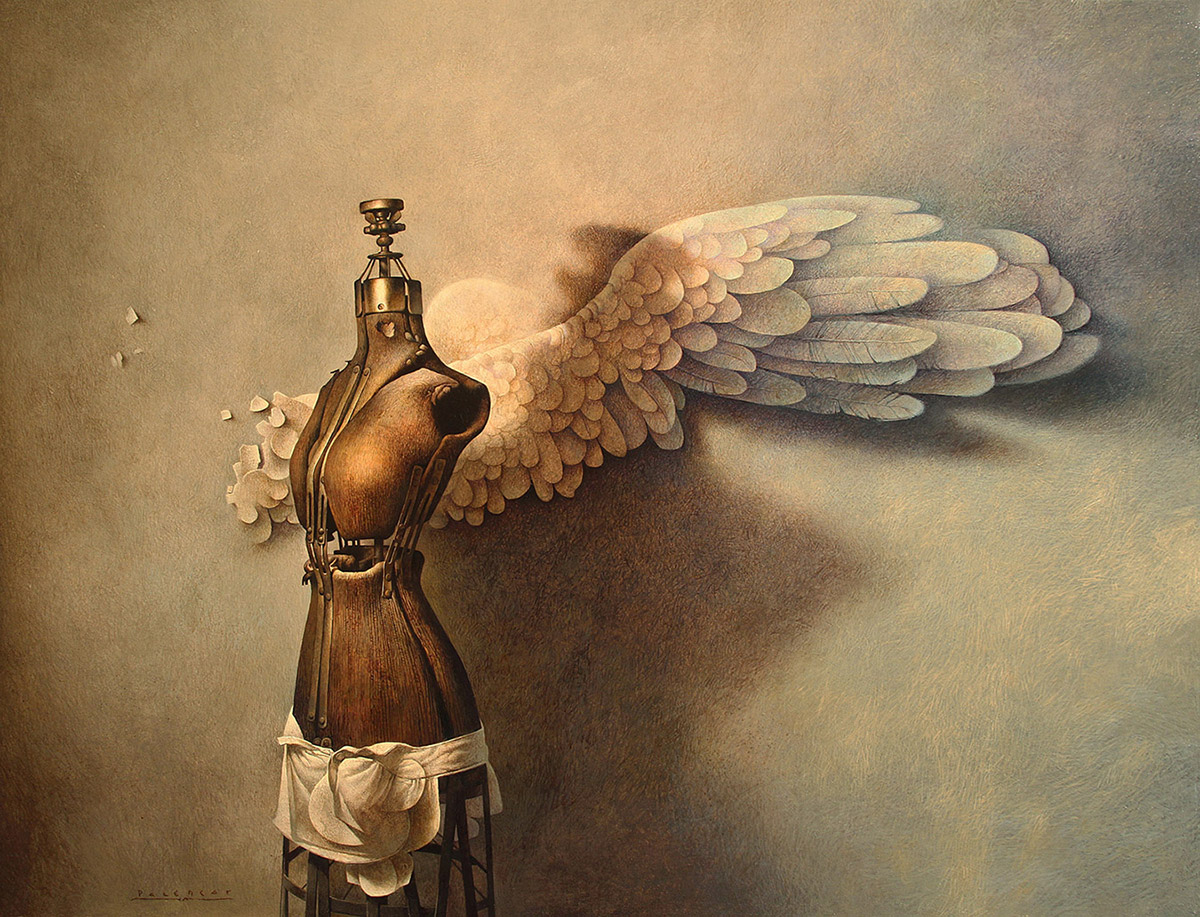 Dress Form, Acrylic on birch panel, 31.27″ x 24″
"Sharon's Bell"  (detail), Acrylic on board, 30″ x 33″
Easel Line