I could almost call this post part 2 of Lauren Panepinto's Seeing in Situ post yesterday.  She beat me to it!  I have been planning a post on the value of traveling abroad and seeing art in person whenever possible.
Beautiful bronze in front of the Altar of the Fatherland building
It used to be that The Grand Tour was a trip taken by the upper class, or those lucky enough to be sponsored or win a scholarship, to travel through Europe often to Italy to study classical art and architecture.  It was very much a right of passage for the upper classes and a must for aspiring artists and architects.
It was also very valuable as a disperser of art and style, as those that traveled abroad would often commission portraits and other works to take home with them, spreading awareness of artists all across Europe.
Look at the ruff!  I love the color in the cheeks as well, but I stared at the collar for 10 minutes
I had the wonderful opportunity to spend a little time in Italy last month, after attending the Portrait Society of America Conference in D.C.  I mention that because I am looking forward to posting on it. *spoiler alert* – I hope to convince many of you to come to the conference next year in Atlanta.  It was amazing!  I am also planning a group tour (for artists) to London, Paris and Madrid next year, see the end of the post for details.


I know there are a zillion photos of this hand pressing into the leg of Bernini's amazing Rape of Persephone sculpt out there… but here is one more.
You can gain new perspectives on pieces of art that you might have seen reproductions of, or maybe works that you have seen before speak to you in new ways because you have a different set experience the second time around.  I also come away with a nearly overwhelming desire to create.  The level of skill and beauty found in Rome, the Vatican, Florence and Venice is like artistic adrenaline.
Possibly the greatest torso ever rendered in marble.
Traveling abroad isn't cheap, to be sure.  It is most definitely worth it.  Seeing works like this in person is life/career changing:
This wave of fabric on Bernini's Trevi Fountain is so well designed it hurts.  Perfection.  
It is hard to fathom carving this out of stone.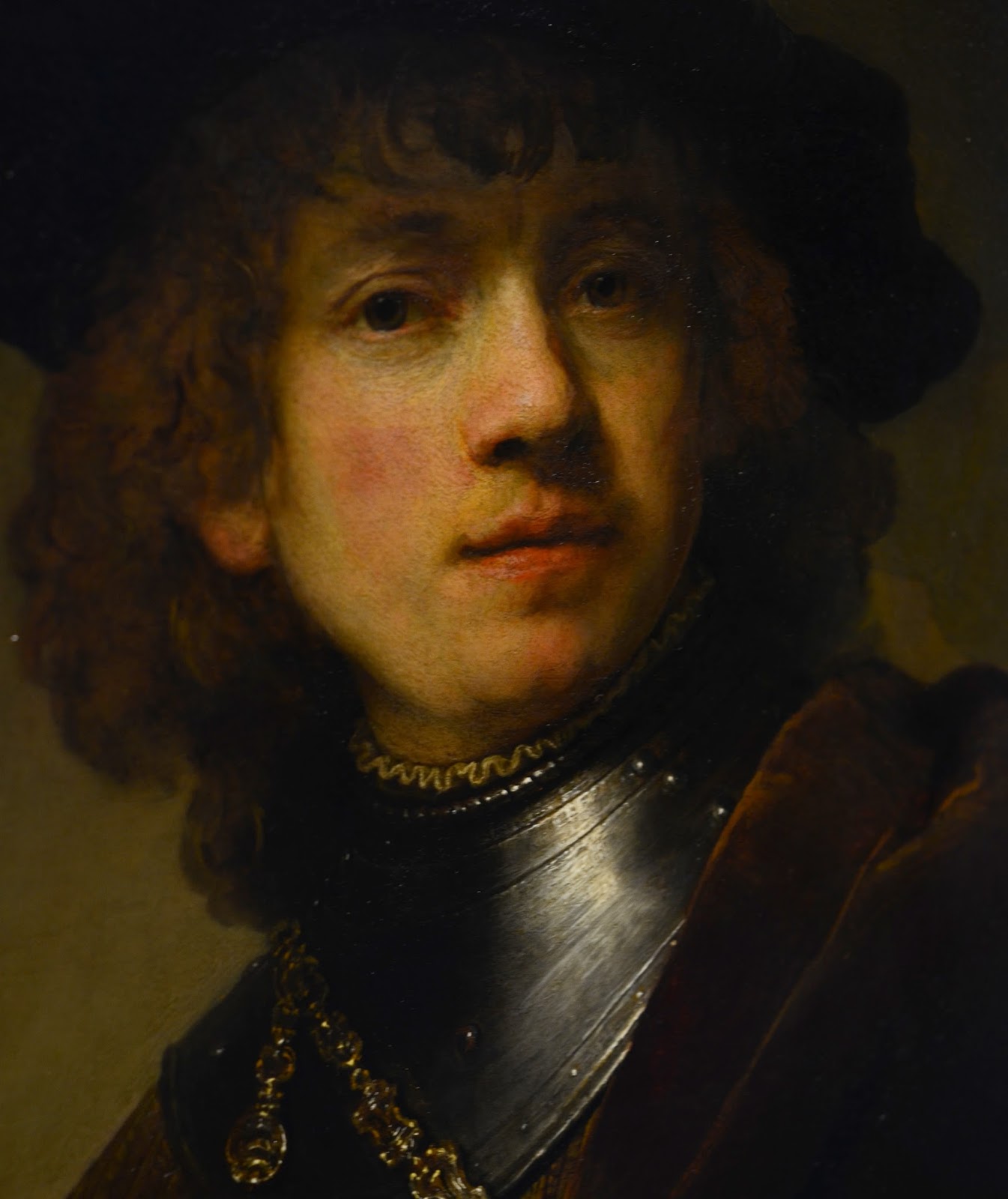 Rembrandt absolutely must be seen in person to really take it in.  Every time I see one, I am blown away by how much life he was able to imbue into paint
Look at the delicate transmission of light through the skin.  I love the little hints of red/orange where flesh touches flesh and the sense of blood vessels beneath the skin
I have always loved Guido Reni's work and have written about it on MC before.  One painting that I haven't completely appreciated though, until seeing it in person is St. Matthew and the Angel.  It is hard to take pictures of paintings in the Vatican because the light is kept so low, but I managed to get a few steady shots.  Still, this piece is so beautiful in person and these shots don't come close.
Look at the variety of color in the skin, from Matthew to the angel.
What a great head of hair and beard!
Such beautiful tenderness in the angel, recounting the gospel to Matthew. I love the little details of his hands, fingers touching, as if he is counting off the stories.
I had seen reproductions of the painting above many times, but none of the details stood out to me, until I saw it in person.  It was one of my favorites in the Vatican collection.
Seeing works in person lets you walk around and find little details that you often won't find online, or you can miss in the deluge of images to be found.  When in person, you can have an unique experience with a work and find views and insights in that moment.
Look at these wonderful swirls of fabric in these two shots, courtesy of Bernini again.
How cool is this whorl of energy captured in marble!?!
Lastly, I leave you with some images of the terra cotta sculptures done by Bernini in preparation for the marbles that line the bridge to the Castel St. Angelo.  I couldn't get enough of these.  Fascinating to see the inner workings and then the decaying state of the figures paired with their beauty made them very evocative to me.
That is it for the travelogue.  As Lauren said in her post yesterday, if you can't travel across the sea or country, see if there is something within reach and go there.  See it in person.  Be inspired and make those memories that will fuel your creativity in new ways.
—–
As mentioned above, my wife and I are putting together a tour next year that will take us to London, Paris and Madrid to visit the National Gallery, the Tate, the Louvre, the d'Orsay and the Prado Museums as well as time in each city.  It will be a whirlwind trip of 11 days, but our hope is that we can fill it up with artists and art lovers.  
I have done this before with a group of art students (I was a student) in Arizona and it was a fantastic experience.  You get to talk about and stand in front of the greatest art in the world, with a group of fellow artists.  We are booking the tour through Go Ahead Tours, who we have worked with before and they did a great job of making it a hassle free trip.  
Thank you,
Howard