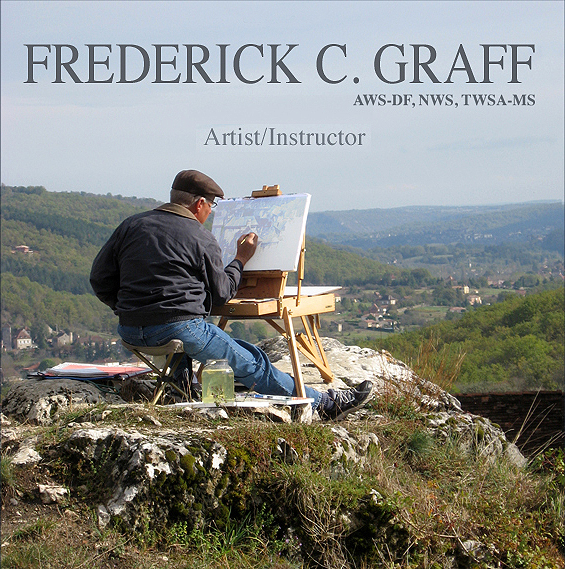 My High School Art Teacher – Mr. Graff
Tomorrow I leave for the most recent rendition of the Illustration Master Class ( IMC )
This workshop has evolved into more than just a week long illustration class but goes on to feature artists, gallery owners and other creatives from a variety of fields. From what I hear, it's immersive, intensive and inspirational to all that attend. I'm honored to be included in this fine group of artists. Hopefully, I will be able to inspire and further the development of other established artists and students…. and make them believe in themselves and their abilities.
This teaching opportunity has prompted me to reflect on my past experiences with workshops and former teachers. There is one teacher in my life that really rescued me from becoming a juvenille deliquent. He gave me hope and instilled a belief in myself… that, yes, I could be an artist… My high school art teacher Frederick C. Graff.( http://www.fredgraff.com ). Recently he sent an email stating that he and his wife were selling their large victorian home, studio & gallery. They were moving to South Carolina were he and his wife own a 2nd home & studio. Mr. Graff ( he will alwys be "Mr. Graff" to me) was having a "Burn All Bridges" sale of his art. More than one hundred of his loyal Ohio collectors showed up! He almost had a complete sell-out of his available work! Every collector was walking away with one or two of their favorite watercolors. There were numerous stacks of "sold" paintings leaning against several walls in the large victorian rooms.
I popped in unannounced. Always garcious, my mentor and friend greeted me with open arms.
In progress Old Maine Demo 1984
A little back story: Mr. Graff and I have been friends for more than forty years. We have painted on location many times when I was in high school. A number of students would go out with him on weekends and recieve instruction at no charge. He was running a number of workshops that people paid for … but we were his students, so it was free. Years later I would accompany him to his workshops in Maine. In fact the last demo I ever did was at his Maine workshop when I was around 27 years old. You know… not much has changed. We can not see each other for years… and yet, pick up were we left off years before. He was, and still is a well of knowledge regarding watercolor techniques and materials. Because of his extraordinary teaching ability I was able to believe I could become a practicing artist. Growing up in a middleclass bluecollar neighborhood … believing that was nearly impossible! Art in my neighborhood was like voodoo – strange, magical and dangerous.
Final Maine Demo , 1984-85 ? Stonington, Maine Town Hall, Watercolor, Size:?
Under his instruction my work improved at a very rapid pace. Within two months of his instruction I won the grand prize in the Cleveland Press Art Competition ( A now defunct Cleveland newspaper). In fact I won the same award two years in a row. Mysteriously the third year I didn't win any award for the Cleveland Press competition but won the Hallmark Honor Prize instead. During my three high school years I was able to win over fifty awards ( many with cash awards), a number of scholarships and sold many paintings… all because of this man. He started me on my way. With his encouragement and my family's support I was able to believe.
Now, more than forty years later, I would just like to publically say – "Thank you Mr. Graff"!
My Mentor, my friend…. Good luck on your new adventure.
Until we meet again……
Remember to always thank your mentors, teachers, parents and all the people that have helped you develop and encouraged your artistic pursuits. Give credit where credit is due…
They deserve your praise.