Sometimes you get the chance to work on something really special. That happened this year for me when I was approached by Isaac Stewart and Brandon Sanderson to paint a couple of the end pages for the upcoming book Oathbringer. It is the third book in the Stormlight Archive. Epic.
The idea behind the paintings was to create in world artifacts, as if these were paintings done long ago by some artist painting the idea of what a herald was. They contain symbolism (more on that in a future post) relevant to the herald's disciplines and purpose. For todays post, I am going to be somewhat brief and do a follow up post with video of the process, from concept to final paintings.
Here is the herald Vedeledev'Elin, or Vev.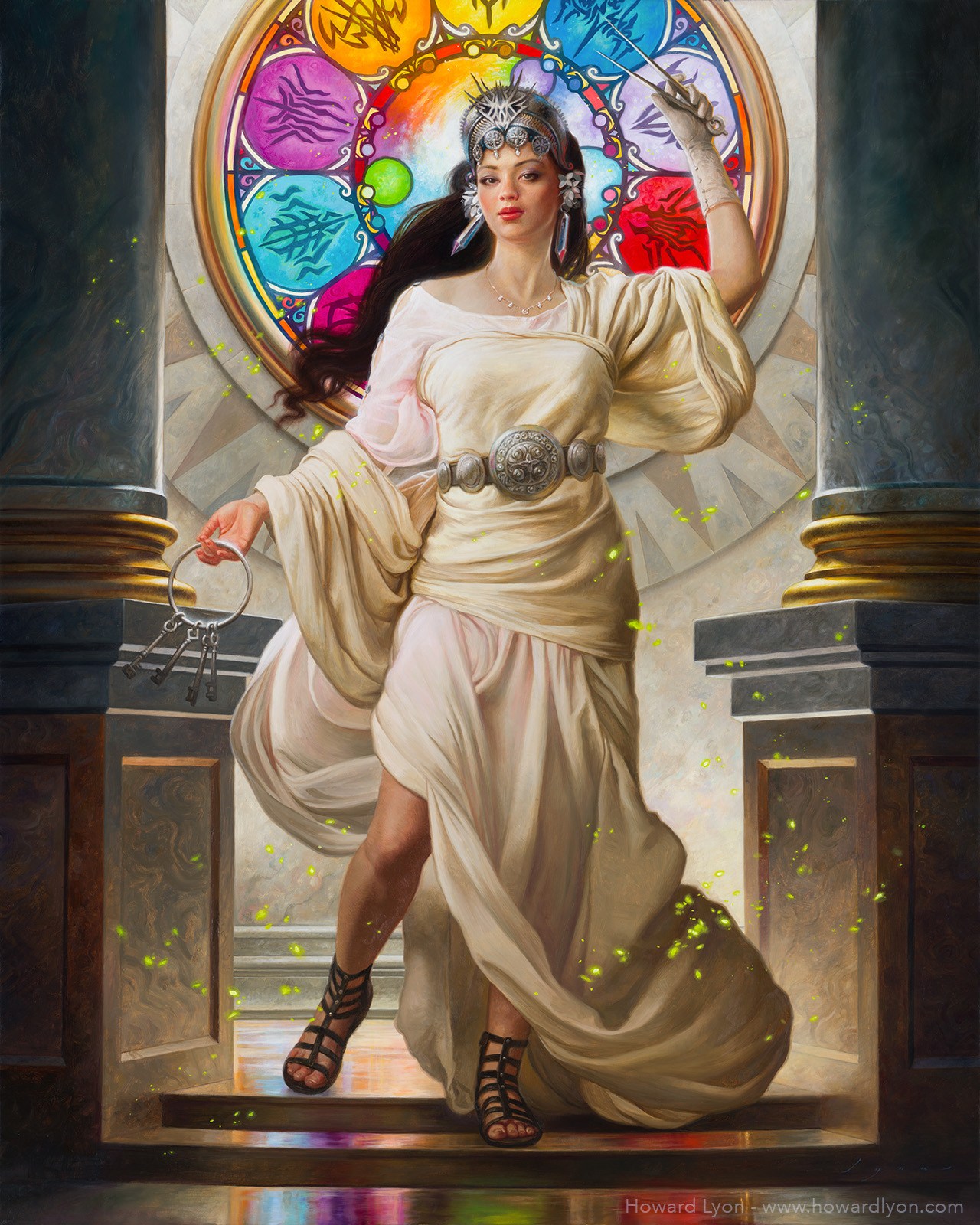 Vedeledev'Elin, oil on linen, 24″x30″
The painting is oil on linen and painted at 24″x30″. There is important symbolism in her pose and how she is holding the compass and keys. See if you can guess what it is. 🙂 I'll be posting the answer to that and more of the symbolism in part 2 of this post as part of a video.
Below is the painting of the king of the heralds, Jezerezeh'Elin, or Jezrien.  It was a wonderful challenge to paint his armor and the fabric in oils. The spren, or glowing streaks of light are digital in this image, but the final oil painting includes them and you will see them in the upcoming video. I did them digital for the print version because of a tight deadline.
Jeserezeh'Elin, oil on linen, 24″x30″
This painting is also 24″x30″, oil on linen (with the swirling spren effect added digitally for now). Jezrien's gesture and stance is also important to his purpose.
Tor Books shared a cool image that shows the cover and end pages all together
here
. Dan Dos Santos did two gorgeous paintings that will be in the front of the book and my two images will be in the back. It is all wrapped up in a beautiful cover from the king of covers, Michael Whelan. Again, sometimes a project comes along that is really special.
Stay tuned for
part 2
of this post with process videos and commentary and some explanations of the symbolism contained in the paintings. Also, go pre-order the book
here
!