Peter Gric was born 1968 in former Czechoslovakia. When he was a boy, his family was granted permission to holiday outside of the strictly controlled socialist territories. Unbeknown to him, his parents never planned to return, and instead of their state approved holiday destination, they drove to Austria where they applied for residency.
Peter studied at the Academy of Fine Arts Vienna, under professor Arik Brauer who was one of the original members of the Vienna School of Fantastic Realism, and is among the next generation of artists influenced from this particular movement. He completed his studies in 1993 with a Masters degree in Fine Arts.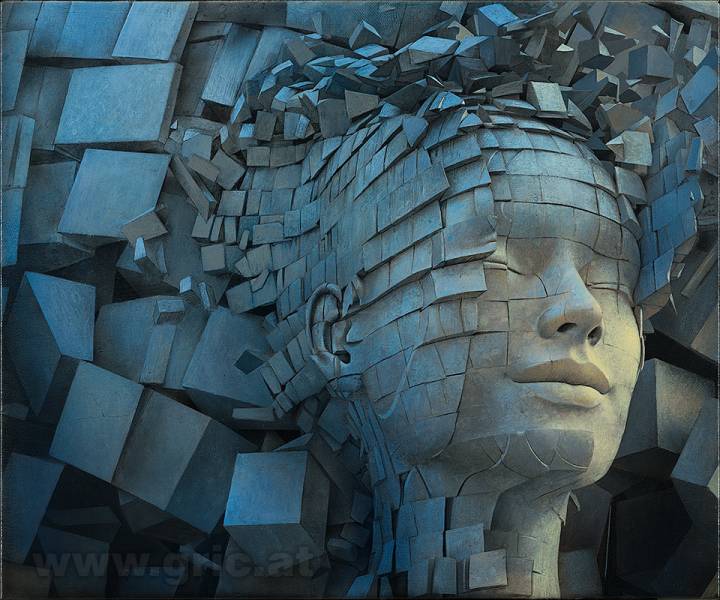 Being of a younger generation of artists, he has not shied from digital technology and also worked in 3D modeling. This has been used by him to visualize some of his more complex works before being committed to paint.
Peter has been exhibited alongside other notable artists such as H. R. Giger and is a member of the Labyrinthe Gesellschaft. He has illustrated numerous book covers, predominantly for sci-fi or fantasy genres. Gric's artwork has been acquired by many private and public collectors, among them the Austrian Gallery in the Belvedere (palace) in Vienna, and the collection of film director Guillermo Del Toro.
"The canvas (or board) is for me a vehicle, a kind of a space craft, to travel to unknown places in unknown realities. If the origin of my journey is in the world of the explainable and the describable, then I attempt to leave its orbit. However, the gravity of words is pulling me back, that's why I am not taking any questions along on my trip, and consequently I do not expect any answers either. I see my paintings as insights into alternative realities or alternative states of consciousness reflecting on my own perplexity about existence."
-Peter Gric
Below is a sampling from Peter Gric's Youtube channel. These 5 videos detail Peter's painting process, from canvas preparation to the acrylic painting.