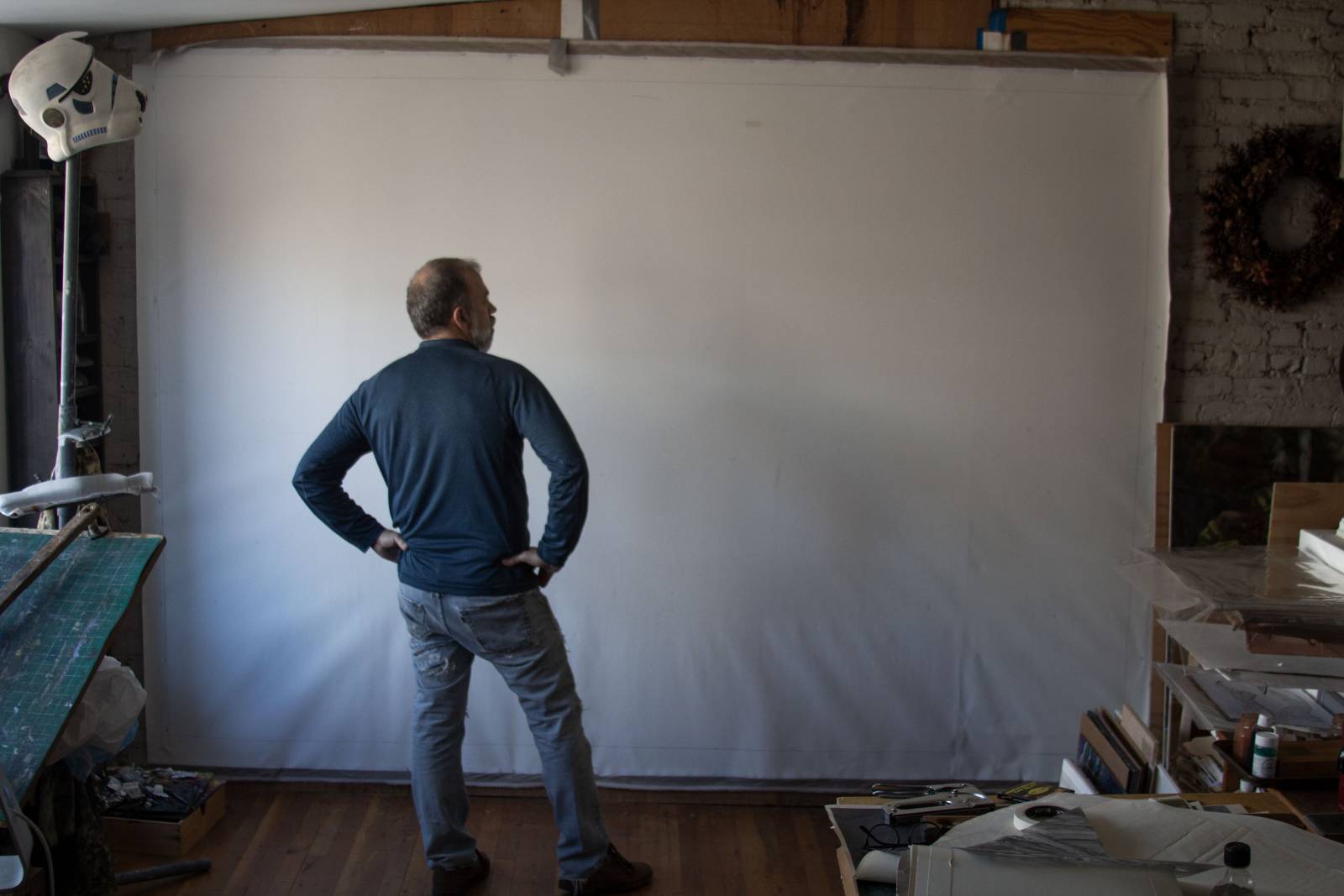 Four years ago my daughter Naomi and I stapled an enormous primed canvas to the wall, in anticipation of a new, grand work.  Given that a work of this scale is an enormous undertaking, a tremendous amount of momentum needs to build for me to insure that the work gets completed on a reasonable schedule.
Once I begin a project, I prefer to be fully engaged in the work, allowing the inspirations and choices to be executed with clarity of that initial intent.  If a piece lingers too long around the studio I can second guess myself as time passes, possible redirections for pathways to finish the work can arise and distort the initial vision for the image.
This past winter found me beginning the plannings for my now opened exhibition at the Huntsville Museum of Art, a fairly large show with 80+ pieces of art.  In thinking about the plan, I desired to have a large visual statement piece in the show.  Given that the large canvases I had finished in the past were in private hands and likely installed in specific locations not easily loaned out, I wanted a 'guarantee' that I had an anchor for the show. Thus was born ' The Beacons of Gondor'.
Our family trip to Iceland last year fueled the inspirations for this landscape and provided the raw material for references, details, and emotional majesty experienced while there. Iceland is a magical and wild place, we walked on cooling lava fields four months old and gazed upon glaciers millions of years in the making.  Needless to state, I took thousands of photos!
It is a pleasure to be able to channel so many varied passions and interests into a single work of art, celebrating landscapes, nature, story-telling, and J.R.R. Tolkien's Middle-earth!
The Beacons of Gondor was premiered at the Huntsville Museum of Art in Alabama and now hangs there through January 22, 2023 – Adventures in Imagination.  Executed in acrylics and oil paints on a triple primed belgian linen, it is my largest work to date at 77″ x 114″.
Below are preliminary and developmental steps taken to bring this piece to completion in time for the exhibit.
And for any who are interested, giclee prints are available on my site store:
www.donatoarts.com