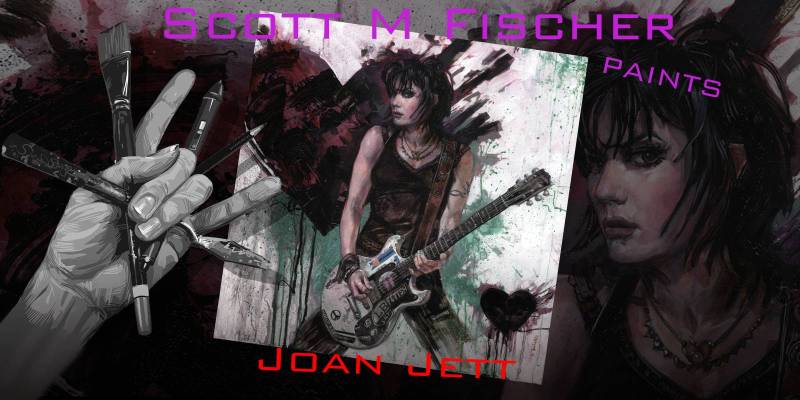 In preparation for a couple exhibitions with Wentworth Gallery, I am taking on a new subject matter. Rock and Roll baby! Wentworth is known for representing literal Rock Star art. Like Paul Stanley from Kiss. Rick Allen from Def Leppard. Etc. Those musicians don't just rock a stage, they paint too, and Wentworth is the place they show.
In a peanut butter + chocolate moment, I thought, "Wait, I love rock and roll (which is funny, because, you  know, that's Joan Jett's most famous song ever.) and I love to paint, why don't I paint some rock stars." The gallery was totally on board. The first show will be March 18 at Wentworth Shorthills. And the second showing will be, get this… are you ready for it… on the Monsters of Rock Cruise the last week of April! The gallery sets up a mobile salon at Monsters of Rock! So now I get to live out my rock and roll fantasy… sort of.
It doesn't get more Rock and Roll or iconic than Joan Jett! And here is a 9 min tutorial to celebrate the Rock-and-Roll-Hall-of-Famer. She is Acrylic and oil on canvas, and I totally, 100%, indulge my inner texture-junky. (I get out the pallet knife.)
Hope you guys dig it! More Rockstars are coming. Who do you think I should paint?