I'm excited to share that the opening for my solo exhibition "Bloom" is coming up on June 10th in a couple weeks. I'm currently finishing up, packing and shipping these new paintings out to Ryan Joseph Gallery in Denver, CO. The exhibition will run through July 12. I'm really looking forward to sharing these new paintings and wanted to share a sneak peek at a few paintings in their WIP states here before the show.
The process of these new works has been a fulfilling voyage, explorative, with the subjectmatter ranging from metaphorical interpretations of a conglomeration of emotional states to humanity as it applies to my observations and the working through of experiences and thoughts. The show is called "Bloom" with the intention that these paintings would be materializing to do just that – to encourage and support the blooming of something new and different, serving as an internal conversation manifesting itself both onto the surfaces I paint as well as into the deeper depths and farther-out reaches of my own journey as I continue on my quest to grow and evolve as a human being. This is not about perfection or prettiness but more about grace in humility, acceptance and letting go in order to allow room for more of the raw and sometimes messy act of growth from the birth of new, which is at once beautiful, humbling, strange and mystifying.
"Be ground. Be crumbled, so wildflowers will come up where you are."
Rumi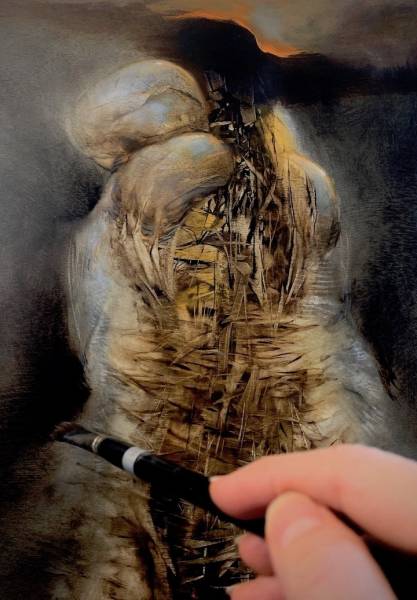 A wonderful thing about an exhibition is the sharing with others, the gathering of humans and the connections we make through meaningful conversations that art can provoke and inspire. I'm really looking forward to having the chance to connect at the opening. If you're in the Denver, CO area, I hope you can join me at the opening on Saturday, June 10th from 5 – 11pm.
The images shared here are just a peek at a few of these new paintings as they were in progress. Visit Ryan Joseph Gallery to view the finished works soon!