by Arnie Fenner
Since for many, taking in a movie over the holidays is a tradition, I thought I'd put up some favorite film posters from the past.
Below: First up is Bob Peak's iconic painting for Rollerball.


Below: I have no idea who painted it, but the poster for the original The Day the Earth Stood Still is over the top and wildly inaccurate (particularly when the intelligence and maturity of the film is considered)—yet, in a weird way, it perfectly captures the spirit and excitement of '50s SF.
Below:
Robert McGinnis' wonderful poster for a remarkably bad film adaptation of the French comic strip
Barbarella
. (And, to be honest, the original strip wasn't all that good to begin with, but it did inspire both Forry Ackerman and Stan Lee to adapt the name for their own comics characters, namely Vampirella and Striperella.)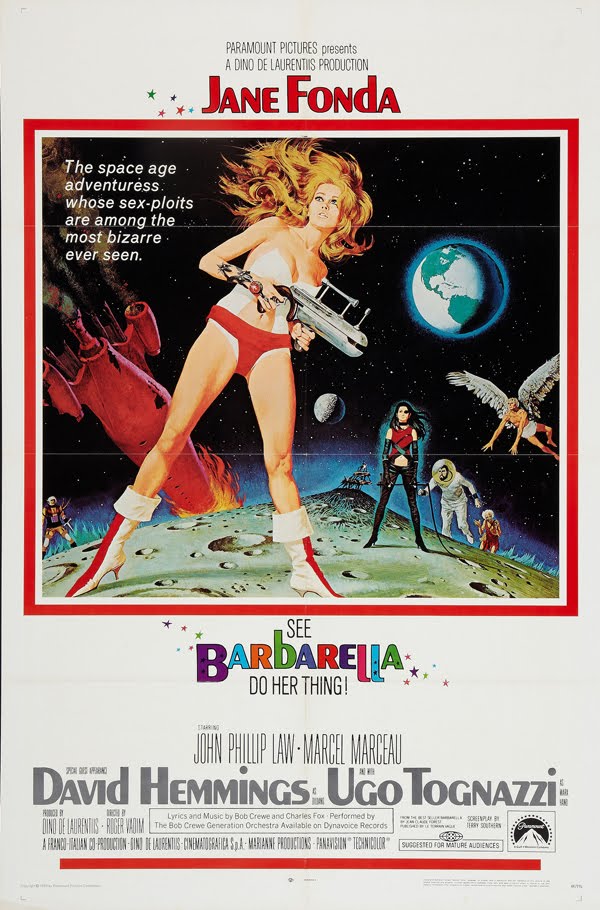 Below:
One of the rarer posters for
You Only Live Twice
, painted by Frank McCarthy. The smaller James Bond in the title was painted by Bob McGinnis. McCarthy, McGinnis, and Bob Peak shared a studio until the late 1960s and you can see the influence each had on the other in their works from the period. And, speaking of collectibles, this particular Bond poster routinely sells at auction for around $1000 or more…


Below: Jeffrey Jones painted this poster for Dragonslayer. I'd have to research it, but I think this may have been Jeff's only movie work.
Below:
Ahhhh. David Grove's stunning art for the adaptation of Ray Bradbury's
Something Wicked This Way Comes
, with a great title treatment by Tim Girvin. Bob Peak also was commissioned to create poster art for the film; though there are some exceptional treatments, none were used.
Below: For this poster for Roman Polanski's comedy, The Fearless Vampire Killers, an unidentified studio artist painted the portrait of Sharon Tate being menaced by Ferdy Mayne while the chase scene beneath was painted by Frank Frazetta. The vast majority of Frazetta's film posters were humorous (The Busy Body, After the Fox, What's New Pussycat? etc) and usually featured manic crowds being…manic.
Below: John Alvin's painting for Royal Flash. A pity that there haven't been more movie adaptations of George MacDonald Frasier's Flashman series.
Below:
There have been a
lot
of
Star Wars
posters by a
lot
of great artists. This one by Tom Chantrell is my personal favorite.
Below:
As with
Star Wars
, there are a number of memorable posters for
Raiders of the Lost Ark
and its sequels by a stellar list of artists, but I've always had a warm spot for this first one by Richard Amsel.
Below:
Lastly, a prime example of a poster that's 1000 times better than the movie it is advertising.
Attack of the 50 Ft. Woman
was painted by the great Reynold Brown. This art has been referenced, repurposed, and parodied innumerable times through the years (my favorite being
Attack of the 50 Ft. Wet Dream
that ran in
Photon
magazine).