I just graduated from high school and I'm wondering about college and such. Is it worth attending an expensive university or should I just go to a smaller school? I'm very serious about my art and I'm very dedicated… I want to be an illustrator.  I want to do everything from magazine covers and book covers to concept art for games or movies.  Is it possible to be in debt and be an illustrator?  
college works, 1988-90
These are very tough questions from a young artist that could take a life time to answer. I'll try to provide some insight as to what has worked for me and look back at my career with 20/20 hindsight. To start with, my Bachelor of Fine Arts Degree from Syracuse University (coupled with three previous years at the University of Vermont) was very important in laying the foundation in developing my career, but equally important was the drive to be creative, prolific and open-minded.
Every artist has to seek their individual path to success, no two are the same.  It has taken many long years of practice, patience, and devotion to craft to attain the level of quality now exhibited within my work.  I am sure this advice sounds similar to others before, but it is the truth, practice, and plenty of it, makes for perfection.  Pursuing the arts is an admirable and challenging goal, but you have to be willing to make great sacrifices along the way to achieve those ends.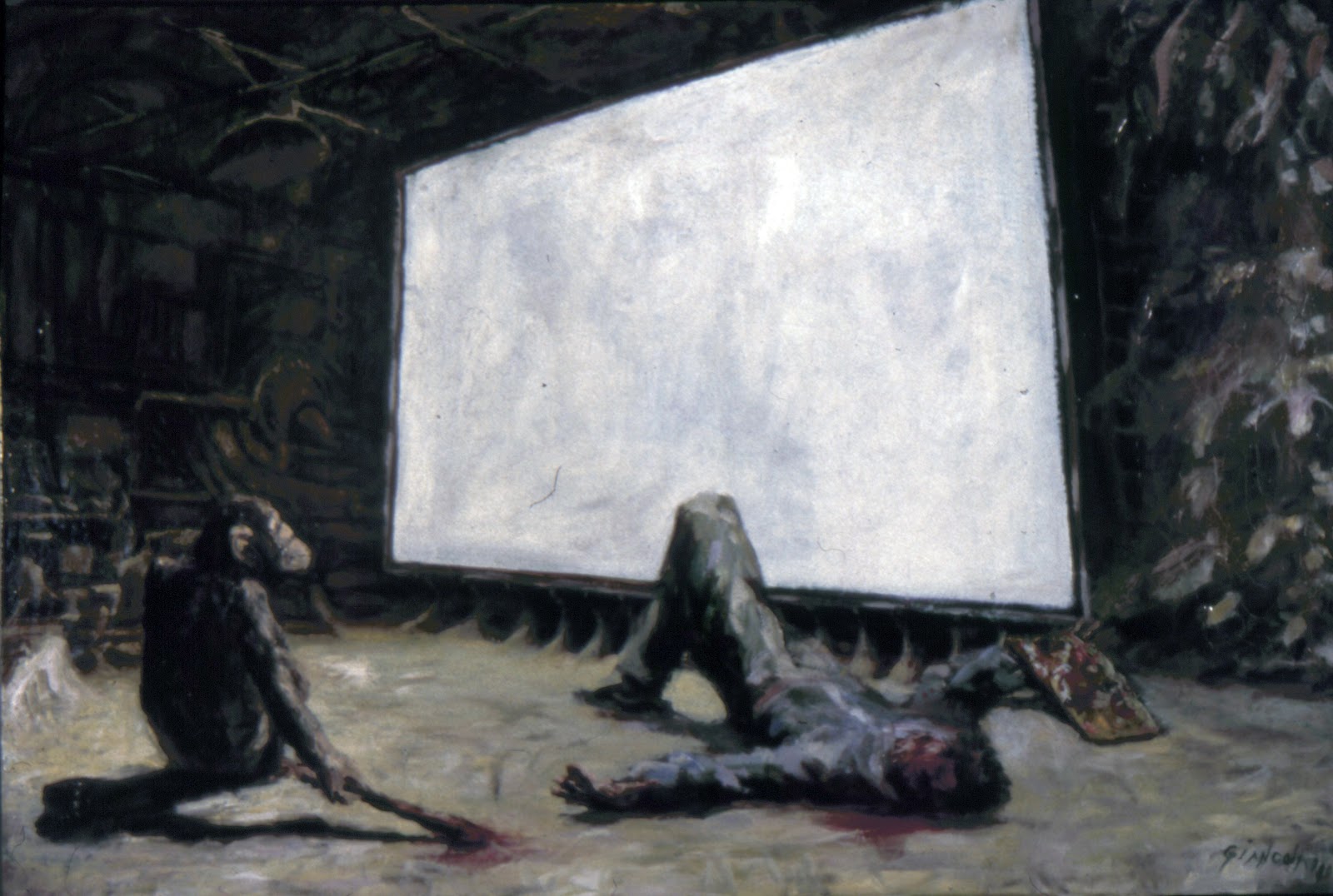 Creative Impulse,  198
One of the greatest changes I struggled through was learning to detach myself from the hobby work, drawings, and paintings I had loved to create in my youth.  To take art seriously I learned to study and find validation in all art forms.  I am the artist I am today because of my ability to shrug off the old subject matter (comics, realism, science fiction and fantasy) and embrace new aesthetics which teachers and professors were exposing me to: abstraction, post-modern theories, deconstruction, gesture drawing, impressionism, surrealism, cubism, sculpture, print making, digital media, etc…  Without stepping into the unknown, I would have never truly challenged myself nor experienced anything new.  I would have never learned to what it felt like to fly, content to spend my time walking and jumping the distances I knew were 'safe'.  I see many artists who, while technically proficient, are grounded far too much in their youth and the content they find comforting there.
The paths I took to become a successful artist are unique and cannot be duplicated – like losing detailed sight permanently out off one eye two weeks before I was to move to New York City to begin my career as a visual artist, or moving to New York City and finding work at the Society of Illustrators as a coat-check boy (ok., maybe not impossibly unique on that last one!).  All of these events, and much more, contributed to the drive and insights I developed to become a successful creative individual.  Each of these experiences  challenged my assumptions about who I was and what direction I was determined to take as an artist.
I can tell you I am very happy with my career and would not trade it for another.  I make a comfortable living in New York City, being able to support my family and travel and vacation when I wish to do so.  But on the other side, if I had know how few artists actually make a living at this, I might of had second thoughts about pursuing this career.  The burdens of financial debt weigh heavier on this new generation than they did on mine.   I teach at schools in New York,  hold annual seminars and lecture at a dozen others across the country.  Throughout all these presentations I stress how the love of your craft must be the one driving force compelling the artist to create their work, for if they are pursuing this purely for financial gain, it will end in abject failure. The visual arts is a highly competitive field with only the most driven and studious surviving to make a career of it.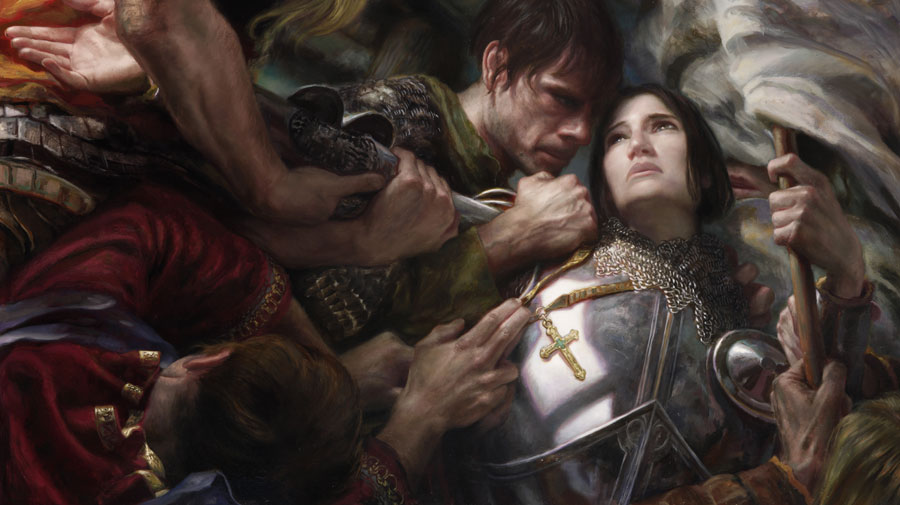 Joan of Arc, 2011
My suggestions are, if you wish to pursue this career, you must take it very seriously and be willing to work seven days a week. (I'm not kidding here).  You have to love it down deep.  Really deep.  As in the reason for existence is to express yourself through art.  Next is to pursue interests outside of the requirements of the art major – history, philosophy, sciences, sports, etc…. If you don't learn about life, what will you have to say in your art?  Many of the greatest minds in art were not 'educated' in art classes, the schools were a 'polishing' wheel to their minds which focused their ability for artistic expression.  This is not to say you cannot learn great things in an Art college, just realize there is a much greater world to embrace than what is in the class assignment.  Most importantly chose a major which focuses upon content, not just technical skills.  While almost all commercial art programs teach worthy technical skills, you can learn much through a few additional classes/courses with hard labor and practice on your own, through an apprenticeship with another professional, or at a multitude of Atelier studios across the country.
Learning a specific technical skill to become an illustrator now is like learning to use a whip and spurs to get around town; the needs of the industry will be different by the time you graduate and in the decades after, change is constant in the freelance marketplace.  What you want are classes and teachers that open your mind to another way of seeing and interpreting the world, these skills can be used across media and fields, not limited to illustration.  Major Universities have programs and offer classes far outside the traditional arts fields and supply your mind with a well rounded and stimulated education.  The art I create stands out because I attempt to bring a different voice to the genre, a new view on the characters or places involved in the stories, a sample from my life experiences, something not typically found in science fiction nor fantasy.
I love what I do and I wish all of you luck in the pursuit of your dreams.   Finally, my studio door is always open to those who wish to visit and learn if you make it to New York (just call first!).
Sincerely,
Donato Giancola
Studio in Brooklyn, 2012