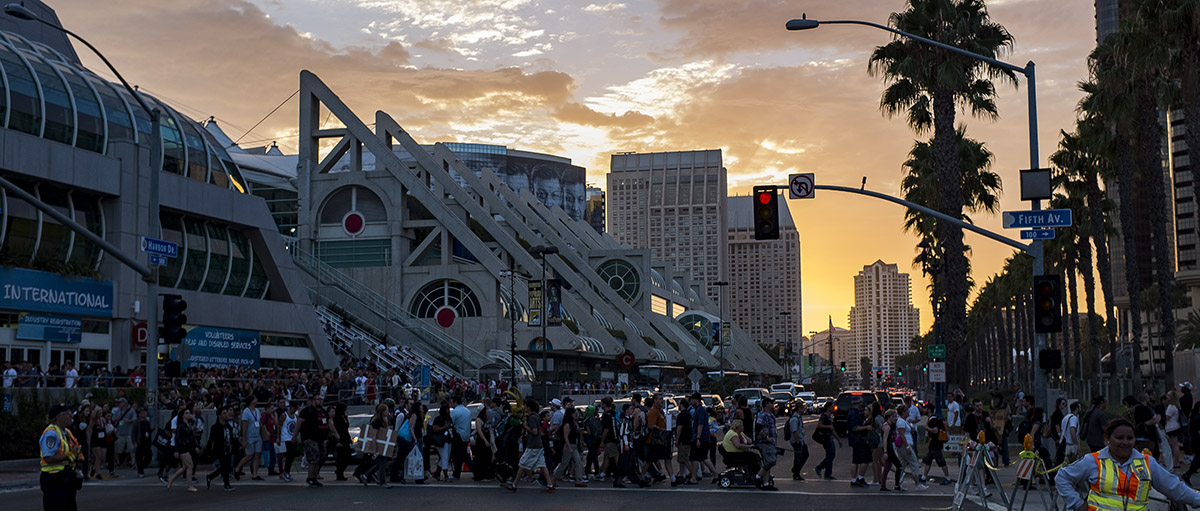 David Palumbo
Last year at about this time, I packed up my San Diego Comic Con booth for what I imagined may well be the very last time.  I said my goodbyes, I flew home, and I wrote this blog post about why I did not plan to exhibit in 2015 or likely thereafter.
I did make my way back out though.  For the first time in years, I was without a booth, table, or any other sort of home base.  Throughout the weekend people kept asking me how it felt, so I thought I'd follow up.  There was no big epiphany, but I did make a series of stray observations that might add up to some kind of insight:
No sales, but lower overhead
I will admit, not having a
pocketful of cash from books and originals was a bit of a bummer.  I was
more mindful of my expenses as a result and lived more on the cheap
than normal.  On the other hand, I also saved at least 2k in exhibitor
related expenses.
It is waaaaaay easier to spend money when you're out looking at cool stuff all day instead of responsibly hidden behind a table. 
Three original pieces of art and about 45 minutes later, I decided to put my spending on lockdown for anything that could be purchased via internet and I think that served me well the rest of the show (though I do now have several books on my want list)
Taking meetings feels more productive than taking business cards.
This
is kind of a quality/quantity issue.  At the booth, you have many
conversations and hope that a handful will turn into something.  To be
honest, that's what my pre-booth portfolio hustle was like as well. 
This time around, I wasn't having random encounters so much as sit-down
conversations with people I already have a working relationship with. 
They focused more specifically on where business is headed, ideas about
future projects, etc.  It was not too different from formal portfolio
reviews where you really get into some meaty conversation.  Even at
shows where I'm boothing, I'll be keeping this in mind.
Every day of a convention should include a three hour lunch break. 
I don't know how I went this long without realizing this.  Normally I barely even take lunch (and often I skip it entirely) but every day I found myself enjoying a leisurely meal with other boothless artists, often sharing nachos and getting to better know people who's work I've admired many years.  The friendships built at conventions have always been one of the most valuable and lasting benefits to me, and I'm sure I wouldn't have had the chance to connect with some particular people outside my normal circle if I had been on the clock.  So many shows in the past, I've had quick chats with many people but no opportunity to really engage and I regret that.
I wasn't joking about comfortable shoes.
Seriously.  Probably won't bring my heavy camera bag next time either.  I'm way too young for my lower back to be making me feel old.


The reality of SDCC isn't nearly as bad as the monster of SDCC that lives in my head
Now, some have written that this year marked a downturn in the show.  Apparently the big studios are easing off their promotions and the frenzy has dissipated a bit.  I didn't think of it that way exactly but, whatever is happening, I liked it.  Crowds are still bananas coming and going and walking down the big booth stretch, but getting jostled, crushed, or nearly run down by a rascal scooter was at a minimum and I was out walking around almost constantly.  Last year, walking through the drunkest Saturday night streets I'd ever seen, I wondered if things had gone too far.  I'm happy to say that things were back to a reasonable level so far as I saw.
Without the artists showing, there isn't a show worth going to
This is kind of the paradox.  As much as I enjoyed being free of responsibility, stress, and financial investment, I am also very much aware of the dwindling number of painters at shows like this.  There are still a ton of artists present, but it seems every year another one or two or five drop out of the pool.  So far as I've seen, once an artist exhibitor leaves SDCC, they rarely return in any form.  Sometimes their booths are replaced by new blood and sometimes they're replaced by utilikilts.  Of course, I can't blame anyone for the choice.  These shows are expensive, exhausting, and certainly not for everyone.  With focused shows like Illuxcon and Spectrum Live getting pretty firmly established, it can also feel frustrating to do big ones like this where 90% of the crowd probably has little interest in even looking at art.  I hope those artists who showed this year did well enough to take one more turn on the wheel, because they are what makes it worthwhile in my opinion.  I am sad to have personally let one more booth turn from art to merchandise.
And so what now?
All in all, I really enjoyed my time.  I had less stress than any comic con I can remember and, despite my almost carefree approach, I still managed to get some good business done.  I found plenty of inspiration walking the floor.  I enjoyed the company of old friends and possibly made some new ones.  I even got to see John Rhys-Davies tickle a baby not three feet in front of me.
However you plan to tackle a show, whatever you aim to get out of it, maybe just showing up is the most important thing.