Update: My friend Micah Christensen (the one behind the lectures I shared in the two Exceptional Art History posts and Bearded Roman) actually started this conversation about forgotten masters. He is compiling a great list that you can contribute too. Go here to read more about it and the upcoming lectures.
After you read this post, I would love for you to leave a comment and share a great painter from the past that you feel hasn't received the attention they might deserve.
I love that every few months, I seem to stumble across a new painter from the past that I have not heard of before, but whose body of work inspires me.  Just when I think that I must be familiar with the greats of the past centuries, another one comes out of the woodwork.  As more museums are digitizing their collections and people travel into places with their phone cameras, the obscure comes to light.
Here are some examples.  I am sure you will be familiar with some, if not all of these artists, but they haven't had top billing for sometime or aren't mainstream (of course I could be ignorant of them, or they might have greater awareness in other countries or regions).  For some artists, we might only have a painting or two out there, but there must be more.
Antonio Ciseri (1821-1891) – Ciseri was a remarkable painter and teacher who must have had a decent body of work, but there are only a handful of images of his out there on the net.  The most famous of them is Ecce Homo, 1871.  I had the pleasure of seeing the painting in the Pitti Museum in Florence.  It is as elegant and exquisite in its rendering as nearly any other painting from the academics of the 19th century.
Ecce Homo
The Entombment
Albert Maignan (1845 – 1908) – There isn't a lot of work out there on the of Maignan's but in his life, he won a Gold Medal at the Universal Exposition in 1889, a Medal of Honor at the Salon in 1892 and was named as a Knight in the Legion of Honor.  He was highly regarded in his time.
Just look at this masterpiece below.  Wow.
Dante Meets Matilda
La Repudiée
The Disturbed Mass
Pompeo Batoni (1708 – 1787) – Batoni is an artist for whom there is a lot written, and lots of images out there, but I don't see his name or work passed around much, but he is worth looking at.  His color and paint control are really wonderful.  Unfortunately, the books on him are pricey.  He was one of the most prominent painters of his time, prized as Italy's very best.  He painted many portraits that are great, but I really enjoy his larger scale history and religious works.
The face of the man in the middle is as well painted as any other, and Susanna's flesh is gorgeous.  Best of all might be the hand on the outstretched arm of the man climbing over the bench.  I also love the compressed value range in the foliage of the near background to help exaggerate the atmospheric perspective.
Susanna and the Elders
 If you have been through the Met you have probably seen this one.  Such a wonderful painting and classic composition.  Diana's face is lovely and the profile of Cupid is so well done.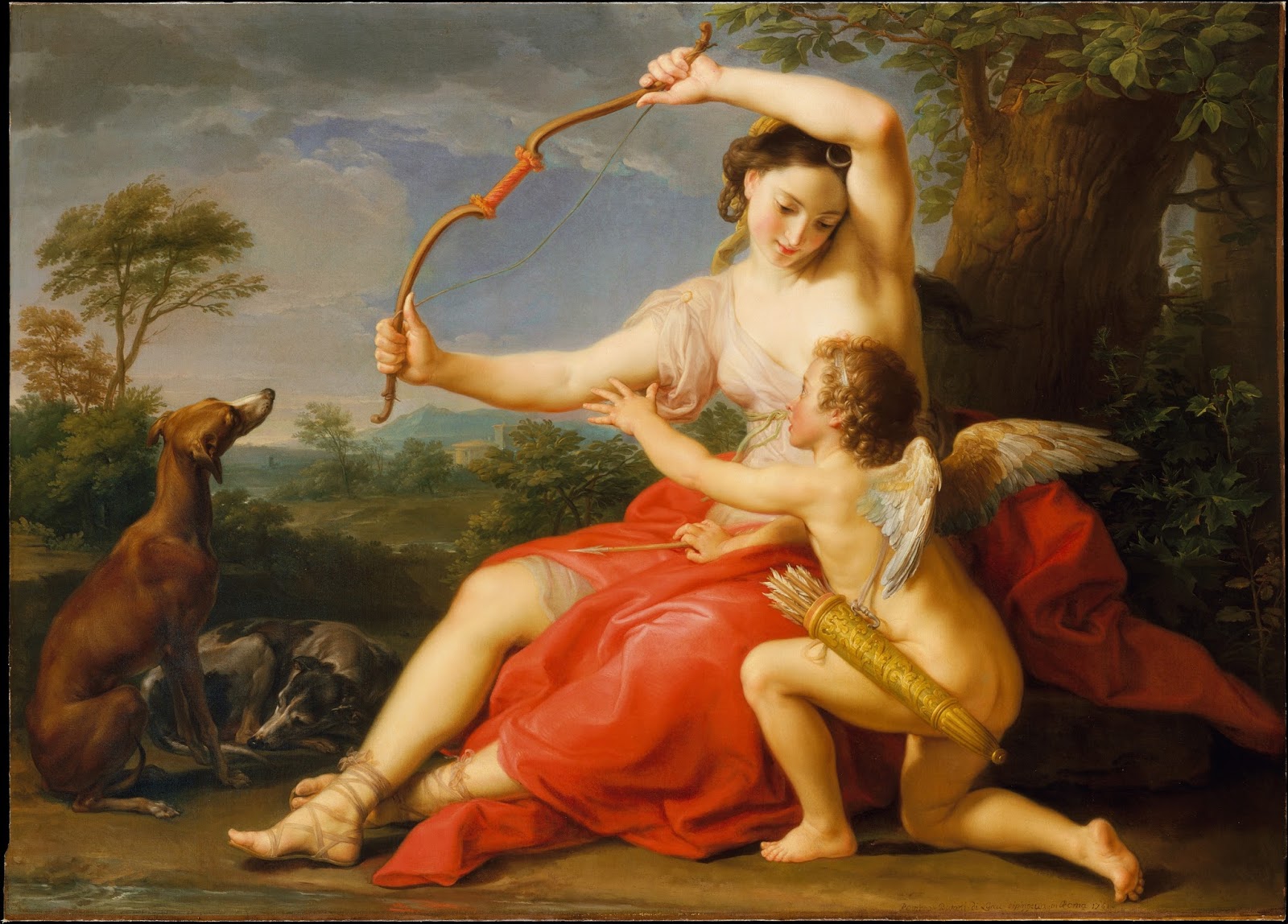 Diana and Cupid
 A great portrait, typical of the work that pushed him to the top of his day.  I think this is a great composition, shoving the painting off to the right, and leaving all the black space behind his head.  Also, that hand is awesome.
Philip Metcalfe


William Llewellyn (1858 – 1941) – The most recent of the artists listed here, but still not very well known.  According to Wikipedia, he has 67 paintings in the British national collections.
I love the softness of her eyes, the intensity of the light in places and the variety of both brushwork and edges found here.
Girl with Pigtails
Henryk Siemiradzki (1842 – 1902) – A painter from Poland that created some absolutely epic and stunning works.  He is borderline forgotten as I have seen more of his works being shared around lately, but I look forward to the day where we get a massive, heavy coffee table book on his work.
Some of the images below are quite large, so be sure to click on them, or download them in full size.
This piece certainly reminds me of Tadema, but also looks like early Klimt and some Poynter images.  It is a macabre piece, showing people being prepared to burn to death.  The variety of faces and detail is incredible.
Nero's Torches
 This painting just speaks to me.  The beautifully rendered landscape and sense of light provide the stage for two excellent figures.  I hope to see it in person someday.
The Talisman
 I think Henryk would have loved painting Tolkien. 🙂
Burial of a Varangian Chieftain
Phyrne at the Poseidonia in Eleusis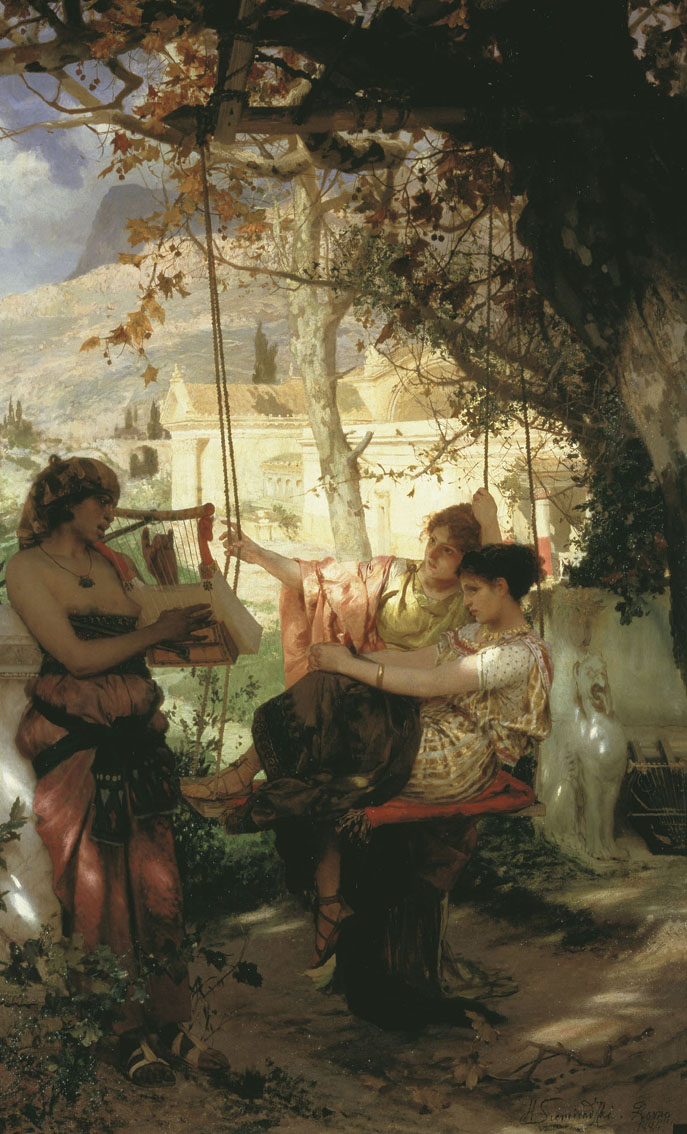 Slave's Song
 Another amazing epic painting.
Christian Dirce
If you know all of these artists already, forgive me (I have shared from some their works before), but if you have some to add, I hope you will do so in the comments!
Thank you,
Howard Lyon