Not too long ago I wrote a post taking a look at my two and a half year old son's favorite contemporary illustrators.
How do I know they're his favorites? Well, I suppose I'm projecting a little but the books on that list are the ones he returns to time and again. Certain illustrations, for whatever reason, just grab his attention and hold it. I'm sure that's something you can relate to as well; I know I certainly can. I have intense and vivid memories of being maybe four or five and just staring at drawings and cartoons and feeling like I wanted to absorb them. At the time I didn't quite know what to do with the impulse and it still hits me when I'm confronted with something I find visually arresting.
These days I'm a little more equipped to take that rush of illustrative discovery and try to use it to better my own work. A little bit, anyway, it's not always easy to get your bearings when you're stopped in your tracks by a painting, is it?
So last time we looked through some favorite contemporary illustrators, books from the last couple years, but what about the classics? My wife has been a life long book collector and she's assembled a small library's worth of children's books. There's such an impressive range that I could imagine being a little overwhelmed by the options. Not so for my son, he's more than ready to pull them all down and have a look. Well! Grab your goldfish crackers and juice, it's time to take a look through some of the best children's books from yesteryear. These are the illustrators from the last 50 years that make my two and half year old's eyes light up.
Without further ado!
Gyo Fujikawa
Gyo Fujikawa needs little introduction here, in fact, I wrote an entire artist spotlight post on her life and work last year.
"In illustrating for children, what I relish most is trying to satisfy the constant question in the back of my mind, will this picture capture a child's imagination? What can I do to enhance it further? Does it help to tell a story? I am far from being successful (whatever that means), but I am ever so grateful to small readers who find 'something' in any book of mine."
Garth Williams
Certainly, Garth Williams is among the most widely read and well known illustrators of the 20th century. His work spans a massive career (Williams himself estimated that he illustrated about 100 books) and encompasses everything from Charlotte's Web to Stuart Little and the dozen or so collaborations with prolific author Margret Wise Brown.
The current favorites in our house are Baby Farm Animals (also written by Williams!) and Home for a Bunny. His work is just so lush and so expressive. He's got a real eye for creating little moments outside the text and it's easy to see why Garth Williams is still captivating readers today.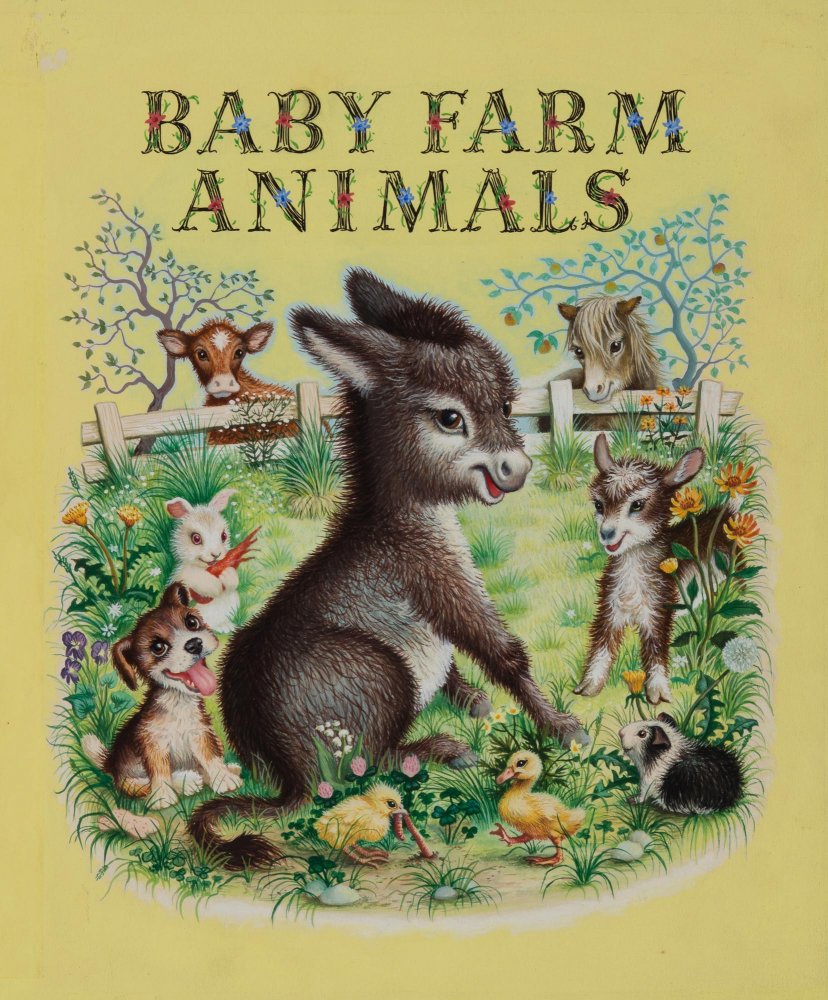 Clement Hurd
I love the, how do I put it, the inimitable strangeness of Clement Hurd's work. It's completely unique and it's a breath of fresh air. I mean, there's just not much else like it.
Hurd, of Goodnight Moon fame, is the best selling artist behind dozens and dozens of books. My son's favorite of Hurd's illustrations, The Runaway Bunny, has been in print since 1942. How many other books can say that?
E. H. Shepherd
Shepherd, the artist behind the perennially beloved classics Winnie the Pooh, The Reluctant Dragon, The Wind in the Willows, and many more, is a more recent interest for my son. He's only just discovered the Winnie the Pooh books (and really he's only just now old enough to enjoy listening to longer stories) but he's fallen hard for the Hundred Acre Wood. The day isn't complete without a reading from Pooh and a look through all the pictures.
Speaking of him, three years ago I first wrote about E. H. Shepherd and The Great War for Muddy Colors, if you're curious to see Shepherd's wartime paintings and his work before Pooh. Shepherd was awarded the Military Cross for his service at Passchendaele, a devastating campaign of WWI which slogged on for over three months. It's truly horrifying and the thought that a person could return from that and create works of such searing beauty is amazing.
Irene Haas
Irene Haas' work is a delight. From the beautiful watercolors to the overflowing compositions of The Maggie B., her cozy worlds are so appealing.
Ezra Jack Keats
What more could I ever say about Ezra Jack Keats, one of the most influential writers and illustrators in all of children's literature? The Snowy Day, Keats' 1963 Caldecott Award winning book is, I think it's fair to say, one of the most important books of the 20th century. From his thoughtful and quiet look at the inner life of a boy to the sheer brilliance of visual storytelling contained in the book, it's in a class all of it's own.
Richard Scarry
Again, like Keats, do you need me to innumerate the qualities of Richard Scarry? His story, I Am a Bunny, is one my favorite children's books. Simple and beautiful.
Maurice Sendak
From the transportive otherworldliness of Dear Mili and Outside Over There to the gentleness of Little Bear and I'll Be You and You Be Me, it's difficult to overstate Maurice Sendak's stature in our house. His books are among of the main influences which led me into pursuing children's work and whether or not you see his influence in my work (I've certainly got other, more easily discernible influences) Sendak casts a long shadow over my imagination.
The gift of Maurice Sendak, one of love and intense appreciation for books and illustration is one that I've received and it's a gift I hope to give to my children.
I hope you enjoyed walking with me through some of the great children's books of yesteryear!
It's a little too easy for me to see them day and after day (and read them day and after day) and have them become somewhat routine. But for me to sit here and really think through what are the books and illustrators that really seem to capture my son's imagination, to take a step back and see them with fresh eyes and write about them for you, only serves to deepen my appreciation.