I've had the cool opportunity to spend a month in Italy (still here! 🙂 leading a tour around the country to see some art related sites and then meeting a second group in Florence to spend some time going to museums but also painting some of the sites while here.  I am not a plein air painter, but I would like to be! If there is one thing I know about art, it is that you can slay your dragons fastest by attacking them head on. So, I find myself here in Italy with my trusty Strada Micro paint box, a backpack full of paint supplies and some comfortable shoes for exploring the city and countryside for places to paint.
I don't share these paintings as examples of great plein air work, but to include you in my journey to "get there".
Here is my second attempt. The first go ended up getting wiped down and reused for the second. I was convinced after the first one that I might be the worst plein air painter in Italy… but I persevered! The second pass was a bit better. The light was changing so fast on the facade of the church that I had to really make quick decisions.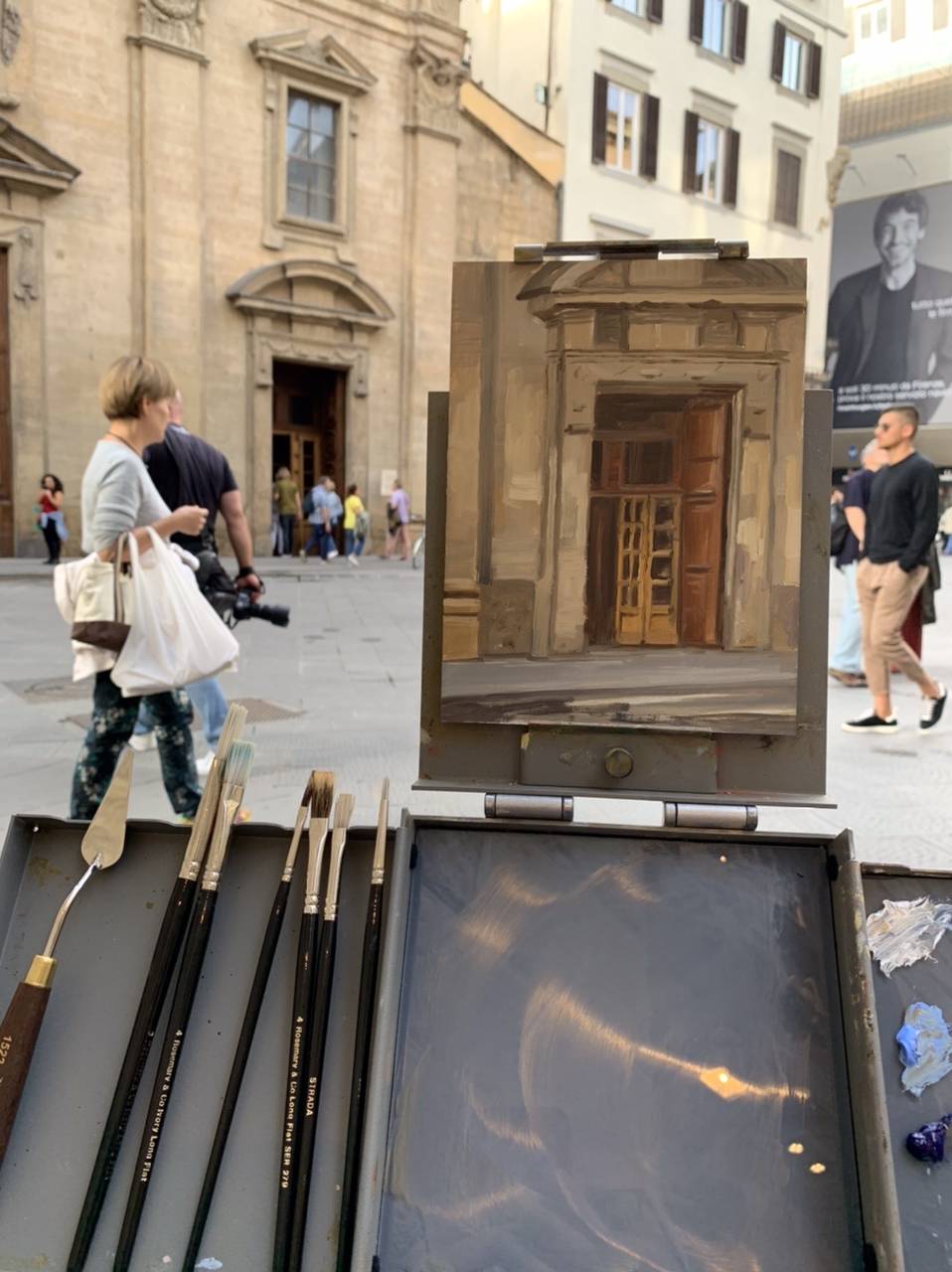 Here is my third attempt. More progress and even faster change to the light. It was late afternoon/dusk and the lights were starting to come on. I loved this scene and might have to go paint it again while there. Every stone seems to have a story and history.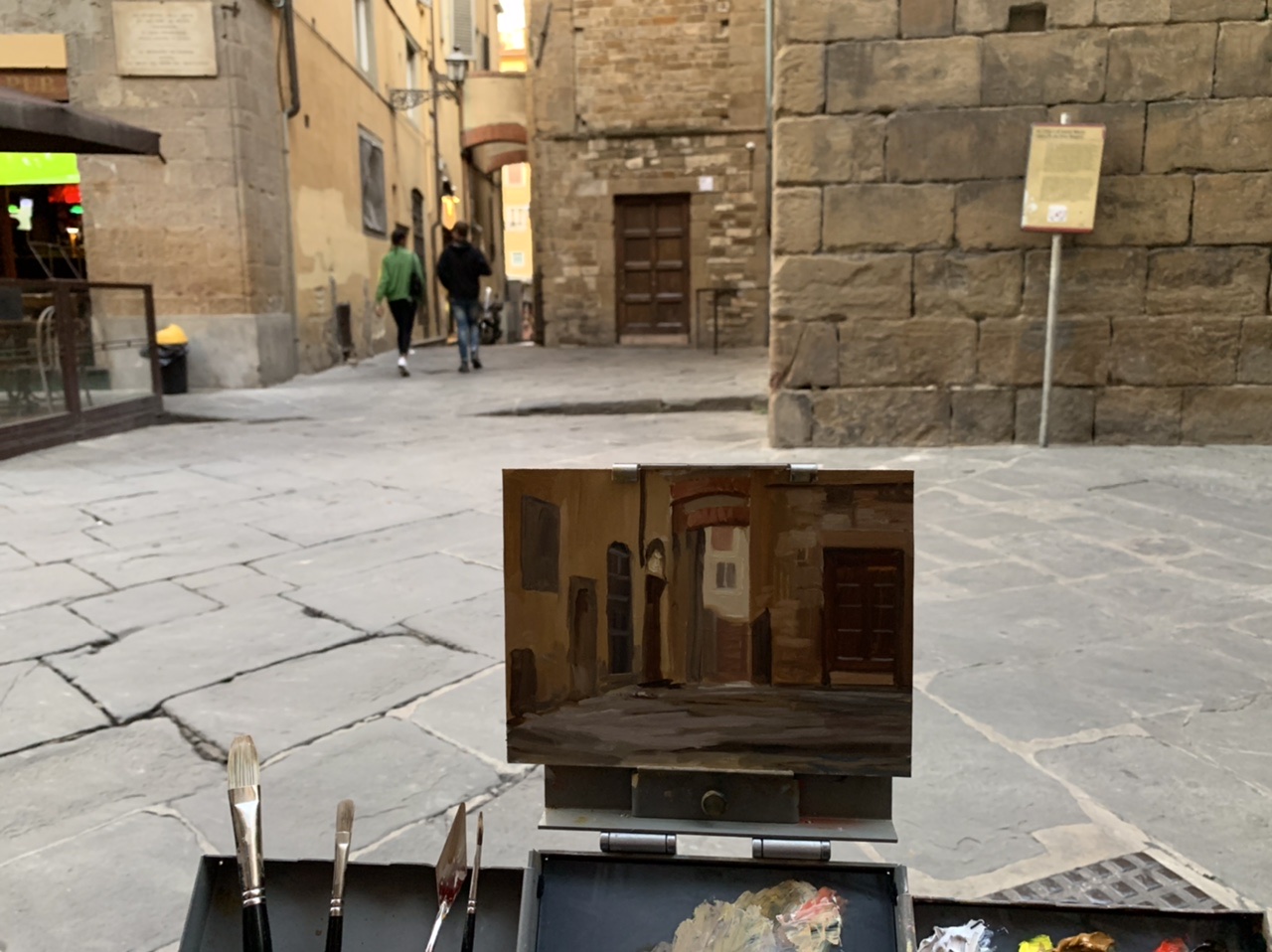 The next day we decided to go paint some landscapes. This was up on the hill next to Florence in a town called Fiesole. Fiesole has some cool history, it was established by the Etruscans and has some excellent ruins there including a very well preserved amphitheater. We went and painted at an old church and convent named after San Francesco.
After painting the view of Florence, I hiked further up the hill to the church/convent. Some storm clouds blew in quickly and I was hoping to capture the turbulent grey clouds but I wasn't quick enough so I altered the painting once the light changed:
I met the shopkeeper on the grounds and had a great time chatting with him in broken english and Italian. We asked if we could paint there and he was happy to let us set up. We bought some ice cream treats to thank him and he checked in on us over the next hour.
The next painting day brought us back into the city. I had a rough start and wiped out my first attempt and enjoyed a nicely toned panel as a result as I started this one:
It was the first one that I was pretty happy with. I painted it with out any people initially, but a guy sat down and although I really like the part of the painting he was sitting in, I decided I had to be brave and go for it. After a couple minutes he was part of the painting. I walked over and showed him and he seemed thrilled to be in the painting, even taking photos of it to share on his social media.
We packed up and moved about 100 yards to the north west to the Orsanmichele church. There is a great little setback from the street where we setup to paint.
We liked it so much that today, after a long day at the Pitti Palace museum, we returned and I painted another one:
I feel like I am improving with each one. It might not be apparent to you, but there are little things that I change with each one, applying a small bit of experience from the last one into the next. I know that getting to where I want with plein air painting will be a long road, but also a wonderful one to travel down.
My advice is that if there is something that you want to improve at, jump in. Both feet, recklessly. If possible, with friends and lots of gelato. But if that isn't possible then do what you can where you are right now. First steps are hard and thrilling.
Howard