I am going to put on my travel/fan/reporter hat and report in on my experience at FantasyCon 2014, which took place over the 4th of July weekend.  FantasyCon is a new convention, launching this year with its home in Salt Lake City. It was a highly ambitious effort, including elements that I had never seen before at a convention. There were Ballet West dancers as well as Cirque du Soleil dancers in costume.  Hundreds of vendors, cosplayers, fans, craftsmen and artists were on the floor.  I met a violinist from the Ukraine that played on stage while the dancers performed and an incredible puppeteer working a beautiful set of marionettes. 
Jeff Easley, Brom, Donato, me and Justin Kunz
Don't worry, that look from Brom just means he is eating your soul through the camera
There was an archery range, a great reptile exhibit and a falconer with some absolutely gorgeous birds, including two beautiful owls.
A beautiful, if paranoid looking owl
They also had a large battle arena where you could check out a foam weapon and shield and enter to do battle. Most of the battles were over pretty fast, though the couple that I watched had high entertainment value. I saw a giant of a man absolutely whaling on a small young woman, but she had a shield and was using it to stay alive. She looked like she was having a blast, while he looked like he was fighting for the independence of Scotland.
The event was spread out over what seemed to be the entire Salt Lake Convention Center, which is pretty good sized. The local news reports put the attendance at 55,000. It was over the July 4th weekend and I don't know if that hurt it or helped. It did seem slower on the 5th, so maybe people had one too many hotdogs and were slow out the door.
There was a really great range of celebrities on hand. Elijah Wood kicked off the event with by deejaying the opening event. Many other LoTR actors were there, including Sean Astin, Billy Boyd and John Rhys-Davies. It also marked the first Con appearance by Simon Pegg, who proved to be a massive draw from what I heard.
One of the more spectacular panels had a huge list of celebrities, including Muddy Color's own Donato. Here is a list from TheOneRing.net of those on the Tolkien panel:
Sean Astin (Samwise)
Adam Brown (Ori)
Billy Boyd (Pippin)
Jed Brophy (Nori)
John Callen (Óin)
Peter Hambleton (Glóin)
William Kircher (Bifur)
Sylvester McCoy (Radagast)
Graham McTavish (Dwalin)
Mark Ordesky (Executive Producer LOTR)
John Rhys-Davies (Gimli)
Ken Stott (Balin)
author Doug Adams ('The Music of The Lord of the Rings')
artist Donato Giancola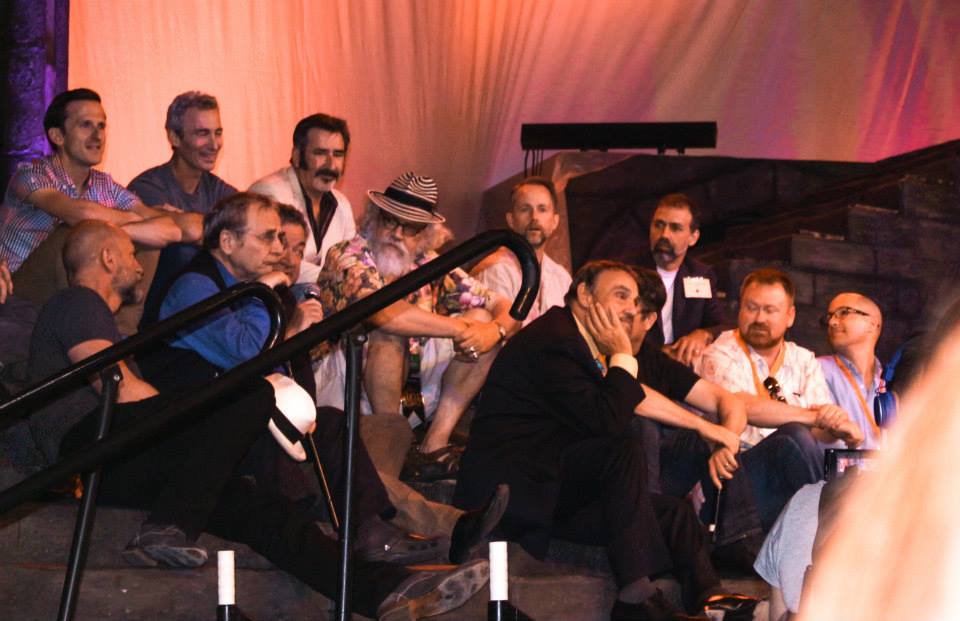 If you are a Tolkien or LoTR movie fan, this seems like it was THE event to be at.
Josh Patel was one of the organizers of the event and he also happens to be a huge supporter and patron of the fantasy arts, buying many paintings from various artists through the years. He started a few years back with a vision of assembling a great collection of fantasy art for a museum. That might still be in the works, but I think that part of the vision that he had evolved as an element of FantasyCon. Josh commissioned a series of very large paintings by artists such as: Brom, Donato Giancola, Justin Gerard, Annie Stegg, Jeff Easley, Christophe Vacher, Mark Poole, Eric Velhagen, Rob Alexander and Heather Theurer. You could see the great love for the art and artists in the magazine that was handed out at the door. The "Masterworks Artists" that were invited were featured larger than the celebrities!  All the masterworks paintings were very large, most of them in the range of 6 feet or so tall, though some were larger!
I didn't get very good images of some of the other masterworks, but you can see Donato's and Annie's here and here.  If you have links to clean images of the other works, let me know in the comments and I will add them.
Donato and I in front of his amazing painting.  It was huge. 1 football field x 1.7 football fields.  It is actually a quarter mile behind us in this picture.
It was really inspiring to see the art up close and I have to admit, my inner fan-boy geeked out a few times. I grew up playing D&D and copying some of Jeff Easley's characters onto my character sheets when I was 10 and I was able to chat with him for a little while. One of my first oil paintings was a copy of Brom's Kaz the Minotaur and he had a booth just a couple down from mine. Brom was very kind and fun to chat with!
Steve Argyle and his wife Kat
Steve Argyle and I also had booths and there where many other artists spread out though the show either in booths or artist alley.  If you get the chance to chat with Steve and his wife Kat, do so.  They are great people and they brought me food each morning!
I had the chance to sit on a panel titled "Why We Paint" along with Donato, Eric Velhagen and Heather Theurer. I felt honored to be there with all three of those artists. We also had a great dinner with Annie Stegg, Justin Gerard, Kim Kincaid and Tara Larsen Chang.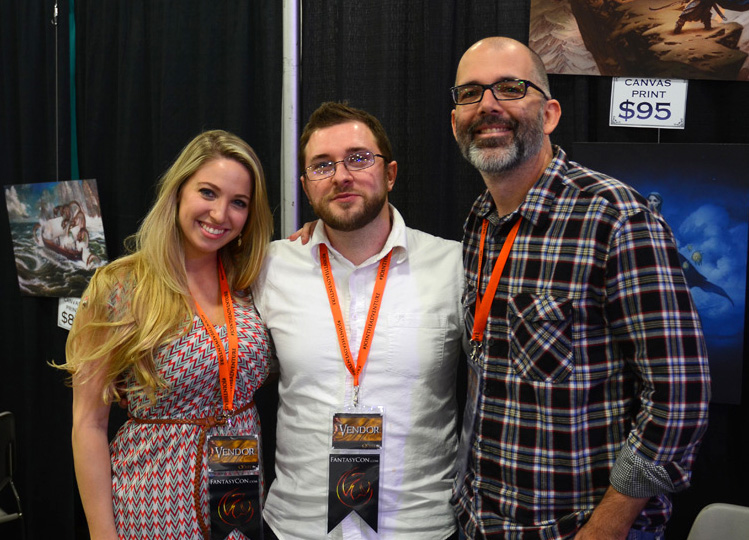 Annie Stegg and Justin Gerard – They told me about a great project they have coming up.  I won't spoil it in case it isn't out there already, but I can't wait!
For a long time, I didn't get booths at conventions.  I think for lots of reasons.  Some fears (would anyone want to even buy my work or stop by my booth!?) and also I enjoy working and didn't want to take the time to get out and invest in the event.  I am past that now.  I have enjoyed the few events I have attended and it is so good to get "out there" and show my work.  That is actually advice that Donato gave to one of the panel audience members in response to "what can I do to improve".  Get out there and show your work!  On top of that, you make relationships stronger and get to meet and make new friends.
Me realizing how much I like getting out of my studio and going to conventions
It felt unique to me for a con. It was definitely hitting all of my geek spots. I am planning on attending the event next year and hope that it continues to grow and thrive. Utah definitely has a great population for the events that are starting to blossom there. Last year SLC Comicon hit the ground running with an estimated 70k+ attendees and then followed up with FanXperience in April and had over 100k attendees. I think it is a great turn of events that many other Cons around the country are rivaling San Diego in draw. Here's hoping that it continues and that we see these regional events turn into annual destinations and institutions. For fans and artists alike, it opens up new opportunities.
What is the biggest thing I have learned after exhibiting at a few events this year?  Get out there, get a booth/table and show your work.  Meet and make fans and friends and find inspiration for your own work along the way.  I hope to see you at a future event and possible FantasyCon 2015.